As a follow up to an article about large exploration and development (E&P) companies. The current article will look at operating metrics and valuations for a group of somewhat smaller E&Ps, in terms of equity market capitalization[1]. The major difference between the two groups, is that the smaller companies tend to focus on a single resource type, often natural gas, whereas the large companies are more diversified. The smaller companies also tend to have higher growth rates and trade at higher multiples of earnings and book value.
The figure below show the resource mix for Chesapeake Energy (NYSE:CHK), Encana (NYSE:ECA), Talisman Energy (NYSE:TLM), Southwestern Energy (NYSE:SWN), Continental Resources (NYSE:CLR), Range Resources (NYSE:RRC) and Pioneer Natural Resources (NYSE:PXD). As is clear, CHK, ECA, SWN and RRC are predominantly natural gas companies, while TLM and PXD also maintain a majority of production in barrel of oil equivalent terms in natural gas while still having respectable liquids output. CLR is the sole company to have a majority of production coming from crude oil. While many of the firms produce natural gas liquids (NGLs), most do not separately report the amount and group NGLs in with crude. RRC and PXD report the amounts separately, with both companies having material production figures of this resource.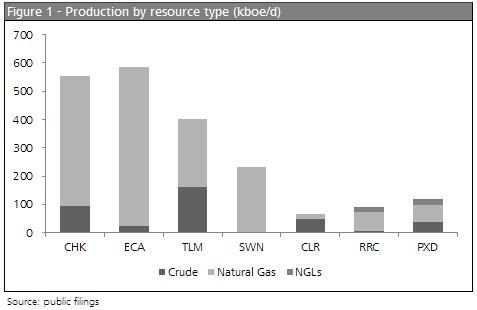 The growth of liquids production for the companies is shown in Figure 2, below. SWN has been excluded due to their immaterial amount of liquids production. CHK leads the pack in terms of production growth with high and growing rates of growth in liquids production due to heavy investments in the area. CLR and RRC have also been growing production nicely while PXD has only been able to grow production marginally. TLM has seen production declines driven by divestitures and declines in U.K. offshore production. ECA went through a reorganization in 2009 which makes past comparisons difficult beyond the period the company restated results, but since mid-2010, the company has experienced some declines in liquids production although results have turned up in recent quarters.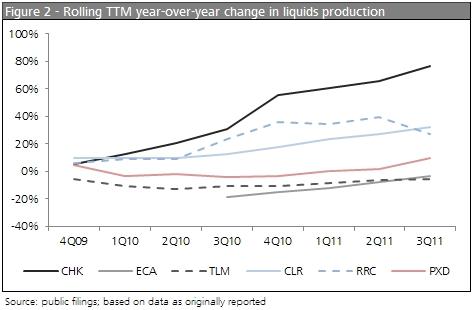 As the figure below shows, in natural gas, SWN has been the clear leader in growth with the company increasing production from an average rate of 71kboe/d in 1Q08 to 233 kboe/d in 3Q11. Rates of growth have trailed off, but the company continues to add production quarter-over-quarter up to 3Q11. CLR is a relatively small producer of natural gas, but has been boosting growth rates in recent quarters and is now growing upwards of 40% per year. The remaining companies in the sample have grown more modestly with CHK, ECA and RRC tapering back in recent quarters. CHK has been an aggressive seller of assets over the past several years as part of its business plan to focus on developing assets to sell. This trend impacts reported production growth although assumedly the company continues to capture value from this activity. PXD's reported production growth has been up and down with the net result being a small decline over the last couple years.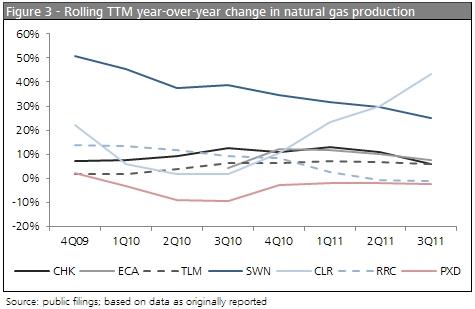 The next figure details capital expenditures relative to depreciation in order to determine how aggressively they are attempting to grow. The ratios are impacted somewhat by historical impairments to assets at certain companies such as CHK; however, changes in the ratio over time should still give some indication as to expected future growth or increasing capital requirements to maintain production. Most of the firms in the sample pulled investments back in late-2009 with the onset of the recession, but nearly all have significantly ramped up since that time with the exception of ECA and to some extent TLM, although both firms continue to invest at rates greater than depreciation.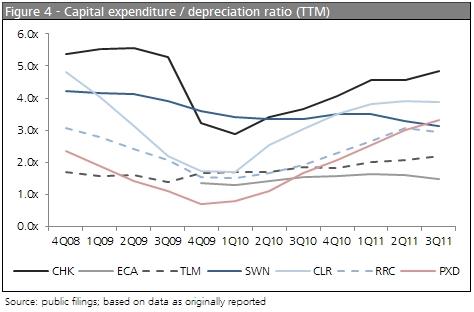 The final figure shows forward price to earnings and price to book ratios on a scatterplot with a trend line drawn with respect to the elements of the sample colored in gray while blue marks have been excluded as outliers. The three firms farthest from the trend line are ECA, PXD and RRC. ECA happens to be the only company trading below book value and it also trades at a high earnings multiple. This may be driven by their depreciation policy or the fact ECA has not taken a big impairment relative to its peers with the decline in natural gas prices. On a firm value to ebitda basis, ECA's valuation appears much more reasonable, in fact the company trades at a discount to its closest pier, CHK.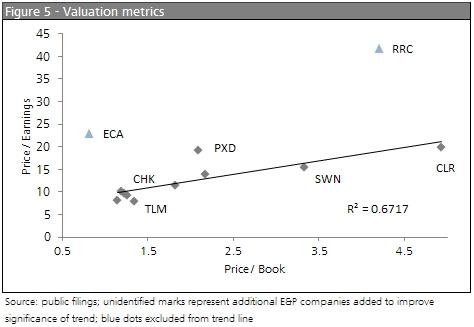 PXD trades close enough to trend that the difference is probably not significant. RRC is interesting because the company trades at high multiples and has not been growing production much. The company trades at 15x firm value to ebitda on a trailing twelve month basis, nearly three times some larger competitors. The company will likely need to turn around its earnings and growth profile to justify its valuation
Turning to companies on the trend line, CLR is the company with the richest valuation in terms of price to book which may be driven by the high liquids concentration where the company can make strong returns on capital and gain considerable a valuation premium due to growth. Given the small size of the company's production base it may be able to continue growing for some time, but ultimately will run into the constraint facing all producers which is availability of and competition for crude resources to exploit. As a pure natural gas play, SWN has done well to attract a premium valuation as evidenced by its price to book ratio. The company has grown production strongly and has done so at relatively low finding and development costs relative to peers which may explain the valuation.
The two companies with the lowest valuations of the group are CHK and TLM. Given the large size of CHK and its dominance in natural gas, it may be hard for the company to attract much of a premium in terms of valuation even with the heavy investments it is making. On the other hand the company has grown liquids production quite strongly over the last several years and it may warrant a closer look. TLM's valuation likely reflects the low production seen at the company over the past several years, especially in liquids where production has declined considerably.
Footnotes
[1] Depending on how size is measured, different companies could be regarded as large or mid-size players in the industry. The equity market cap of CHK is eighth largest of the companies considered, including those companies in the previous article, but in firm value terms it is fifth and in terms of production it is sixth albeit weighted heavily toward natural gas. For an equity investor, it may make sense to think in terms of equity market capitalization in order to evaluate investability and relevance in terms of benchmarks.
Disclosure: I have no positions in any stocks mentioned, and no plans to initiate any positions within the next 72 hours.