Whereas the first leg of a bear market is characterized by a wide-spread disbelief the bull market has run its course, the second down-phase of the bear is marked by desperation and panic, which ultimately leads to capitulation. Perhaps this explains why the second leg of a bear market is typically the most debilitating. No longer in denial, the "fight or flight" response sets in and investors simply want out at any cost, accepting lower and lower prices as they stampede to reduce risk.
This is the potential next chapter for the market if the indices cannot take back their major moving averages. After repeated failures at the 200-day simple moving average (NYSE:SMA) over the past few weeks, the shorts now appear to be back in control. As nervous longs begin to accept this reality, a new down-leg will gather steam, eventually leading to a test and a subsequent break of the October 4 lows.
With mutual fund cash readings registering a lowly 4% of late, we have also arrived at the point in the cycle where fully invested institutions begin liquidating their positions in the previous bull market's glamour stocks. What were once the market's darlings, now become its ugly ducklings – and in a hurry.
To understand what we mean, simply look at the recent action in Abercrombie & Fitch (NYSE:ANF), Salesforce.com (NYSE:CRM), Green Mountain Coffee Roasters (NASDAQ:GMCR), Netflix (NASDAQ:NFLX) and Sina Corp (NASDAQ:SINA). After leading the market higher since the March 2009 bottom, these stocks are now on the slippery side of the parabola, leading the market lower. And with all of these stocks still over-owned by institutions, they will eventually serve as quick sources of cash during this market downleg, and push prices much lower than the majority of investors expect.
Looking ahead over the next few months, here are ten former leading stocks IPI believes will eventually succumb to the grip of the bear. What investors should understand is this – even the fundamentally strongest companies eventually fall victim to margin calls and forced selling during a bear market. This explains why Apple dipped below $100 in late 2008/early 2009. It was an easy, liquid source of cash for institutions to fall back on when necessary. Keeping this in mind, take a look at what may be a very profitable collection of short opportunities in the coming months. Let's discuss and analyze:
1. Amazon.com Inc. (NASDAQ:AMZN): For those who feel Amazon hit a short-term bottom on Wednesday, you may be right – for a few days. But after watching the way both GMCR and NFLX were decimated in the fall, we believe AMZN is next in line to drop. It appears the market has grown tired of management's tactical decision to sacrifice margins to gain market share. While revenues could still surprise in Q4, we expect the bottom line to suffer due to margin compression. Once $160 gives way, there is no support for the stock until $125. Watch out below.
AMZN 2-Year Weekly Chart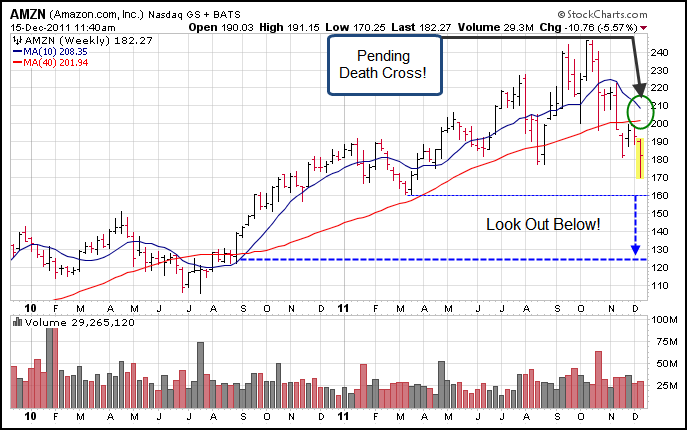 Source: StockCharts.com
2. Baidu Inc. ADR (NASDAQ:BIDU): While SINA and SOHU have already broken down, BIDU is still attempting to hold the line. Considering its 1,000% move from the Spring of 2009, the topping action in the chart, reinforced by the overall weakness in China, seems to suggest the $100 level will eventually break. Should we be right, this should mean an ultimate move to the mid-$80s. It would be a great long-term buy at those levels. We would therefore cover between $85-$90.
BIDU 18-Month Daily Chart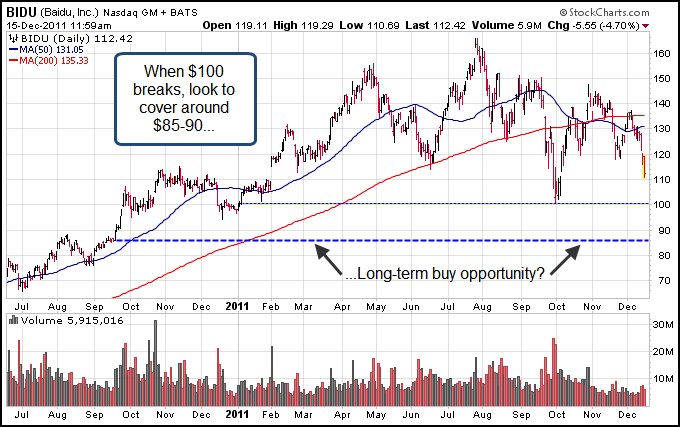 Source: StockCharts.com
3. Cepheid Inc. (NASDAQ:CPHD): The $30 level is an area of huge support for Cepheid. Typically, a price point that is repeatedly tested in a bear market will ultimately break on a high volume selloff. While we love the long-term potential of CPHD's technology, in the near-term, we think the shorts will win out, causing remaining longs to rush to the exits as this important zone of support breaks. We would cover quickly, around $26-27, as CPHD is definitely a takeover candidate at those levels.
4. CVD Equipment Corp. (NASDAQ:CVV): CVV seems to be heading back to the single digits. We love the long-term story here, but unfortunately the company's backlog may have peaked in regards to last year's substantial solar orders. As such, we believe the market will readjust its revenue/earnings growth projections to the downside and the stock will respond in kind. A high-volume break of the 200-day SMA should ultimately result in CVV stock trading around $9.50-$9.75. We would cover at these levels.
5. Chipotle Mexican Grill (NYSE:CMG): Chipotle has great food and could be the heir apparent to McDonalds. While we do not see tremendous downside here, we do feel CMG has topped and it will ultimately break below $300. As this down-leg strengthens, institutional investors will sell CMG because they can. This forced selling should eventually result in a lower P/E for the company, sending the shares to $267-$275 zone before shares find support. While its growth is slowing, its fundamentals remain intact. We would therefore only short on pull-ups and use a very small allocation when doing so. Be aware of the long-term trendline support at $304-$307.
CMG 1-Year Daily Chart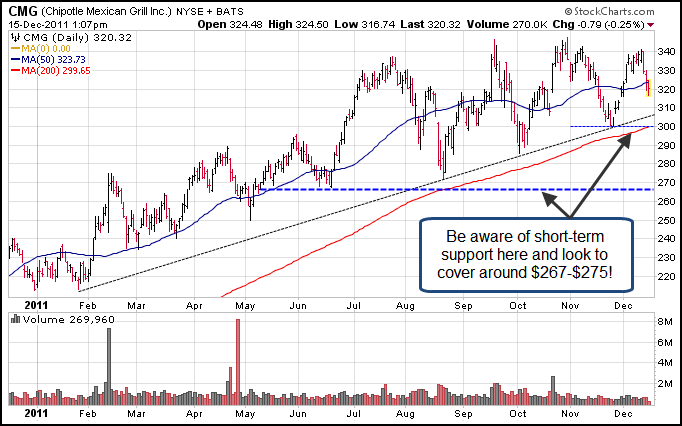 Source: StockCharts.com
6. Fossil Inc. (NASDAQ:FOSL): We loved Fossil on the way up to $100. However, we question its merits at this point in the market cycle. In short, Fossil has too much European exposure. While the fundamentals have held up well so far, we expect revenue and earnings growth to misstep in the next quarter or two. As such, we are looking to short on any pull-ups to the mid-to-high $80s. Any break of $73-$74 will lead to additional forced selling and an ultimate move to the low $60s. We would cover there.
7. Lululemon Athletica Inc. (NASDAQ:LULU): LULU is a great company, an amazing success story. While the fundamentals are still solid for LULU, over the past two years the mentality of company insiders has been more like, "Get out while the getting is good." Take a look at the included graph below. Additionally, LULU has had a monster move over the past few years and is thus an easy candidate for quick, forced selling by institutional investors under duress. LULU is very expensive on a price-to-sales basis. Such lofty valuations have brought out the shorts but instead of covering, they keep adding to their positions. Be aware of the potential for short squeezes during quick market rallies. That being said, a move to the mid-30s would not surprise us.
LULU 2-Year Insider Selling Graph

Source: SEC filings
8. Priceline.com Inc. (NASDAQ:PCLN): Priceline.com also has substantial European exposure. The chart is clearly breaking down. Now, with a strengthening dollar PCLN's heavy reliance on the European economy will come back to haunt it. As a result, estimates will begin to trend lower. We see a move to new lows with its next earnings report. Some part of the report will disappoint. Most likely, it will be forward guidance. Once $400-$420 give way, there is no support until the mid $300s.
9. Under Armour Inc. (NYSE:UA): The October high-volume breakout in UA belied strong institutional support that, as time moves on, has begun to look more and more like institutional distribution. When a breakout on skyscraper volume such as this cannot hold and instead turns right on over, this is a warning sign. Notice how UA made one more run at the October highs and has since put in a series of high-volume distribution days. A break of the 200-day SMA, at around $72, should usher in a move down to $63. Persistent market weakness should ultimately push it down to the $53-$55 area.
UA 1-Year Chart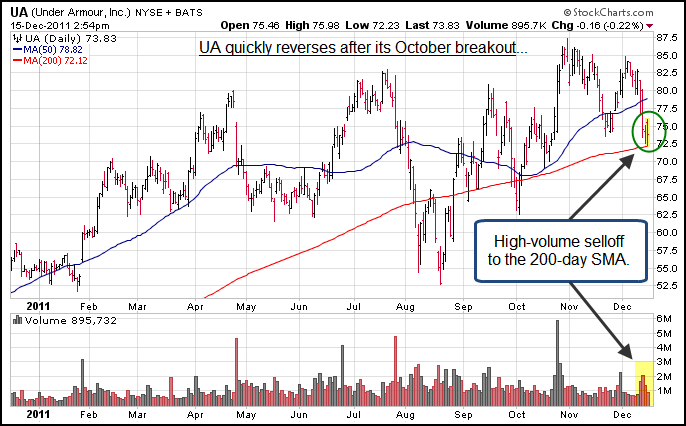 Source: StockCharts.com
10. International Business Machines (NYSE:IBM): Recently IBM has been propelled higher by Warren Buffett's big bet on Big Blue. With all due respect to the Oracle of Omaha, we simply question the timing of his purchase. In the near term, we expect either an earnings miss in Q4 or a tepid forward guide to serve as a catalyst for a move lower. During Q3, IBM's global backlog fell from $144B in Q2 to $137B. With heavy exposure to Europe and a stronger dollar acting as a major tailwind, any hint of softness in IBM's business should knock the stock down by 10-15% during Q1 2012. We would cover on any move into the $160s.
Undoubtedly, some of these short plays will not work out. We therefore intend to keep our exposure to the short side minimal and plan to play these names via longer-term oriented put positions.
Disclosure: I have no positions in any stocks mentioned, but may initiate a long position in AMZN, BIDU, CPHD, CVV, CMG, FOSL, LULU, PCLN, UA, IBM over the next 72 hours.