Most know that trading in development stage biotechs can be extremely hazardous to one's portfolio. Many are attracted to them because of the potentially enormous eventual payouts, if all works out according to plan. One of the big problems is that there are so many variables involved that even the best of analysts can't possibly account for all of them. Some compare investing in biotechs to gambling at the roulette wheel.
Below are some examples of why it is imperative that you exercise extreme caution when playing with these volatile vehicles.
1. BioSante Pharmaceuticals, Inc. (BPAX)
BioSante is a specialty pharmaceutical company focused on developing products for female sexual health and oncology. On Tuesday, the stock traded as high as $2.66 only to plunge 85% down to its low of 40 cents on Wednesday after a halt in trading.
What happened?
On Wednesday the company announced top-line results from its two pivotal Phase III LibiGel efficacy trials. They were not good, as the analysis of the data from these trials showed that LibiGel did not meet the co-primary or secondary endpoints, both of which are related to increased satisfying sexual events and desire in postmenopausal women. What's unfortunate is that there is little more to the company, at this point, than LibiGel.
BPAX 5 Day Chart
Click to enlarge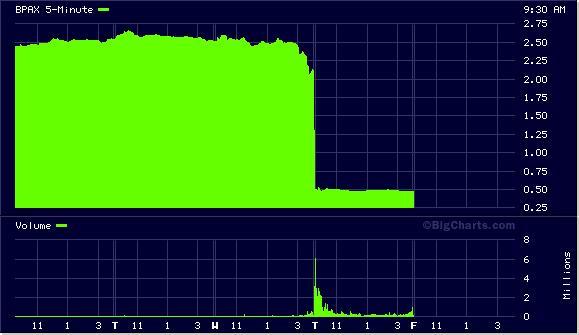 2. Antares Pharma, Inc. (AIS)
Antares is a pharma company that focuses on self-injection pharmaceutical products and technologies and topical gel-based products. Early in the session on Tuesday, the stock traded as high as $2.78. On Thursday it traded as low as $1.51, representing a three-day dive of 45.5%.
What happened?
Antares was developing the pharmaceutical delivery system and the patent holder for Biosante's failed LibiGel. It should be noted that Antares has other promising product candidates in its pipeline.
AIS 5 Day Chart
Click to enlarge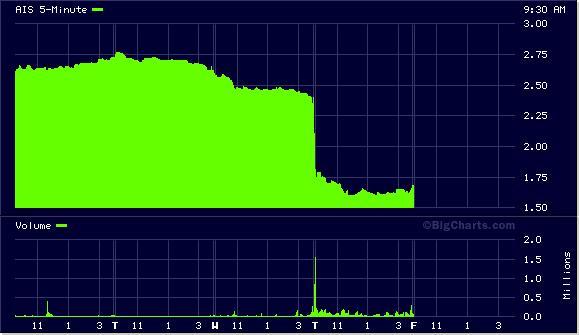 3. Inhibitex, Inc.(NASDAQ:INHX)
Inhibitex is a biopharmaceutical company focused on the development of differentiated anti-infective products to prevent or treat serious infections. Around Monday's open, the stock traded at its weekly high of $15.47. Today the stock plummeted 57% to its early morning low of $6.66. The stock has since rebounded quite a bit to about $10.50, which is where it is trading as I write this. The bounce off the $6.66 low may be attributed to Deutsche Bank coming to the company's defense amidst the massive sell-off.
What happened?
Another company, Pharmasset (VRUS), announced amendments to the design of its QUANTUM Phase 2b trial. Pharmasset said it detected laboratory abnormalities with liver function in patients receiving its drug candidate, PSI-938. Investors are were worried about similarities between Pharmasset's quasi-problematic drug and Inhibitex's INX189. It should be noted that Deutsche has pointed out some of the differences between the two drugs on Inhibitex's behalf, suggesting that ...
What goes into the liver are different for 189 and 938 and safety are likely to be different.
INHX 5 Day Chart
Click to enlarge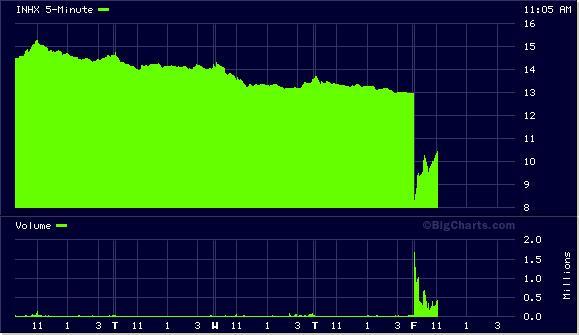 Many investors have felt the pain of the dramatic drop-off in share price for each of the above listed stocks this week. On the other side of the same coin, there are always those who are looking to capitalize on oversold conditions due to irrational panic selling. As always, one man gathers what another man spills.
Disclosure: I have no positions in any stocks mentioned, and no plans to initiate any positions within the next 72 hours.