The Oyu Tolgoi copper-gold mine is a joint project of Ivanhoe Mines (IVN), Rio Tinto (NYSE:RIO) and the Mongolian government. The impact of the mine's copper and gold on the Mongolian economy will be significant to the point that Cameron McRae of Rio Tinto, who is CEO of the mine, was quoted September 8, 2011, saying the mine would boost the GDP of the entire country by 33% on its own by 2020.
The breakdown of ownership of Oyu Tolgoi is actually that Ivanhoe Mines owns 66% of the project and the Mongolian government owns 34% of the project. Rio Tinto comes into play as it now owns 49% of Ivanhoe Mines, and thus it indirectly owns approximately 33% of Oyu Tolgoi.
On August 24, 2011, it was made public that Rio Tinto had increased its stake in Ivanhoe Mines by 2% from 46.5% to 48.5% at an average cost of $18.98. It has since added another .5%. 49% is the maximum ownership of Ivanhoe Mines that Rio Tinto is allowed to have until January 18, 2012.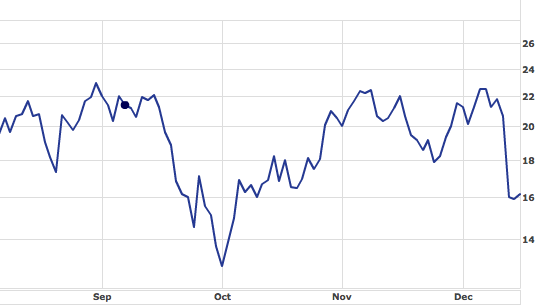 Source: Yahoo! Finance. The dot is on September 8, 2011, a day Ivanhoe Mines shares closed at $21.40.
For the second time since September, Ivanhoe Mines shareholders are emotionally putting selling pressure on the company's stock price as can be seen in the two dramatic drops. Above, the dot is on September 8, as stories that the Mongolian government was seeking to raise its stake in Oyu Tolgoi from 34% to 50% started to show up in the global media on September 9, 2011.
Original reports of the action was reported accurately as, "A group of 20 members of Mongolia's parliament are petitioning for changes in the [Oyu Tolgoi] agreement to give the Mongolian government a larger share of the mine proceeds." This transitioned and began to be reported as "The government of Mongolia is seeking to boost its stake in one of the world's largest undeveloped copper-gold mines."
In numerous sources, reports cited "the government" wanting "to bring forward the date at which the government, which had a 34% stake in the project, moved to 50%" by 30 years to the present time. Bloomberg, The Australian, the BBC, the Wall Street Journal, and others picked up this story as "the government" wanting to change the Oyu Tolgoi agreement.
However, the parliament has 76 members. As can be found in the archives of my Mongolia news blog I wrote on September 27, 2011:
"The idea of renegotiating the agreement is a proposal by 20 Mongolian lawmakers (not a majority; about a quarter of parliament) at this juncture. There are elections in Mongolia next summer and Oyu Tolgoi which is ramping up toward production is a juicy item to pick on (keeping in mind that a fully producing Oyu Tolgoi will boost Mongolia's GDP by more than 30%). Rio Tinto's McRae has warned - and I agree - that the government would be shooting themselves in the foot if they go back and change the deal now. Furthermore, as there seems to be a global economic pull back, this would be a particularly bad time to discourage foreign direct investment in Mongolia. Thus, while I believe that this may be an ongoing topical election issue to gain some votes among those who think the government got ripped off in the Oyu Tolgoi deal, I think that ultimately the government will have the vision to realize future deals that could be negotiated on different terms depend on first honoring those deals they have made in the past."
Eventually, two other members of parliament joined, and it was 22 members of parliament that wanted to renegotiate the Oyu Tolgoi agreement. There is the question of how 29% of the members of parliament seeking a modification became "the government" wanting to change the agreement. If 29% of a parliament or say, the U.S. Congress, can be characterized as "the government" then the range of actions "the government" wants to take in many places worldwide is exponentially larger than previously realized.
One point of this review of the past is that a lot of the news in the media now is a story reported once and then picked up and re-reported by many without a great amount of due diligence. The media could have spun this story that a minority group in the Mongolian parliament made an election-year maneuver to gain attention by suggesting the government's stake in Oyu Tolgoi was raised. In fact, that was what happened.
Instead, the media's voice was that this was a "government" action, which drove the stock price of Ivanhoe Mines down until October 6, 2011, when further announcements made further misrepresentations of the story impossible. On October 6, 2011, the government, Rio Tinto, and Ivanhoe Mines issued a joint statement reaffirming the agreement already in place. This time, it was not members of the government speaking, but was indeed "the government." And thus, the share price of Ivanhoe Mines recovered from its nadir.
The current precipitous drop in Ivanhoe Mines share price has been caused by another recent announcement. As I wrote previously in an article about gold mining investing in Mongolia in general that is titled "Why Ivanhoe, Rio Tinto Are So Keen On Mongolia":
On December 12, 2011, an arbitration ruling in a case between Ivanhoe Mines and Rio Tinto likely changed the trajectory of the two companies and the future of Oyu Tolgoi. A "poison pill" Ivanhoe had created to prevent Rio Tinto from taking over a majority and/or complete ownership of Ivanhoe was struck down. An agreement barring Rio Tinto, a 49% shareholder of Ivanhoe Mines, from making a hostile bid for Ivanhoe Mines will now expire January 18, 2012. Ivanhoe Mines has pointed out that some shareholder rights' provisions "remain in effect until scheduled expiry in April 2013" (Bloomberg; The Globe and Mail).

Rio Tinto's market cap is more than seven times greater than Ivanhoe Mines as of this writing (December 14, 2011, per Yahoo Finance Rio Tinto has a $90 billion market cap while Ivanhoe Mines has a $12 billion market cap). The bottom line is that the impact of Oyu Tolgoi's profits once operational would be far more significant for shareholders in the smaller Ivanhoe than in a company seven time as large.

Shareholders initial reaction has been to sell off Ivanhoe Mines shares in disappointment that that the company will likely be absorbed into the larger Rio Tinto, and that they will not be able to own Ivanhoe Mines through decades of Oyu Tolgoi's peak production years.

As Oliver Belfitt-Nash of Monet Capital, a Mongolian brokerage company, noted promptly in his news update to brokerage clients on December 13, 2011:

Rio's latest win against Ivanhoe marks an important step in consolidating Oyu Tolgoi's ownership. As Rio gains the upper hand, the international giant looks to be edging in on Ivanhoe to eventually take control of Mongolia's prize asset. For Mongolia, this may mean the opportunity to deal with one of the most experienced miners in the world - one that has trodden the political/social line well in the past and knows how to placate all parties involved.

As elections loom [national elections are in June 2012 in Mongolia] resource nationalism bubbles in the local psyche, and mining become the main topic of political discourse, we believe a stronger international partner will help to smooth any further hitches in the plan. The aggressive young Ivanhoe may well give way to a more diplomatic Rio and for the better, in our opinion.

Subsequent to the ruling, Rio Tinto has said they will not necessarily buy all of Ivanhoe's shares. This may have something to do with the shareholder's rights agreement of Ivanhoe Mines that does not expire until April 2013, or the fact that Ivanhoe Mines is still consider a legal response to the ruling, or it may be gamesmanship by Rio Tinto to avoid savvy arbitrage players pumping up the price of Ivanhoe Mines in the interim.

Mr. Belfitt-Nash updated his comments on December 14, 2011:

Against the expectations of investors, Rio have stated they will not be buying out Ivanhoe... The latest statement was clear enough to cause damage to Ivanhoe shareholders, but vague enough to have not made any promises, and we believe investor fear is the main cause of the drop in [Ivanhoe Mines share] price rather than a change in the true value of Ivanhoe... However, the most likely explanation is that Rio will in fact acquire Ivanhoe but at a price they deem fit. Rio have stated the company will acquire a majority and although they have 'no intention' of buying the rest of Ivanhoe, this may well change come January especially when the company 'reserves the right to change its intention in the future.' After all, the market price [of Ivanhoe] is now a lot more appealing.

Rio Tinto will clearly purchase Ivanhoe Mines shares sooner or later. It is unclear where the advantage to shareholders is of selling now compared to waiting to discover how much Rio Tinto is willing to pay for the shares of Ivanhoe Mines later. However, investors can be emotional and in Ivanhoe Mines first full day of trading after the announcement of the arbitration settlement, Ivanhoe Mines share price was down 22.66%.

Share price aside, the success of Oyu Tolgoi remains certain. The resource is massive. However, the ability to invest in this project in a way that shareholder value will fully appreciate the benefits of this project is narrowing. Other mining companies may provide better leverage to appreciate the gains that will be felt in Mongolia's mining boom.
The facts are, after what transpired in September with Ivanhoe Mines' share price, investors in Ivanhoe Mines have been programmed to be skittish on just about any news. The impact of Oyu Tolgoi's profits on Ivanhoe Mines are still vastly bigger than the impact that those profits will have to Rio Tinto. If Rio Tinto does not buy out shareholders, shareholders still own the same asset they did on December 12, 2011. If Rio Tinto does buy out Ivanhoe Mines, than one would assume they will pay a premium for the purchase.
Yet, in the comparison below (chart 6), Ivanhoe Mines underperforms Rio Tinto every time there is a bout of news about the two companies, and otherwise outperforms Rio Tinto. The net result is the two companies are tracking each other's performance.
Here is that chart and a few other comparisons to consider (all sourced from Yahoo! Finance)
1) Ivanhoe Mines vs. Spider Gold Trust ETF (NYSEARCA:GLD) that tracks the commodity price of gold, compared over the last six months. Is Ivanhoe going down because the price of gold is going down? No.
(Click charts to expand)
2) Ivanhoe Mines vs. the iPath Copper ETN (JJC) that tracks the commodity price of copper, compared over the last six months. Is Ivanhoe Mines going down because the price of copper is going down? Perhaps partially, but not totally. Ivanhoe Mines underperforms the index by mid-September, outperforms during the no-news period until December, and then swoons to underperforming on news once again in December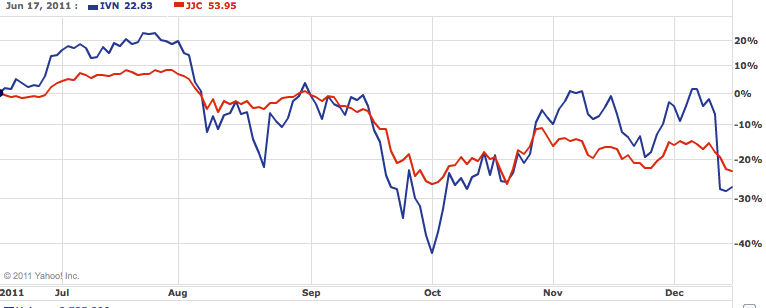 3) Ivanhoe Mines vs. two different exchange traded copper funds, First Trust Global Copper (NASDAQ:CU) and Global X Copper Miners ETF (NYSEARCA:COPX), compared over the last six months. Same story as above. Ivanhoe Mines underperforms the indexes going into early October, outperforms during the no-news period until December, and then swoons to underperforming on news once again in December.

4) Ivanhoe Mines vs. Freeport-McMoran (NYSE:FCX) for the last six months. Freeport McMoran is a company with a $35 billion market cap in the mining and exploration sector. It is the #3 holding of CU (6.08%) and the #6 holding of COPX (4.88%)

5) Ivanhoe Mines vs. Southern Copper Corporation (NYSE:SCCO) for the last six months. Southern Copper is an exploration and mining company with a $25 billion market cap in the mining and exploration sector. It is the #1 holding of CU (6.56%) and the #3 holding of COPX (5.22%)

6) Ivanhoe Mines vs. Rio Tinto (RIO) for the last six months. Has the market already synchronized the share price of Ivanhoe Mines and Rio Tinto as if their eventually being the same company is a given?

Perhaps Ivanhoe Mines' 52-week low closing price of $12.88 on October 3, 2011, makes sense when you look at the comparisons with the share price of Freeport-McMoran and Rio Tinto, for example. Yet, on all six charts, share of Ivanhoe Mines went down more than any of the comparables in late September and early October. This was news driven.
Trading in a news driven stock, when news comes out, it seems understandable that shareholders will react negatively. Prior experience has informed them that the news is not kind to Ivanhoe Mines' share price. However, its asset is good and it has a willing buyer in place. Investors should consider how other shareholders will react to the news, and should also consider that both the news and reactions to it may not always accurately reflect the company's prospects.
Disclosure: I am long IVN, GLD.