(This article is from the new Giorgio's Corner section of The Oxen Group, written by portfolio manager Giorgio Ferrero.)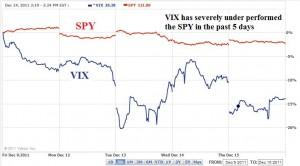 Market Opinion: The SPDR S&P500 ETF (NYSEARCA:SPY) managed to close positive today as it continued to trade above the 50% Fibonacci retracement line from the July highs. The VIX declined -3.57% despite a small gain of only +0.37% on the SPY. Again the VIX told investors to expect volatility to decline in the future with a potential rally coming soon. Additionally, the contango between Dec and Jan VIX futures has increased since yesterday (which is very positive for our VXX bear call spread) strengthening the bullish argument for a rally. However, the VIX has been implying very bullish conditions since last Friday, and we have yet to see a large move to the upside. I'm getting anxious for this move to the upside. I'd like to see a strong up day tomorrow (at least a positive close).
Next week is key for the Christmas rally. We need to see more positive days next week than negative. If next week is just more negative sessions then I will be forced to think that there may be some cracks with the information that the VIX is providing us. Headlines have been improving to imply a rally ahead (Russia to give IMF $10 billion, Spanish and Italian government bond yields have declined) but again, we have yet to see one. We are poised for either a very predictable rally (according to the VIX) or a sell-off due to dollar strength and the market being too anxious over Europe just kicking its problem down the road to get solved later (perhaps after French elections in early 2012).
As for stocks, I have spoken a lot about CF Industries (NYSE:CF) lately, and I've noticed that the Jan'20 150/145 bull put spread may be sold for roughly $4.00. This means we are risking just $100 for a potential $400 return. CF is trading at very cheap prices and its implied Jan option expiration date price relative to its November option expiration price. I have estimated that CF Industries will be trading at or above $151.68 on Jan'20. However, the stock seems to be so technically broken that it not does seem safe to enter at the moment.
Other stocks such as Exxon Mobil (NYSE:XOM) or Google (NASDAQ:GOOG) which have also been historically strong during this same time period have outperformed CF lately. So I ask myself, "why should we invest in CF, when we can just add to our top performers, XOM and GOOG?" Below is the price data to prove that CF has never shown a negative return on Jan option expiration from Nov option expiration.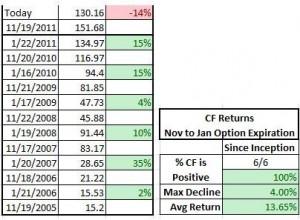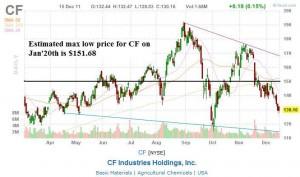 If you're a risk loving investor and believe the $130 level will hold on the stock, then entering the Jan'20 CF 150/145 bull put spread may be the perfect trade for you. However, I'm going to wait and see a big up day in the stock with some convincing volume before I recommend the bull put spread. Now let's turn our focus to back to the overall market.
Daily Data: SPDR S&P500 (SPY)
The most liquid index ETF that tracks the S&P500 (SPY) has seen its far share of volatility since July. Recently, I've been waiting for a Christmas rally to occur in the SPY ever since we entered some Dec'30 119/121 bull call spreads on Dec'14. Today I wanted to know what has been the worst performance of the SPY in the past 10 years from Nov to Jan option expiration to gauge how bad things could get if we miss the Christmas rally.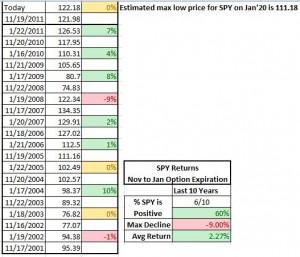 Based on the price information of the past 10 years, I have estimated a max low price for SPY of $111.18 on Jan'20 2012. Based on this information I can suggest the following trade…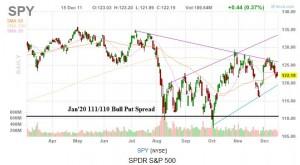 Suggested Trade: SPY - Sell Jan'20th 111/110 put spread (Bull Put Spread)
Size: 10% of Giorgio's Corner Portfolio Size = (10 spreads)
Entry: Sell limit 0.09
Stop Loss: 0.40
Exit Price: 0.00
Max Return: 9.89%
Disclosure: I do not own any investments in CF, I own the 119/121 SPY Dec'30th bull put spread.