By Sumit Roy
Natural gas prices are trading at the lowest levels in years thanks to surging production and elevated inventory levels.
The Energy Informational Administration (EIA) reported that storage operators withdrew 102 billion cubic feet of natural gas from storage in the week ending Dec. 22, 2011. That was above estimates that were calling for a withdrawal between 94 bcf and 98 bcf, but below last year's withdrawal of 164 bcf and the five-year average withdrawal of 137 bcf.
After last week's withdrawal, the inventories now total 3,729 bcf - the highest level ever recorded at this time of the year. As can be seen from the chart below, recent withdrawals have been consistently and significantly below the five-year average, indicating a very oversupplied market.
U.S. inventories are now 177 bcf above the year-ago level and 404 bcf above the five-year average (calculated using slightly different methodology than the EIA).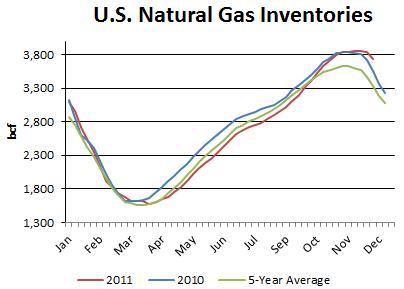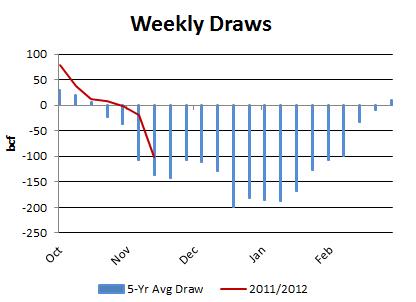 After the report, natural gas prices were little changed near $3.14/mmbtu - near the lowest level since September 2009. Prices haven't been this low during December since 2002.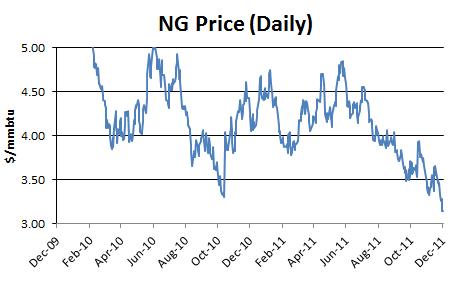 Canadian natural gas inventories fell by 8 bcf to 679 bcf. The withdrawal was much less than last year's draw of 36 bcf and the five-year average draw of 24 bcf. In turn, the surplus over last year rose to 69 bcf, while the surplus over the five-year average rose to 136 bcf.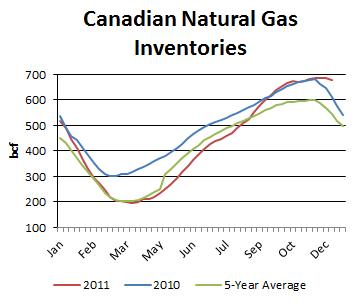 Combining U.S. and Canadian storage, total North American inventories are now 246 bcf above the year-ago level and 540 bcf above the five-year average.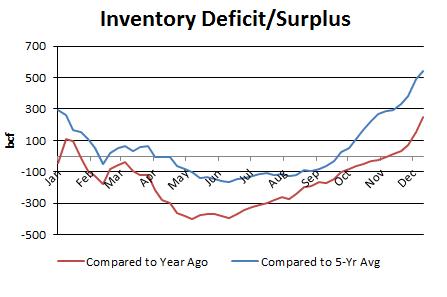 The weather last week was warmer than seasonal norms, with 174 heating degree days in the U.S.
Overall, 78,513 GWh of electricity was generated last week, up 6.54% week-over-week, but down 4.37% year-over-year, according to the Edison Electric Institute.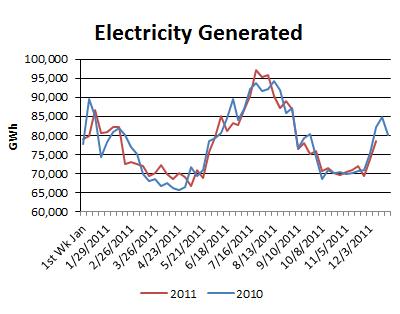 Friday brings the latest rig count data from Baker Hughes. Last week, the number of rigs drilling for natural gas in the United States fell by 36 to 820. Rigs are now down 116 from this year's peak of 936 set in October and at the lowest level since January 2010.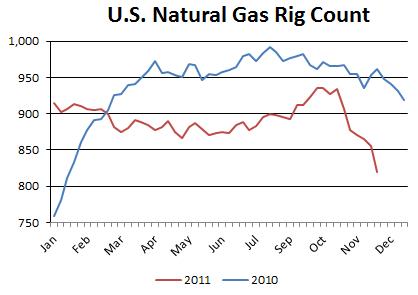 After flattening for five months, U.S. natural gas production broke higher, to a record 70.4 bcf/d in September, up 4.53 bcf/d, or 6.9%, year-over-year.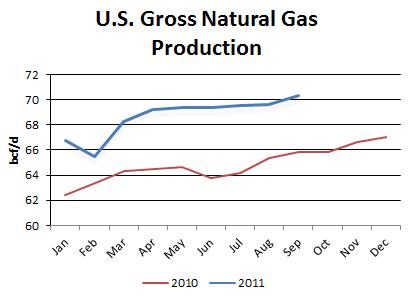 Growth would have been even higher if it weren't for a sharp decline in offshore production, which now stands at 4.17 bcf/d, down 1.76 bcf/d, or 29.7%, year-over-year. Offshore production hasn't been this low on a sustained basis in decades.
Onshore production spiked to 66.23 bcf/d, up 6.29 bcf/d, or 10.5%, year-over-year.Output from the Gulf of Mexico has become a fairly insignificant portion of total production, as it has declined and as onshore production has surged, thanks to the boom in unconventional drilling.
The relentless increase in production and mild weather to start the winter heating season has led to a ballooning in the inventory surplus. In turn, prices have cratered.
The rig count has naturally begun to fall as low prices encourage producers to cut back on drilling activity. Eventually, low prices will rebalance the market, but without question, the natural gas market is structurally oversupplied.
Currently, the only major source of new demand is coming from growth in electric power generation - through both growth in total electric output and from increased market share at the expense of coal.
But that single source of new demand hasn't been nearly enough to absorb all the new supply coming on the market. Indeed, demand for natural gas for electric power generation was only up 0.4 bcf/d, or 1.88%, year-over-year through September. Last year saw much stronger growth of 1.39 bcf/d, or 7.4%, but even that is not nearly enough to absorb the 4 to 6 bcf/d increase in natural gas production this year.
The latest weather forecasts are bearish, with warmer-than-normal temperatures forecast for the next couple of weeks. Prices below $3/mmbtu seem inevitable, but with prices already so low, it's risky to take short positions. Thus, we are neutral on natural gas despite overwhelming bearish fundamentals.
NOAA's 6-10 Day Weather Outlook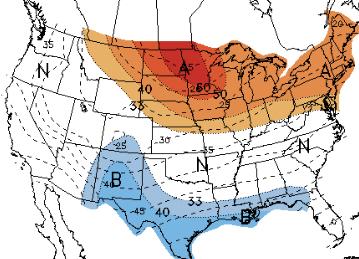 NOAA's 8-14 Day Weather Outlook: