While we wind down toward the holidays, it appears that stocks will stay hard at work through the end of the year.
What a difference a week makes. Only five trading days ago, stocks as measured by the S&P 500 Index were making another run for daylight above the 200-day moving average (red line on the chart below). But as it turned out, the third time was not a charm for stocks, as they failed once again at resistance and turned back lower. By the end of last week, stocks had broken back below support at both its 50-day moving average (blue line) and the 1225 level (green line). Stocks now have a variety of hurdles to clear if they hope to move higher before the end of the year.
images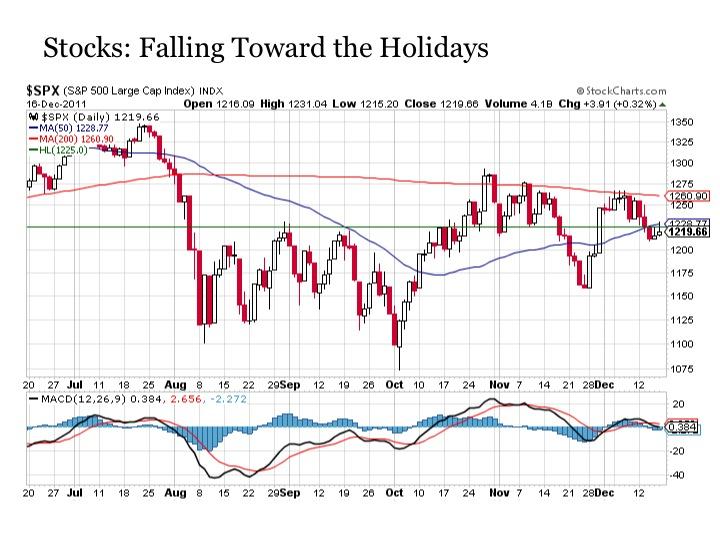 Unfortunately, a look around investment markets suggests that a variety of pressures are building to pull stocks even lower in the coming week.
First, while the broader stock market is still well above late November lows at 1159 on the S&P 500 Index, many bank stocks have already essentially completed the round trip. Leading among these is Bank of America (NYSE:BAC), which is the major financial institution in the U.S. that is considered of greatest concern by many investors.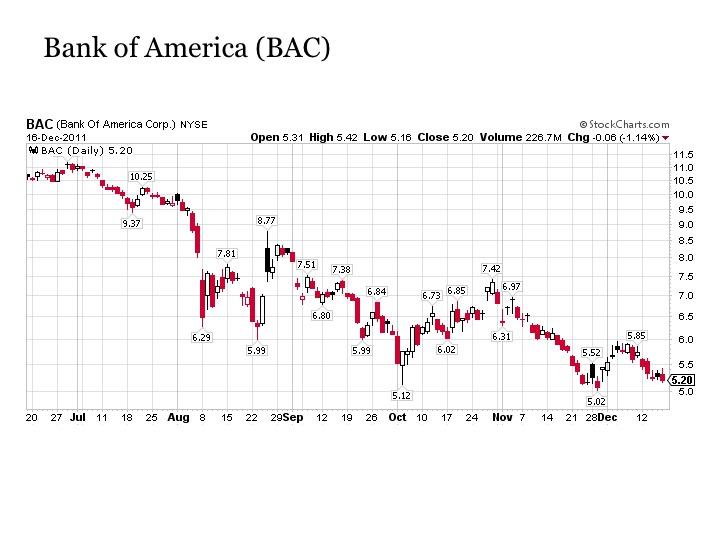 Goldman Sachs (NYSE:GS) has also fallen off sharply in recent days with no signs of relenting.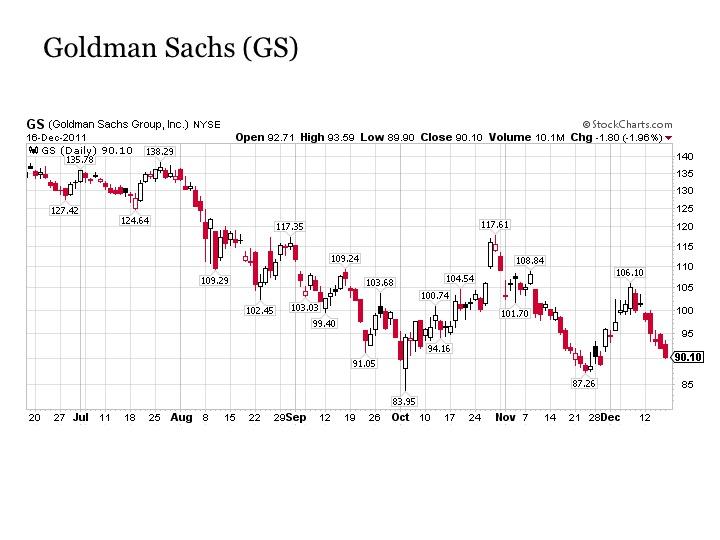 Looking beyond the U.S., the stock price deterioration has been just as profound among a variety of banks across Europe. For example, France's Credit Agricole (ACA.EU) laid off 2,350 workers last week and its stock is threatening to test fresh new lows as we enter the new week.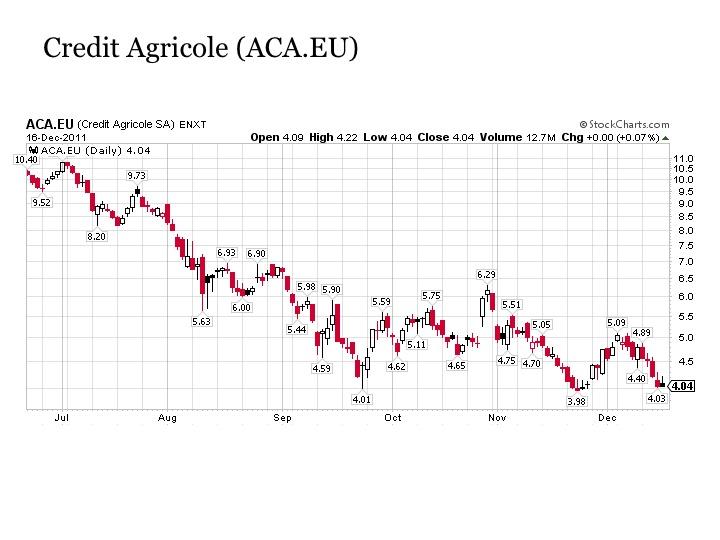 And Germany's Commerzbank (CBK.DE) was engaged in "negotiations" with the German government to receive "assistance" in order to address some "balance sheet weakness". In other words, they went to the German government to seek a bailout in order to avoid default.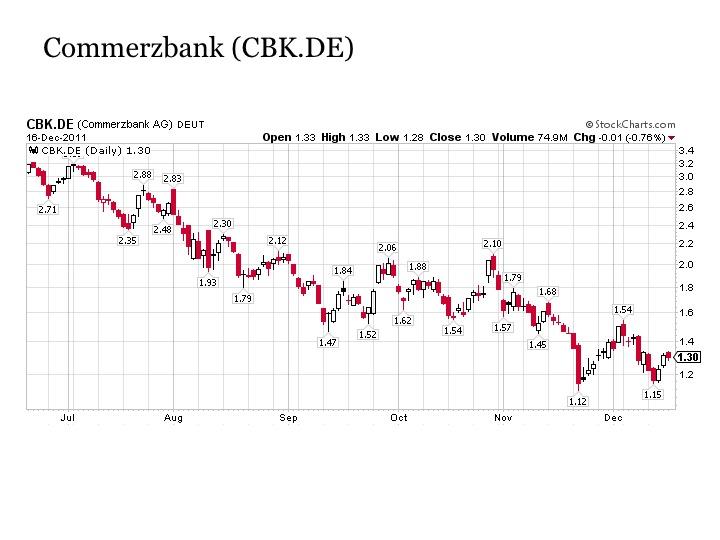 The Preferred Stock market, which is made up of 85% of financials, is providing additional troubling signals. When preferred stocks decline, this is typically a signal that investors have concerns about the solvency of issuers. And this market as measured by the iShares U.S. Preferred Stock Index (NYSEARCA:PFF) has been fading for some time now and is nearing late November lows.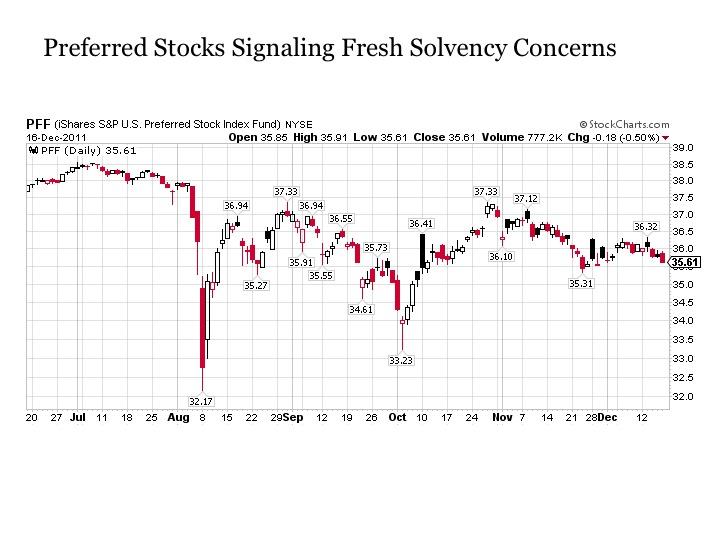 One factor that is pressuring the financials is the persistent lifelessness of the U.S. housing market. For example, the Market PrimeX Indices that measure securitized non-agency prime fixed-rate and hybrid ARM mortgage loans issued between 2005 and 2007 continues to drift after plunging sharply lower in October. This suggests that the problems overhanging this market remain unresolved.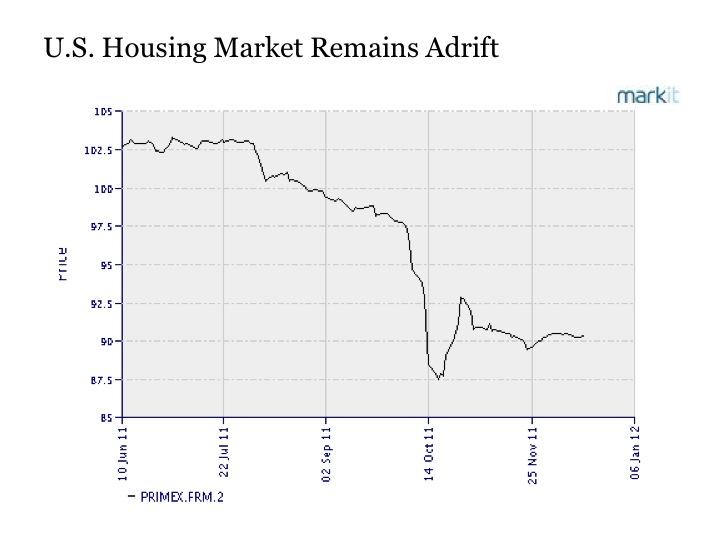 Another more prominent factor, of course, is the ongoing situation in Europe. Sovereign yields have improved markedly in many of the leading economies across the region including France and Spain. But for how long? And while they have also improved somewhat in Italy, they still remain elevated at 6.59%, which is an unsustainable level particularly with a round of massive debt rollovers looming to get underway in less than 45 days.
Given the ongoing risks overhanging the stock market, now is not the time for complacency as we head toward the holidays. Instead, barring some extraordinary policy announcement, it may be worthwhile to use any bursts of stock market strength to lock in gains and reallocate to more defensive positions. This would include lowering overall stock allocations to a level that is more proportional with other asset classes.
Moreover, it may be beneficial to focus remaining stock exposures on companies with largely U.S. focused businesses in defensive sectors such as J.M. Smuckers (NYSE:SJM) and WGL Holdings (NYSE:WGL). Beyond stocks, a variety of other asset class categories continue to hold strong and offer appeal. These include U.S. Treasury Inflation Protected Securities (NYSEARCA:TIP), Agency MBS (NYSEARCA:MBB) and Utilities Preferred Stocks (XCJ, DRU, SCU, ELA). Gold (GLD, IAU, PHYS) may also be worth a particularly close look following what was an extremely difficult week for the yellow metal.
So as we move through the week and toward the heart of the holiday season, it may be worthwhile to also keep an eye on the markets, as they promise to keep things interesting through the end of the year.
Disclosure: I am long GLD, SJM, WGL, TIP, MBB, XCJ, DRU, SCU, ELA.
This post is for information purposes only. There are risks involved with investing including loss of principal. Gerring Wealth Management (GWM) makes no explicit or implicit guarantee with respect to performance or the outcome of any investment or projections made by GWM. There is no guarantee that the goals of the strategies discussed by GWM will be met.