Actionable Items:
Highest Positive Spread: Kayne Anderson Midstream/Energy Fund (NYSE:KMF)
Lowest Negative Spread: Cornerstone Strategic Value Fund (NYSEMKT:CLM)
Focus Stock of the Week: The Thai Capital Fund (NYSEMKT:TF-OLD)
Last Week's Focus Stock: CEF Dogs
CEF Weekly Review: On average, the 13 closed-end fund (CEF) types registered a share price decrease of 1.5% for the week ending 12/16/11. The high-low spread (percentage price change difference between the highest and lowest fund types) registered this week was a wide 5.2% versus a narrow +2.1% the previous week. On an aggregate unweighted basis, the weekly average price change for the 500 plus CEFs in the GrowthIncome database was down 1.0%.
The PowerShares CEF Income Composite (NYSEARCA:PCEF), an ETF that invests in taxable income CEFs, declined 3.3% for the week. PCEF is down 9.9% YTD based on share price and down approximately 1.5% when its current annualized yield of 8.4% is considered. S&P 500 declined 2.8% in a volatile week and expanded its YTD loss to 3.0%.
Trading Volume: The average daily volume for the S&P 500 (GSPC) was up 5.0% to 4.2 billion shares this week. Volume was elevated on Friday as it was a "quadruple witching". Quadruple witching refers to the third Friday of every March, June, September and December. On these days, market index futures, market index options, stock options and stock futures expire, usually resulting in increased volume and volatility
(Click here for YTD CEF Performance. See "Research" Menu; "CEF Weekly Information" tab.)
The Eqcome CEF Fear Index was essentially flat on the downside. The average CEF unweighted price decreased 1.0% while the average related NAV declined 1.0%. The VIX continued its downward trend dropping an additional 8.7% to 24.21 on top of the 3.5% drop last week. The recent decline in the VIX is more a function of the inactivity of the holiday season than an indication of true volatility as it is shows the market's expectation of 30 day volatility based upon put and call premiums.
Uptick, Downtick: Weekly money flow was down 2.9% for the Dow Jones U.S. Total Stock Market Sectors for the week ending December 16th as all 10 sectors experienced money outflows. The Up/Down Ratio (share volume on price upticks versus downticks) was 1.06 indicating volume on the uptick was greater than the downtick volume.
Sectors associated with economic growth were the victims of money outflows. Oil & Gas, Basic Materials and Technology all saw volume declines of greater than 4.0%. Both Utilities and Telecommunication suffer the least with outflows of 0.3% and 0.5%, respectively.
CEF Weekly Fund Type Performance: CEF fund type lined-up about as you would expect them to in a down equity environment. Fixed-income fund types outperformed the equity-oriented fund types with a couple of exceptions.
Single state muni funds and InvGrdBndFnds were the only fund types to post gains, 0.5% and 0.4%, respectively. LoanPartFnds clocked in an average decline of 2.2% similar to WrldIncFnds. We would interpret the performance of the former to be an expression of prospects for slow economic growth and lower interest rates.
images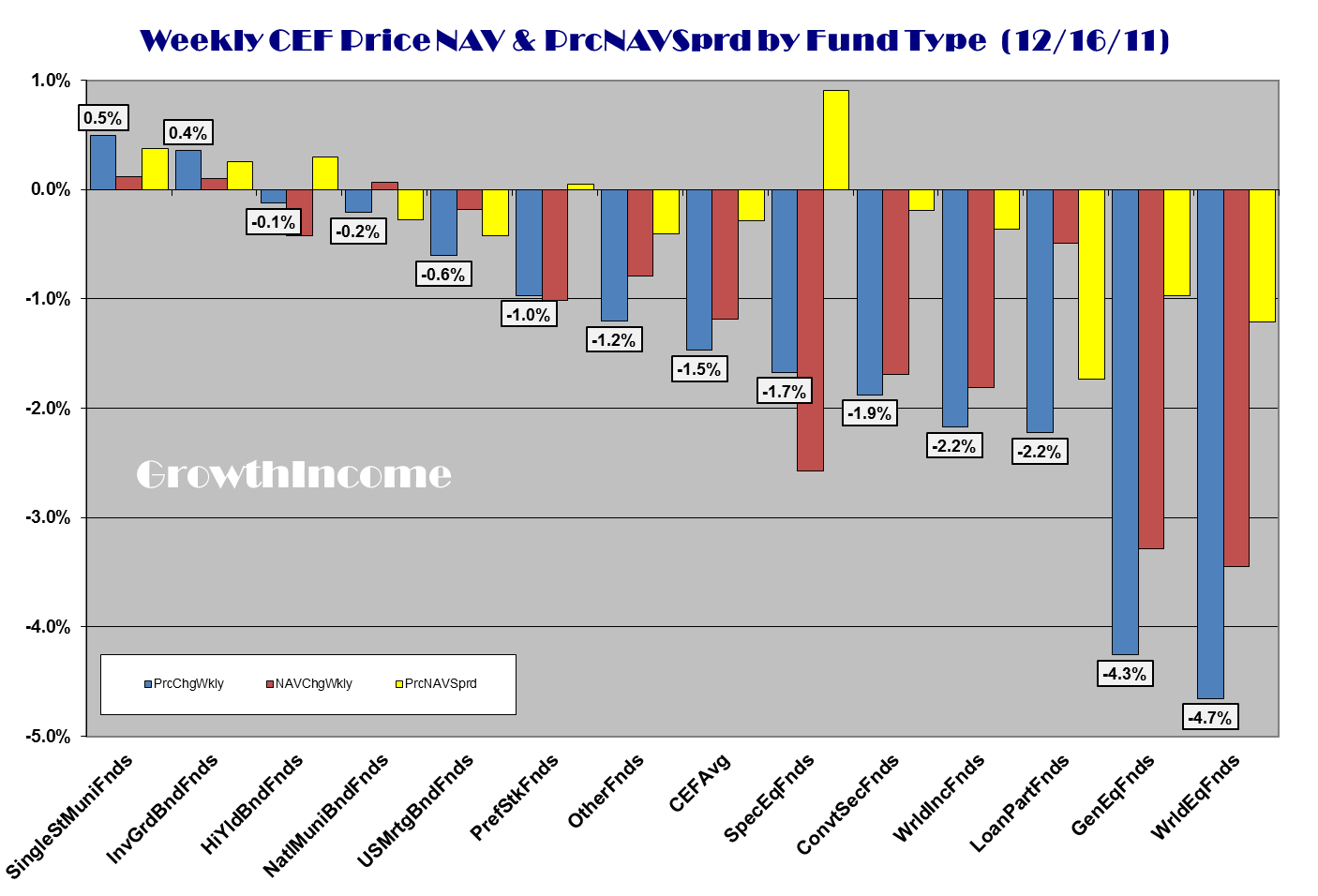 GenEqFnds and WrldEqFnds suffered disproportionally off 4.3% and 4.7%, respectively. Some of this negative alpha may be attributable to yearend tax selling further depressing the equity-oriented stock fund types.
Weekly CEF Winners and Losers: One of the CEFs with the greatest positive PrcNAVSprd for the week was Kayne Anderson Midstream/Energy Fund (KMF). KMF's price increased 4.5% while its NAV declined 0.4% generating a positive PrcNAVSprd* of 4.9%. KMF invests in companies engaged in the process, storage, marketing and transportation of oil, gas and other liquefied energy products.
KMF announced Thursday a quarterly distribution of $0.4175 per share for the quarter ending November 30, 2011. The Q4 2011 distribution represents an increase of 1.8% from the prior quarter's distribution of $0.41 per share. The stock goes ex-dividend on December 28th. (Its sister CEF, Kayne Anderson MLP Investment Co (NYSE:KYN) also announced a 1.5% quarterly distribution increase—the fifth consecutive quarterly increase. KYN's positive PrcNAVSprd was a more modest 1.4%. KYN trades at a 7.3% premium)
KMF trades at a 7.9% discount to its NAV. With its new distribution rate, its current annualized yield is still around 7.0%.
A CEF with the greatest negative PrcNAVSprd for the week was Cornerstone Strategic Value Fund (CLM). CLM's price decreased 14.6% while its NAV increased 4.3% generating a negative PrcNAVSprd of 10.3%.
CLM's subscription period for its non-transferable one share for three rights entitling the holders to subscribe for an aggregate of approximately 2,867,443 shares of the Fund's common stock expired this Friday (December 16, 2011). The actual subscription price per share, as determined on the Expiration Date (Friday), will be the greater of (1) 102% of NAV per Share as calculated at the close of trading on the date of expiration of the Offering and (2) 90% of the market price per Share at such time.
The stock closed at $6.61(CLM) per share and its NAV was recorded as $5.97 (XCLMX) per share as of Friday. It would appear that based on this calculation, that 90% of stock price would generate a value of $5.95 per share, while 102% of the NAV would generate a value of $6.09 per share versus, the latter being the higher of the two.
Not a Stock for Everyone: This has always been a "sketchy" stock. Its annualized monthly distribution rate is 20.0% based mostly on return-of-capital distributions. This calculation has a tendency to mislead investors seeking high yields that don't understand that what their receiving is a return-of-capital as opposed to a return-on-capital. The stock has always traded at a significant premium when the CEF sector trades at a discount partly attributable to this confusion.
Reload: The frequent "rights" offerings is a way to "reload" new capital to support further distributions of capital to shareholders. Additionally, the non-tradable rights offerings allows for oversubscription of un-subscripted rights which transfer value from the shareholders who do not subscribe to those that oversubscribe.
More Accurate Disclosure: One very encouraging note is that Yahoo Financial now only prices the yield on CLM based upon its distribution from net investment income as opposed to including the return-of-capital portion of the distribution.
The difference is helpful to retail investors as Yahoo now posts a yield of 0.7% as opposed to the 20.0% distribution yield based on its return-of-capital distribution component. Now we need to write to Google finance to see if they can make the same adjustment.
Heads Up: This stock is for traders and not investors. The people supporting CLM are smart people who you don't want to underestimate.
Economic & Earnings Outlook: (Click here for next week's economic calendar; click here for earnings' announcements and estimates.)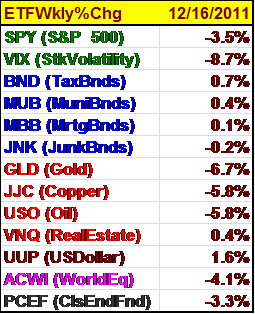 ETFs: For a more detailed EFT performance by sectors, click here, See "Research" Menu; "ETF Weekly Information" tab.)
Insider Trading: DST Systems, Inc. (held by West Side Investment Management, Inc.) continues to aggressively add to its positions in both Liberty All Star Growth Fund (NYSE:ASG) and Liberty All Star Equity Fund (NYSE:USA) in the month of December—both a continuation of buying that took place in November.
In the case of USA, DST most recently added 10,068 shares at an average price per share of $5.07 and now holds 488,509 shares.
DST also added 103,178 shares to its position in ASG most recently at an average price of $4.32 for a cumulative holding of 2,291,120 shares. It has upped its ownership to 7.62% versus 6.44% the previous month. Karpus Management, a CEF activist investor, has a 14.74% stake in ASG as of the end of September.
Both CEFs are advised by ASPS Advisors, Inc., a subsidiary of ALPS Holdings which in turn is a wholly owned subsidiary of DST Systems, Inc. ("DST').
Stephen West, a director of the Swiss Helvetia Fund (NYSE:SWZ), appeared to have unloaded 18,700 shares at $10.93 per share reducing his holdings to 1,071 shares. There continued to be some buying in two BDCs, Hercules Technology Growth Capital (NASDAQ:HTGC) and Harris & Harris Group (TINY), $45,600 (5,000 shares) and $68,271 (18,831 shares), respectively.
(Click here for a hyperlink to the Joe Eqcome's CEF Weekly Insider Report—See "Research" Menu; "CEF Weekly Information" tab.)
CEF Distribution Announcements This Week: The following is a link to a table of CEF distribution announcements this week as well as the previous week's with yet expired ex-dividend dates. The list is not intended to be inclusive. Additionally, mid-month is a time when many CEFs go ex-dividend and the beginning of the month is typically the time distributions are announced. (Click here for Joe Eqcome's Weekly CEF Distribution Announcements—See "Research" Menu; "CEF Weekly Information" tab.)
CEF Focus Stock(s) for the Week: The Thai Capital Fund (TF-OLD) is the focus stock of the week. We believe the stock is attractive as a long-term investment for the following reasons:
TF appears oversold and now trades at an attractive valuation: TF, along with other WrldEqFnds, have been this year's worst performers. Such price laggards are likely a subject of tax loss selling at year-end depressing its current price. Additionally, TF is currently trading at a 14% discount which is close to its 52 week low.
The recent catastrophic flooding has resulted in affirmative political action: To address the crisis both in the short-term and long-term fashion, the government has earmarked funds the equivalent of 1.0% of its GDP for Emergency relief (helping victims, providing medical care and temporary shelters), and two committees addressing the long-term preventative developments of such an event recurring which should give a shot in the arm for the economy.
WrldEqFnds, like TF, are being held hostage to the political drama of the euro zone and its resolution.
Last Week's Focus Stock(s): Our focus stock(s) last week was the CEF Dogs of 2011. Every year we look at the worst CEF performers at the year and determine whether they are likely to be beneficiaries of a "bounce" in the subsequent year.
In a recent report entitled "CEF Dog of 2011: Will it Work This Year?" we went back and looked at the performance of the "Dogs" for the last couple of years.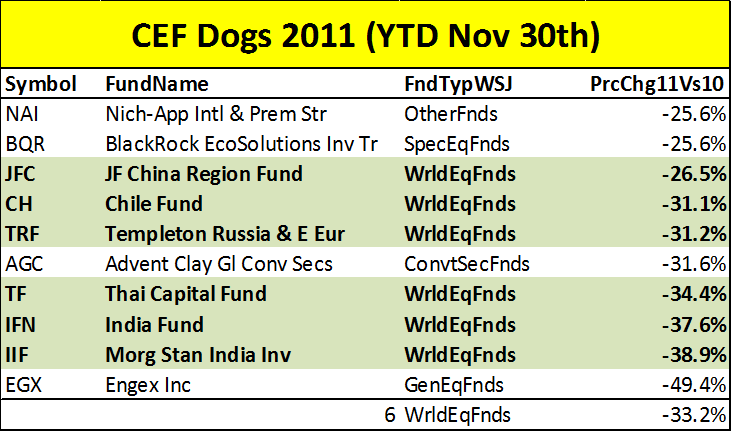 Out of the three years covered in our analysis, two years seemed to confirm the thesis: that the 10 worst CEFs in terms of price performance outperformed the 10 best performing CEFs the subsequent year.
In general, the WrldEqFnds CEF Dogs (highlighted in green) fell on average 4.7% versus 2.8% for the S&P 500 and slightly greater than the world equity ETF (ACWI) which was off 4.1% for the week. WrldEqFnds will likely be under pressure for the balance of the year as the big time price decliners get pared from portfolios at year end.
---
[*] All things being equal, price and NAV should move in tandem. A price movement greater than the NAV generates a positive PrcNAVSprd and may be interpreted as negative on a near-term basis and indicate that the stock is overvalued relative to its NAV which in theory is the stock's intrinsic value. The opposite would be true for a negative PrcNAVSprd.
Disclosure: I am long TF-OLD, ASG, JFC, CH, TRF, IFN, IIF. I own a diversified portfolio of CEFs and ETFs and am long stocks in the CEFBig10™ and CEFMuni10™.)
The first is a balanced equity-income portfolio (CEFBig10™) and the second a tax-exempt income portfolio (CEFMuni10™).