Mongolia Growth Group (OTCPK:MNGGF) was formed in December 2010. On June 20, 2011, a press release announced that their Mandal Insurance division was now the best capitalized insurance company in Mongolia. This article is a follow up on my November 25, 2011 article about Mongolia Growth Group's private placement, and their real estate business.
How could Mongolia Growth Group become the best-capitalized insurance company in Mongolia in six months?
Mongolia Growth Group only needed $5 million to become the best-capitalized insurance company in Mongolia. The fact is that the penetration of the insurance market to-date in Mongolia is minimal.
To understand why there are not any major international insurance companies opening an insurance business in Mongolia, consider that the size of the population in Mongolia is about the population of Chicago. Now, take the population of Chicago and spread that population over the size of a country a little smaller than Alaska, and make the average annual income less than $5,000, with those below the median annual wages earning less than $3,600 per year. Add to that, a local language that is unique to the country's small market size.
For these reasons, no major fast food company (no McDonald's, no KFC) has entered the Mongolian market, let alone a major international insurance company making a footprint in the local market. The other side is that high-end retail stores such as Louis Vuitton, Dior, and Armani, have seen enough economic growth and wealth creation in Mongolia that they have opened stores in Mongolia.
Why start an insurance company in Mongolia?
The first guiding investment principal of Mongolia Growth Group has two parts.
Part 1: The economy of Mongolia is going to boom because it has significant untapped resources that will cause Mongolia's GDP to grow more than 10% per year for the next 20 years.
Part 2: Find ways to gain leverage on the economic boom caused by Mongolia's mineral wealth. Do not invest in mining. Figure out what other investments and businesses do well in countries that have had natural resource booms and invest in those.
What does the management at Mongolia Growth Group know about insurance?
The management team of Mongolia Growth Group determined that insurance was a good line of business to enter in Mongolia based on the history of growth in other natural resource country booms such as Qatar and Kazakhstan. Then, they studied the market and targeted personnel from locally run Mongolian insurance companies to bring onto their team.
In March 2011 Mongolia Growth Group announced a partnership to enter the property and casualty insurance market with United Mongolian Corporation [UMC]. The CEO of UMC, Mr. Ganzorig Ulziibayar, formerly also CEO of Prime Daatgal Insurance, continues in his capacity as CEO of UMC.
Prime General Insurance was one of the three best-capitalized insurance companies in Mongolia before Mongolia Growth Group's Mandal existed (Prime's 2009 annual report). The former CEO of Prime, Mr. Ganzorig Ulziibayar is now also President of Mongolia Growth Group's Mandal Insurance unit. The former Executive Vice President of Prime, Mrs. Davaanyam Myagmar (aka M. Davaanyam), is now CEO of Mandal Insurance. Four other executives from Prime joined Mr. Ganzorig Ulziibayar and Mrs. Davaanyam Myagmar at Mandal.
Mandal launched their first national advertisement on September 15, 2011 (English translation of the ad appears in the link). According to Mongolia Growth Group's October 2011 shareholder letter, Mongolia Growth Group's new 5-story headquarters will be named the Mandal Building, a 5-story advertisement for the insurance unit's business.
Who will buy insurance?
According to the World Bank's October 2011 quarterly report on Mongolia, the average Mongolian earns $1.50/hour. This works out to less than $300/month. In light of this, it is understandable that the economy is growing rapidly and the government's recent announcement of a 53% increase in wages for government employees makes sense. It is this low-wage small-economy starting point combined with vast untapped natural resource wealth that causes people to project 10% or greater growth for the Mongolian economy for the next 20 years. The coming wage growth will create a need for insurance that could not be there earlier because there was not enough money in the economy for insurance earlier.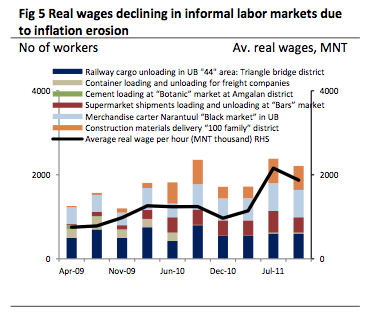 2,000 Mongolia Tugrik = $1.48 per Yahoo! Finance on December 7, 2011. Source: NSO World Bank staff estimates, World Bank October 2011 Quarterly Report on Mongolia.
It is also this starting point for growth that causes insurance penetration to be minimal currently. Auto insurance penetration is less than 5% of the population, however the government has a law pending making auto insurance mandatory by January 2013. Mongolia Growth Group's November 2011 shareholder letter notes, "[O]n October 6, 2011, The Government of Mongolia passed a law mandating that all vehicle owners and drivers must purchase liability insurance starting in January of 2012. The traffic police will be checking the drivers for insurance in October 2012."
Home insurance penetration also is currently less than 5%. One source quoted me actual insurance penetration of the Mongolia market at 3/10 of 1%. At this point, very few people use mortgages to purchase a home, and either buy a home outright, rent, or live otherwise (e.g. nomadically; also, every Mongolian at birth has the right to claim 6/10 of 1 hectare of land by putting up a fence around a property not claimed by anyone else previously). The government is changing the society's outlook on mortgages in its current low-income housing project that will provide 6% loans on home purchases for first-time homebuyers. As the use of mortgages increases in Mongolia, insurance will become requisite on the home for both the lender and the person or entity that holds the mortgage.
There are more obvious lines of insurance in the mining sector in Mongolia. These companies, and their employees bottom to top, all have a full array of insurance needs. As the mining sector ramps up, there will be a ramp up in the number of people employed by the mining sector, and their insurance needs as individuals and as companies will grow with the development of the mining sector. Oyu Tolgoi, the copper-gold mine that will boost GDP by more than 25% by itself is slated to begin production in the second half of 2012. Other mines large and small are close behind it.
image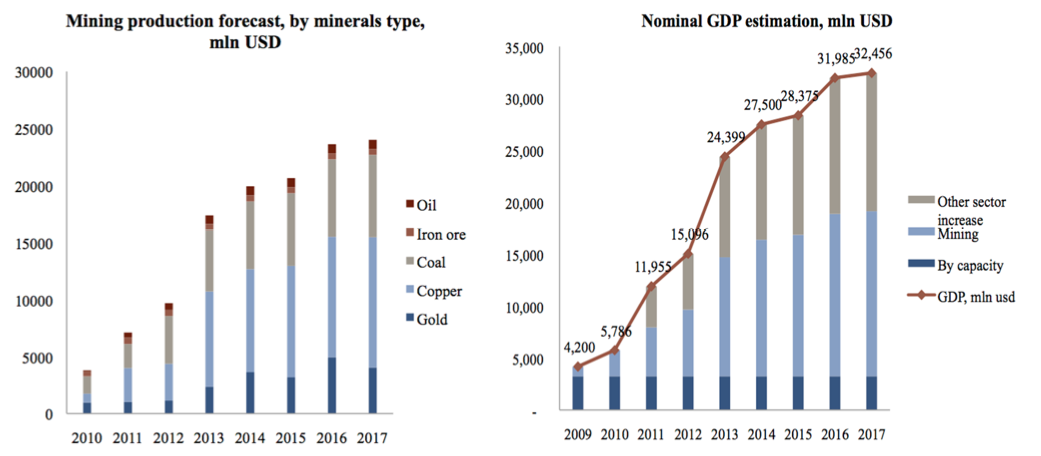 Source: ACI Mongolia, The Financial Markets Association, Mongolia Growth November 2011 presentation.

Additionally, the November 2011 Mongolia Growth Group newsletter highlighted a previous announcement by the company that "Mandal officially rolled out its dedicated Expat VIP services last week. It has been in beta testing for two months and the response has been very positive. Foreigners wants a sales team that doesn't just speak their language when buying insurance; they want a full package that even involves a representative arriving at the scene of an accident and handling their insurance claim in their preferred language as well. Thus far we are impressed by the response from the Expat community."
For all these insurance issues, the Mandal Insurance team has an expert group of personnel with experience insuring in Mongolia working together with conservative risk analysts from Canada questioning each risk line by line. They have shared with me some proprietary methods of how they analyze the insurance market, and they are thinking about the details of the market in detail oriented and innovative ways.
For the truly detail oriented, a brief history lesson on Prime Insurance in Mongolia
Top management at Mandal came with experience from local top insurance company Prime. Petrovis, a privately held Mongolian company that is the largest Mongolia petroleum concern, formed Prime in 2001. In 2010, Tenger, a local conglomerate that most notably also owns Xac Bank in Mongolia, became a 50% owner of Prime alongside Petrovis. In 2011, six top executives at Prime left to go to Mandal Insurance, the company that is now the best-capitalized insurance company in Mongolia. Other local insurance competitors in addition to Prime Daatgal include Mongol Daatgal and Bodi Group's Bodi Insurance.
Disclosure: I am long Mongolia Growth Group (OTCPK:MNGGF) and long Ivanhoe Mines (IVN). I have not placed any trades in Ivanhoe Mines in the 72 hours prior to publication of this article and will not for 72 hours after publication of this article. I am participating in the current private placement of Mongolia Growth Group that closes December 23, 2011. I have had a request in to fact check my data with the World Bank in Mongolia for one week. I have not heard back yet and have decided to publish the data based on their reports on wages and earnings in Mongolia as I have interpreted them. Any errors are my own and will be noted upon clarification from the World Bank in the comments.