In part 1 of this "Beating the ETF" series, we looked at the wildly higher performance results achieved by taking the largest holdings of nine sector ETFs versus using the ETFs. Our results were clear. Owning the few top positions in the ETFs far outperformed simply holding the ETF basket itself. The only catch is that you have to use the top positions today, not from 5 years ago! So, what is really going on here? On the most basic level you have firms that have, for whatever reason, grown larger than their peers. Over time, they become a larger portion of the sector ETF due to this outperformance. If this increase in market cap occurred during the time you are looking at it, the performance of that stock will always 'look good'.
If there are groups of securities inside an ETF, especially the largest in terms of percentage of a particular ETF, we want to identify them in hopes of leading us to other alpha-generating strategies. We don't want to bore you with exhaustive lists of performance data. Instead, we will look at a single example and see what we can infer about this effect.
What is under the hood of XLK that would cause the top few holdings to blow away the ETF? XLK's major holdings are Apple (NASDAQ:AAPL) (14.13%), IBM (NYSE:IBM) (8.43%), Microsoft (7.57%) and AT&T (NYSE:T) (6.63%). Below you can see what happened.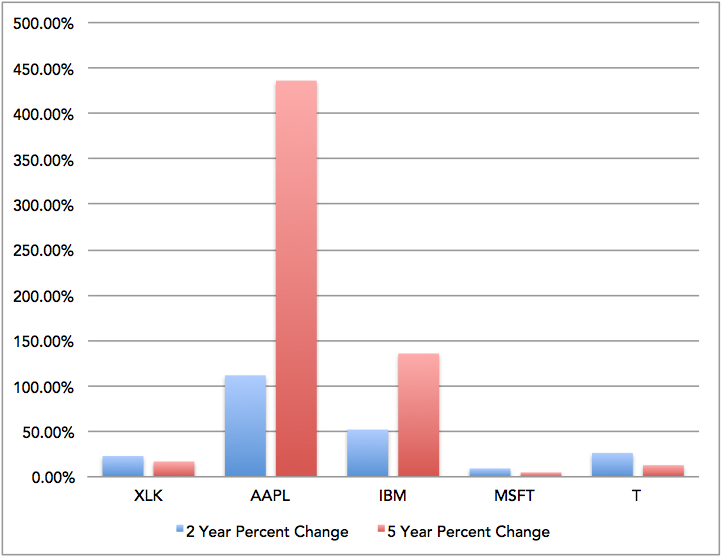 AAPL and IBM blew away the basket while MSFT and T were just lagging placeholders of XLK. An equal weighted portfolio of the four stocks would have made 112% versus 17% for the ETF. You can see that the results would have been even more dramatic if we just stuck to the top two stocks rather than drag things down with MSFT and T. This is also the reason hindsight is 20/20. Are you willing to bet AAPL will continue to perform as it has over the past five years? The more important question was if it was 14% of XLK five years AGO? It wasn't. In fact, AAPL was only 2.43% back on 8/29/2006. So, we can't really use this data to make money going forward unless you presume momentum will continue. This did happen with XLE. XOM and CVX both remain in the top two positions and did outperform the ETF.
Below is a chart of what happened with the 2006 top four.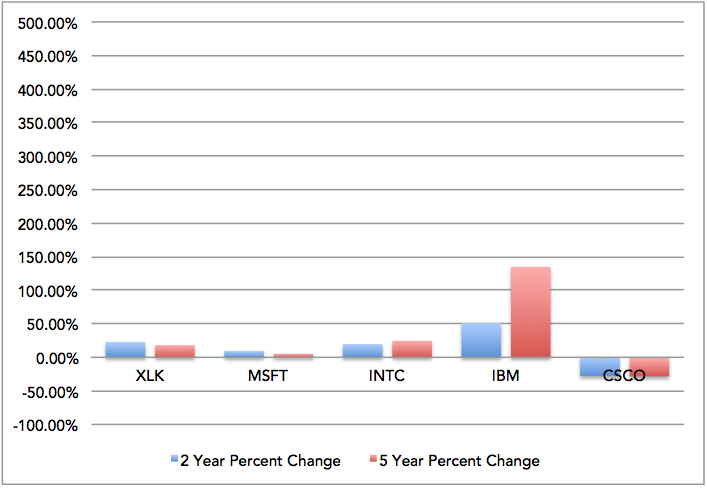 As you can see you would have still done better with a total performance of 34.10%.
You would think that risk and return would stay somewhat constant considering the high correlation, but the beta was actually slightly lower for the equal weighted portfolio. We wouldn't read too much into this. Risk and reward are rarely stable outside of the halls of university finance departments.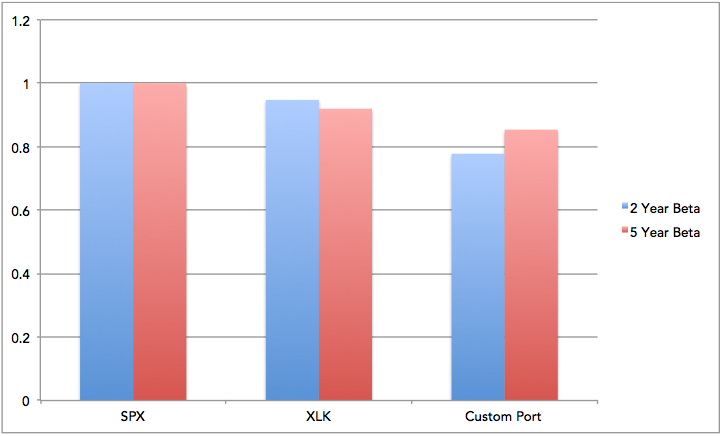 The bottom line is that if you have a crystal ball you can throw a dart at a few top holdings of an ETF and get lucky. The key seems to be picking the time when momentum is favoring that sector. However, momentum must continue. We see that while momentum persisted in XLK, it was not the slam dunk of using today's top holdings in lieu of 2006 top holdings.
Some might say this suggests larger companies gain more market share during good times. Also, we could go further and find fundamental reasons why a stock has significantly outperformed. Come on, you don't know why AAPL outperformed MSFT? One sells lots of cool stuff at a premium and the other has been moribund for over a decade. What we need is a methodology to identify top performers (good luck!) with a hedge. Why? That is called seeking alpha versus generating beta.


Disclosure: I am long AAPL.