When I was just a boy, a wealthy uncle of mine told me, "Marc, you'll work hard for your money when you're older, so make sure your money works hard for you."
With stocks, bonds, and commodities we have some inconspicuous ways to make our money work hard for us. "Inconspicuous" because they aren't overt nor known to many.
Being bullish these days isn't easy either. Even investment legends like Barton Biggs don't seem to know what's going to happen next. In a recent interview on Bloomberg Television's "In the Loop" with Betty Liu today, Biggs clearly indicates that [he's] "biased toward the long side".
U.S. big-capitalization, U.S. stocks and Asian stocks are the best houses in a fairly tough, bad neighborhood.
Biggs said that stocks just might
surge or drop 20% because of concern about budget negotiations and Europe.
Warren Buffett, George Soros and Carl Icahn, to name a few "Market Mavens" are also taking big bets on the stock market and commodity-based companies. Yet their lips are sealed on what the next two weeks may bring.
Euro Ministers Meeting Monday
The major financial news sources like Bloomberg are reporting that euro-area finance ministers are seeking to meet a self- imposed deadline for drawing additional aid to the debt crisis through the International Monetary Fund and put together new budget rules. Europe's regional finance ministers will hold a conference call at 3:30 p.m. Brussels time on Monday to discuss 200 billion euros of additional funding through the IMF.
These events will definitely color and impact stock markets around the world, and I'll be watching to see if the U.S. Markets decouple from them further.
France is scheduled to sell as much as 7 billion euros ($9.1 billion) of Treasury bills today after Fitch said on December 16 that the country is more exposed to the region's debt crisis than other top-rated eurozone countries because of its budget deficit and government debt burden. Spain will auction government securities Monday or Tuesday of this week that will be maturing in three and six months. France's situation is worth watching carefully on the heels of Fitch Ratings having reducing its outlook for the nation's credit grade to negative from stable.
Here's How to Work This Market
One of the most consistent ways to work this market is to begin by buying the "Great Dividend Paying Companies" like Intel (NASDAQ:INTC), Coke (NYSE:KO), Royal Bank of Canada (NYSE:RY), and Automatic Data Processing (NASDAQ:ADP) on strong market dips. This way you'll be making a dividend yield between 3% and 5% while you're waiting for the next big bull market extended rally to commence. Next, trade the stocks that have some wild volatility. Companies like Silver Wheaton (SLW) and Stillwater Mining (NYSE:SWC) are two good examples.
Take a look at this 5-day chart of SWC and you'll see what I'm writing about:
It's not uncommon to see Stillwater move up or down 5% to 10 % in one trading session.
Another great example is Alexco Resources (NYSEMKT:AXU), which recently passed some important resolutions at its December 16th annual meeting. That may be reason for the recent spike in volume and tremendous volatility. Alexco surged almost 12% last Friday, and that kind of volatility isn't uncommon. There may be a big move to the upside very soon, but expect more volatility here.
Avoid the high P/E stocks like Panera Bread Co.(NASDAQ:PNRA) and the most bloated one I know of, Chipotle Mexican Grill (NYSE:CMG), which trades at nearly 50 times current earnings. Panera and Chipotle should be purchased after some kind of huge correction or on the belief that their earnings are soaring and about to reach new heights.
Speaking of Volatility
The stock market's volatility index has begun to give us a signal we've been waiting for a long time. There are two weeks left in the trading year and it appears that the eurozone debt (solvency) crisis will remain the primary obstacle for the major market indices. The S&P 500 as represented by the ETF symbol SPY (see chart below) is in an ominous position. (Click to enlarge)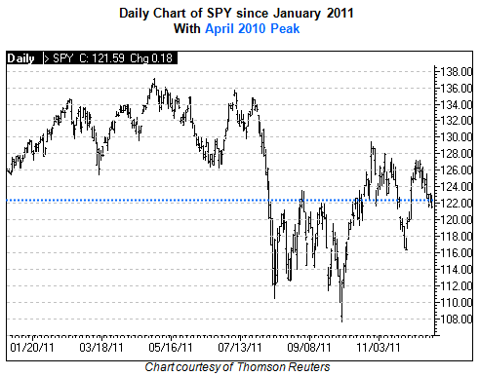 It appears that the SPY is trading near its high prior to the May 2010 flash crash, and atop the August-October range. A risk for the bulls now that the major equity indexes are sitting in the middle of their 2011 range, is the inability of the CBOE Market Volatility Index (VIX - 24.29) to sustain a move below 24.00. This is half its 2011 high and a level we have pointed out as being technically significant. Most of our readers know that we give some credence to the movement of the VIX.
If the stock market were to begin to tank and you owned the iPath S&P 500 Vix Short-term Futures ETN (NYSEARCA:VXX) you may see it soar to its November 25, 2011 high of $47.70 or higher. It closed last Friday at $39, which is the lowest closing price for VXX going all the way back to October 28, 2011. It wouldn't surprise me to see it drift lower over the last two weeks of 2011, only to spike back up as the new year of 2012 begins.
A View of the VIX and What the Markets May Do Shortly
It wouldn't be fair not to point out that last week there were three days in which the VIX dipped below 24.00 as equities advanced. Sadly for bulls, the moves below this critical area were short-lived. Instant selling emerged after these breaches, as the VIX popped back above 24.00 on all three occasions. One might almost believe it was rigged to do just that.
An additional risk is that there is now no evidence of hedged buyers playing the long side of the market, as the buy-to-open call/put volume ratio on VIX options has been in a downward pattern. We can't rule out the possibility that speculative buyers may enter the market soon, which typically happens this time of year. But the absence of hedged buyers is a real concern at the moment.
For now the year-end buying frenzy is on hold, unless the SPX can break out above its year-to-date break-even and 200-day moving average, located in the 1,260 area. It closed last Friday slightly below 1,220. Without a positive fundamental catalyst such as an unexpected big announcement on the European insolvency crisis, the market remains prone to more volatility.
You may want to hedge some of your positions by buying the ProShares UltraShort S&P 500 ETF (NYSEARCA:SDS). SDS seeks daily investment results which correspond to twice (200%) the inverse (opposite) of the daily performance of the S&P 500.
For higher risk investors who want to zero in on how the European bank crisis may impact U.S. financial stocks, you might want to look at the Proshares UltraShort Financial ETF (NYSEARCA:SKF). SKF seeks daily investment results which correspond to twice (200%) the inverse (opposite) of the daily performance of the Dow Jones U.S. FinancialsSM Index.
Calmer Times Ahead for the Markets?
The only realistic answer is "Perhaps"! The fourth year of the first-term of a Democrat President is often a positive year, we may see this happen again. The last such year was 1996, which began an amazing upside rally. Below is a chart of the the Dow Jones Industrials Average (DJIA) from January 1st of 1996 through the end of 1998.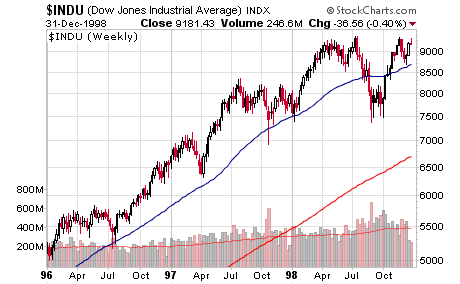 You can see that 1996 was mostly bullish except for a pullback around July. The DJIA began 1996 at below 5,500 and ended near 6,800, nearly a 24% advance. Perhaps that is close to the "program" that the most powerful stock market participants will be following as they continue to use their computer algorithms to determine market trading, direction and outcome.
So when it comes to the stock market's volatility, we believe that the VIX needs to close under the 24 level for a few trading sessions in a row to show that the markets are calming down and wanting to end the year on a high note. The last time the VIX traded below 25 and stayed there for more than a few days was in July of this year. That's what we'd like to see now, especially those of us who have exposure to the stocks with the most volatility.
We may end 2011 bullishly, but the outcome is in the hands of the "Big Dogs", the major market movers who use the headlines to justify the directional programs they launch daily. The VIX's recent move lower indicates that the U.S. market is showing some signs of decoupling from European markets, as many would like to believe. If that happens, and it just might, 2012 could prove to be a much better year than 2011, although we have almost two weeks left to "run".
Disclosure: I am long INTC, SLW, SWC.
Additional disclosure: I may initiate a position in the next 72 hours in RY, SDS, SKF, and VXX.