After the most recent earnings report, which was touted as beating the market, the share price of the New York Times (NYSE:NYT) jumped strongly; although not soon afterwards it has pulled back on the realization that nothing fundamentally changed for the company and the market trend working against it.
Most investors looked at the cut in costs and increase in digital subscribers and revenue as the key reason to temporarily reward the stock, ignoring for the moment that there was also a drop in print subscribers, which easily offset the growth on the digital side.
Considering the fact the company will retain its heavy exposure to pension fund costs, and acknowledges it won't be able to make the kind of cuts it enjoyed in the most recent quarter, and you have a set of negative catalysts that will not go away.
Nothing is going to disrupt or reverse the trend towards the Internet as the preferred source of consuming media and news, and Craigslist isn't going away, which has taken a huge amount of ad revenue from the print industry in general, and the New York Times specifically. There are of course other online companies doing the same.
Cutting through the clutter and hype, the New York Times will perform in conjunction with the revenue and earnings it generates from its print properties. Without a doubt ad revenue from print will continue to decline, and digital revenue will never make up for that loss.
All that's left for the Times is to manage the length of time it will take for the company to fold.
If you're not convinced, think of the outlook the Times has concerning its investigative reporters and editors. The company, even though it continues to lose money, refused to take the steps needed to cut the costs on that side of the business by laying them off; or at least cut the high wages and benefits they receive.
The problem there of course is the Times would no longer have any type of perceived differentiation in the market. Yet I don't see why that matters. The market is already saying it isn't interested, and like it or not, if there is to be a New York Times in the future, it will only be a shell of what it is today - if it survives at all.
Then there is the inevitable backlash it would receive if it did fire or lay off workers, as they would without a doubt go on strike and get their peers around the nation and world to portray leadership as enemies and evil, when they're only trying to correct what they should have never allowed in the first place, but which their own ideology and worldview brought upon them.
My thought concerning this is it will continue to lose money to the point where the majority owners will have to sell it or fold. I see no other option under the mindset the owners now have, which is to refuse the types of personnel and wage and benefit cuts that would provide a more realistic cost base to work from.
To make things worse, this is how it looks in a fairly decent economy. What will happen when ad revenue shrinks even more in the upcoming recession?
source: StockCharts.com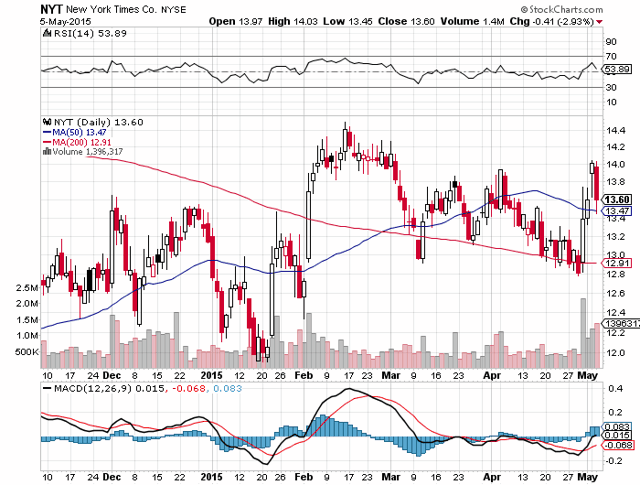 Digital media realities
Most of you reading this article know and understand that digital media will eventually replace most of print media. That is especially true with newspapers.
To help a little with the implications for the New York Times, it will continue to shed print subscribers because young people will not replace the shrinking subscriber base.
That's because the vast majority of those reading the New York Times are older, and that demographic is gradually getting sick, dying, or gravitating towards using digital media as their preferred source of news. The only reason any major newspaper still survives in the print format is because some older people prefer print over other media distribution channels. It's also the reason the erosion is gradual but steady, as this demographic is committed, but declining in numbers on even a quarterly basis.
Even if there was a larger number of digital subscribers replacing them, it would take a huge number to replace the much higher ad revenue generated per subscriber on the print side.
This is ominous for the Times because one of its key efforts to offset the loss in ad revenue on the print side has failed, as its mobile effort has crashed and burned, and is now being offered for free.
NYT Now mobile app failure
The failure of the NYT Now mobile app is a big disappointment, suggesting the company must not have done due diligence, or it simply had no idea what it was doing.
It appears it still has no idea, as the fallback position is to now offer the app for free. The stated reason for offering it for free is to build out its audience.
While this is a strategy some large tech companies in the past have engaged in, with the most recent being Facebook (NASDAQ:FB) and Twitter (NYSE:TWTR), I don't see how offering this for free in the current marketplace will be the determining factor in attracting users to it. The question of how it's going to make money on the app remains to be answered. The company is silent on that, other than the purpose of the app is now to attract a larger audience.
Another problem is this should have been attractive to users with more disposal incomes. So who would these new customers be? And why would they transition to this mobile app? The New York Times is simply not the brand it used to be outside of its limited audience and demographic.
The company said this in its recent earnings report:
Much of the increased traffic to smartphone is from somewhat lighter users, so majority of our visits are to mobile rather than desktop. But if you look at time spent, desktop and particularly the amount of time spent by very heavy use subscribers, a lot of it is still on desktop.
What that suggests is older people are still those that engage with the content offered by the Times in a meaningful way, as evidenced by the heavier desktop use.
In another move that makes me believe the Times is really floundering here, is the announcement it was putting Clifford J. Levy in charge of the report relaying information on digital platforms to the company's leaders.
Levy, who has won a Pulitzer prize as a reporter, is being taken away from his writing expertise and is now going to report to company management on the digital platforms of the company. This smacks of desperation and cluelessness to me.
Not only that, but Levy was one of those that had been put in charge of the NYT Now mobile app. So for his failure he is now being "rewarded" with an internal communications job? This makes no sense at all.
It's unclear if he has any experience at all concerning digital platforms, and even if he did, how does that coincide with the fact he was awarded a Pulitzer for his reporting?
Print subscription base
There is absolutely nothing the New York Times can do in order to retain print subscribers. It's as real and as simple as that. Can it stop the elderly from dying? Can it change the digital preference trend we're now it? Of course not.
All that it can attempt to do is slow down the print subscriber churn, which is easier said than done.
Here's how the company responded on its earnings report when asked how it's going to boost print retention:
...there is more we can do to on the print retention side, including by the way enhancements to the print offering. I think the brilliantly launched New York Times, the new men's style section, fundamental work innovating and strengthening the product, but there is also work we can do, we believe, inside our current system direct marketing operation to improve print retention.
Other than the reference to the "new men's style section," this makes little or no sense. What analysts wanted to know was what specifically was the company going to do. The blanket statement of "innovating and strengthening product" is a meaningless statement. It could interpreted as anything. The next comment is also meaningless, "there is also work we can do, we believe, inside our current system direct marketing operation to improve print retention."
Why this is important is leadership stated in its opening of the earnings report that it would take steps to retain print subscribers. When asked what it was going to do to accomplish that, the response, as you can see, was, to be kind, without any details.
The reason it was without details is because there is absolutely nothing the Times can do to retain print subscribers. That's what it doesn't want to publicly admit. The trend towards digital news and media consumption is permanent. No major newspaper will be able to stand against this; including the Times.
Print advertising is the major revenue and earnings catalyst of the New York Times and the industry, and how that goes is how the company will go.
So even when the company focused on the 11% growth in digital advertising, it failed to impress me because it also lost 11% on the print advertising side. Taken together, it resulted in a loss of 5.8% in advertising revenue.
This is the case because print advertising accounts for the majority of revenue, and it does so at higher margin.
Since the company is unable to offset print advertising declines with digital growth, it becomes even more important as to how it will deal with it via cost cutting. Since it stated in its earnings report that there is little meat left on the bone there, losses are going to continue to grow.
Whether it's the New York Times or any other print media company, always check the rate of print ad and subscription revenue loss versus the growth in digital revenue and earnings growth. Reports will always focus primarily on digital performance against print performance. Investors can't be taken in by that.
Let me repeat it again: nothing will change the trajectory of shrinkage in the print newspaper business. Digital is and will eventually completely take over, and it is much less profitable than the print newspaper business was. Those days are now over.
Competition
Not only do people prefer digital as the primary means to consume media, now leaders have emerged that are outperforming the Times in influence and viewers.
The most obvious one is the Drudge Report. Although there are countless others vying for eyeballs and visits.
While conservative and libertarian sites have arisen to challenge the Times, that isn't where the primary digital competition is coming from. For example, think of The Huffington Post (NYSE:AOL), which is fairly close in line with the world view and ideology of the Times.
Not only are there digital alternatives to those with opposing viewpoints from the Times, but now there are numerous alternatives to those with similar viewpoints.
I don't look at competitors from opposing sides of the aisle as a threat to the Times, as they are attractive to a different audience; although some will go to different digital news outlets for different perspectives. It's those that are similar in outlook and content that pose the biggest threat on the Internet, and that is where the winners and losers will be determined in the near future.
One of the major areas the Times is vulnerable is in costs. After all, how much does The Huffington Post have to spend on writers and reporters? Very little.
As for the more moderate and somewhat right-leaning Drudge Report, it has far more reach and influence, while employing only three people. That's the future faced by the Times, and why there is little hope for it to survive if it doesn't make some drastic changes. So far it has shown no willingness to do so.
The next recession
What could finally crush the Times is the next recession, which will expose the extraordinary vulnerability it now faces in the print ad revenue space, which will plunge, but it will have little to offset that when digital ad revenue drops at the same time.
That is when the company will be forced to make decisions it continues to put off concerning its former business model, and costs associated with it. Since its employee base is fairly radicalized, they are unlikely to listen to and accept cuts that will undermine their expectations they believed would always be met. That means a potentially brutal battle for survival, which again, will result in the New York Times no longer being the company it has been. That's why I believe it may take the bankruptcy route in order to force concessions it can then spin as having to be made in order to survive.
There is nothing the Times can do to stop this forward motion, as it's going to continue to lose print subscriptions and ad revenue, while not being able to make up for it with digital subscriptions, as the last quarter's results once again confirm.
This will end up meeting a recession, which at that time it will cease to exist in its current form.
One positive catalyst
As with all media, when political season comes along, it will bring a seasonal boost to media companies. This is especially profitable during a presidential election year, which of course 2016 will be. What will be interesting in upcoming election will be how far the print subscriptions fall before campaign money is spent.
Just about every quarter, if not every quarter going forward, we will see a drop on the print subscription side, which makes it difficult project where it'll stand when campaign money comes in.
When measured year-over-year, it should provide a temporary boost for the share price, even if it isn't near the spending levels from four years earlier. That is about the only real positive catalyst the Times has the potential to enjoy for at least a couple of quarters in the second half of 2016.
If the economy continues to slow down, that may be offset some by further erosion at all ad revenue levels.
Besides that, things look extremely dismal for the Times, and investors need to understand that digital ad revenue is not going to offset the loss of print ad revenue. If it ever does, it would be because print revenue has fallen so much that it is outperformed by digital; not because it is soaring, but because print ad revenue is so weak.
When that happens, don't be deceived into thinking the company is turning itself around, it'll actually be the early part of the last stages of the company as it now stands.
Conclusion
The latest earnings report at a cursory glance gave investors a temporary positive outlook, as the share price jumped on the headline it beat earnings expectations, coming in at 11 cents per share. Since that all came from cutting costs, and the company stated going forward it's unlikely to produce similar results from cutting costs, the pressure will continue to rise to grow revenue and improve earnings. That will increasingly difficult in the years ahead.
While it can paint a positive picture by emphasizing digital growth, such as the addition of 47,000 new digital subscribers in the last quarter, to bring its total to 957,000, producing a 14% gain of $46 million in revenue, it has to be taken into consideration that revenue still fell by 1.6% to $394 million, and revenue from circulation was down 1%.
It had to raise prices in order to offset some of the poor performance, which is also a risk when the company is losing print subscribers.
To show the importance for investors of putting more focus and emphasis on how print ad revenue is doing, the company suffered an 11% decline in the latest quarter, while enjoying an 11% increase in digital revenue. Together that brought about a loss of almost 6%. That's the future of the New York Times, and there's nothing it is doing now that has a chance of changing it.
Its key demographic is aging, younger people have no interest in print newspapers, and it's reaching the end of its ability to cut costs in a meaningful manner, while pension requirements remain. With nothing to stem the tide, it is slowly fading into oblivion, no matter what its past has been. I wouldn't touch this stock unless an investor believes they can get a quick windfall during the political ad season, which for the Times, can't be counted on to be as robust as the past. I would stay away from it completely.
Disclosure: The author has no positions in any stocks mentioned, and no plans to initiate any positions within the next 72 hours.
The author wrote this article themselves, and it expresses their own opinions. The author is not receiving compensation for it (other than from Seeking Alpha). The author has no business relationship with any company whose stock is mentioned in this article.