Canadian bank stocks have been beaten up, quarterly earnings have already been released and they are heading into dividend payment season with "ex" dates supportive of prices.
This is a lower risk, reliable time to buy them for a quick gain.
The Canadian Imperial Bank of Commerce (NYSE:CM) and the TD Bank Financial Group (NYSE:TD) common shares go "ex" dividend on Thursday, December 22 and Tuesday, January 3, 2012 respectively.
CIBC pays 90 cents sporting a 5.04% yield at $72.30. The TD pays 68 cents, with a 3.78% yield at $72.62. (All dollars Canadian).
We initiated positions in these two banks over the past two trading days.
Of course we have no intention of holding them for a year.
We trade them based on institutions buying to capture the annualized positive total return they project over equivalent bond and preferred share yields.
CIBC is 13.3% below the high of $85.56 set March 23 but only 7.4% above the $67.32 low set August 8 this year. TD is 16.4% below the high of $86.82 set March 31 but only 6.6% above the $68.13 low set November 25.
The 50 day moving average of the CIBC is at $72.72 and for TD is at $72.81, so the shares are just under these technical levels. This morning the levels were breached.
Click to enlarge charts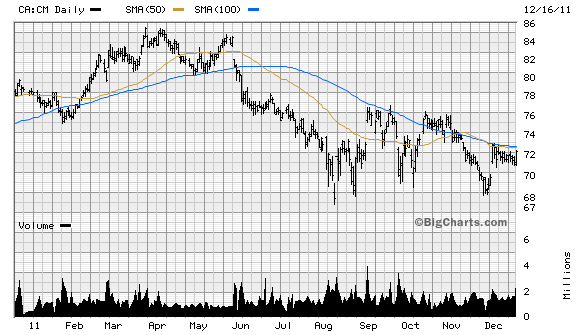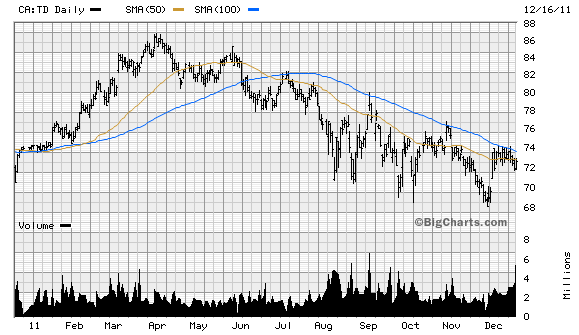 Fundamental reasons why Canadian bank stocks should rally from these levels:
The main risk to the Canadian banks is the European credit crisis and European bank deleveraging. News on this issue should go on hold over the holidays and while these two banks approach their ex dividend dates.
Recent quarterly earnings were good for Canadian banks and P/E multiples are low. CIBC is trading at about 9 times 2012 earnings estimates while a multiple in the low teens is more the norm. Here is a summation of the Q4 2011 Canadian bank earnings reports here.
A good article in the weekend Financial Post (here) highlighted how bank variable rate mortgage discounting was coming to an end, firming NIM's (Net Interest Margins). Spreads on fixed rate mortgages over government of Canada bonds are attractive.
There was a recent report that Canadian small and medium-sized businesses continued to borrow in Q3 to fund growth (here).
We like the TD and CIBC because the former is dominant and performing better than peer Royal Bank Financial Group (NYSE:RY). TD continues to raise prices (such as monthly Canadian business account fees were raised 25% last this summer) to customers while Royal is having to unload its interest in the Dexia joint venture.
CIBC has little exposure to the U.S. economy, diversifying risk, unlike similar sized peer BMO Financial Group (NYSE:BMO) which increased exposure to the U.S. with the acquisition of Marshall & Ilsley.
However, the main reason for choosing TD and CIBC is the usual positive move before a near-term dividend. CIBC did exactly this move in March earlier this year, with good trading results.
We would normally trade out of the banks on the "cum" dividend date, or which requires disciplined trading skills. Sometimes we'll let half the position ride to collect the dividend but risk a post ex date swoon, but only if the market was extremely supportive. We used this strategy successfully on both BCE (NYSE:BCE) and TELUS (NYSE:TU) earlier this month to earn two-week, low risk, mid single digit returns.
If we are wrong on the market or the strategy fails this time around, you still have bought these Canadian banks at attractive prices and yields.
Disclosure: I am long TD, CM, RY, BMO.