This is the 3rd in a series or articles focusing on the emerging markets that have come under fire this year. The first 2 articles focused on India and Brazil, while this one will explore the opportunities in China.
The main culprit for the emerging market declines has been the supposed rampant inflation. China has been no exception to this fear. Inflation, though, has decidedly peaked in China with the November figure showing month over month declines.
This has allowed China to lower bank reserve ratios once already and will likely lead to further cuts especially since the government raised ratios to over 20% at the start of this year.
Lately the economic news has been disappointing with the PMIs reporting below 50, exports slowing, and news of declining real estate prices in the major cities. The later being good news long term as homes had become too expensive.
The combination of high inflation, increased interest rates, and now a slowing economy has lead the Shanghai Index to plunge to March 2009 levels. All rather amazing considering that China still grew at over 9% last quarter.
Click to enlarge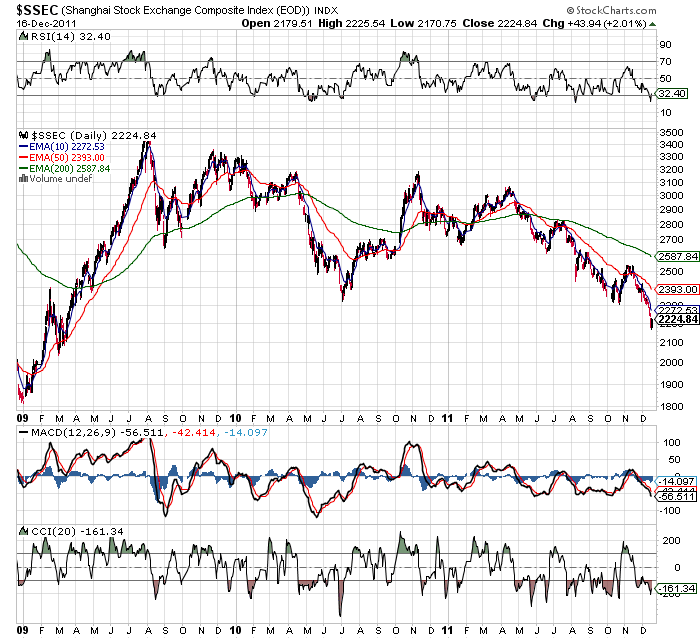 One only needs to consider that China's economy is roughly 25% larger since that point in 2009, with growth averaging over 10% per annum during that period. What is wrong with equity investors? This has become the decade where growth never leads to higher prices. Apparently growth only leads to fears of a slowdown, hence leading to plunging equity prices. Amazing!
This brings us to opportunities in individual stocks. China provides the greatest selection of equities among emerging market economies, but possibly the most risk with relentless fraud allegations. Some would say the reason China has done the most IPOs in the US markets of any emerging economy is because it wanted to dump worthless corporations on US citizens and take our cash.
In some cases this might be true, and clearly several fraud scenarios have unfolded, but it still appears that the great majority of stocks are above board. Usually insiders own a ton of stock, so the incentive doesn't exist to bankrupt the company.
Below are some top selections from China:
Sina.com (NASDAQ:SINA)
This company is a leading online media and mobile value added services firm. Also, it has a microblogging platform, Weibo.com, considered to be the Twitter of China.
Analysts forecast a 25% growth rate, though the twitter aspect got the stock to lofty levels earlier in 2011. The forward PE still remains close to 40 after a great fall from a high over $147 to close on Friday at $55.
The stock had a huge reversal on Friday, possibly signaling a bottom, though investors should be cautioned that the new microblogging rules could dent growth. See potential impact here. The Chinese government is requiring that users register their identities to prevent hiding behind false names. Couldn't the government just figure out the identity anyway?
Ultimately, investors drool over the $3.6B market cap for a company on the cusp of controlling microblogging in the largest internet market in the world.
NetEase.com (NASDAQ:NTES)
The company is a leading China based internet technology company that focuses on online games through in-house development or licensing of massively multi-player online role-playing games among other services.
For Q3, NetEase.com reported huge 40% revenue growth over 2010. Analysts expect earnings of $4.29 in 2012, providing a relatively cheap PE. With a market cap of $6B, one could easily argue that it provides a much more compelling valuation than recent IPO Zynga (NASDAQ:ZNGA).
Yanzhou Coal Mining Company (NYSE:YZC)
Third largest Chinese coal mining company with coal mines in China and Australia. As of December 31st, 2010, the company owned and operated six coal mines with approximately 1,797.3 tonnes of proven and probable reserves.
With a market cap of over $10B, Yanzhou provides some protection from the fraud ring that generally occurs in the smaller companies.
Though financial projections are hard to come by for this stock, the company has over $6B in revenue and nearly $3 in earnings for the last 12 months. Without any growth, the company has a 6.5 PE, making it extremely cheap for an fast growing economy very dependent on coal.
Speculative
ChinaCache (NASDAQ:CCIH)
The company is the leading Content Delivery Network (CDN) provider in China. Though the company continues growing at a very fast pace, it faces an industry ripe with fraud fears, especially for stocks that have recently gone public in the US.
The stock traded near $35 just a year ago, but now it trades near the all time low at $4. Analysts expect it to finish the year with 60% revenue growth and to grow another 37% in 2012.
While profitable, the company has flat lined earnings while ramping up expenses. One needs to understand that the CDN market in China is just now being built out, which requires a lot of money. Unlike the recent internet IPOs in the US, ChinaCache still remains solidly profitable making $.07 a quarter.
Incredibly the market cap has plunged to $100M while revenue in 2012 is expected to soar to $134M. Sure the stock has to be labeled as speculative due to its location in China and now meager market cap, but does anybody think the company is worth less than recent US IPO Jive Software (NASDAQ:JIVE) that trades for $900M? Jive has the same revenue and growth trajectory, but no where near the profits.
All of the above stocks have had massive selloffs and will likely outpace any global rebound. Investors have a chance to gain access to some of the fastest growing companies in the world at significant discounts. The much publicized fraud situation won't go away tomorrow, but it is already starting to wane as each day passes without growing allegations.
The China market might not bottom until a few more rate cuts, but investors should be ready to pounce on these bargains once that happens.
Disclosure: I am long CCIH.
Additional disclosure: Please consult your financial advisor before making any investment decisions.