We are big believers in the simple adage that a picture is worth a thousand words. A few basic charts can help investors understand where we are in the debt super cycle as well as the structural, not cyclical problems we face. While traders and media pundits focus on minor changes to weekly jobless claims or consumer sentiment, we think investors need to step way back and take a longer term horizon of history. We are of the mindset that too many investors are looking at today's predicament as a cyclical issue.
To jump to our conclusion we believe credit market debt will create significant drag on the global economy leading to frequent recessions and more monetary stimulus from central bankers. In order to protect ourselves we are focused on high quality, US equities, precious metals, and a healthy reserve of cash. We will use a few charts to help explain our position.
CHART 1: TOTAL CREDIT MARKET DEBT
click on image to enlarge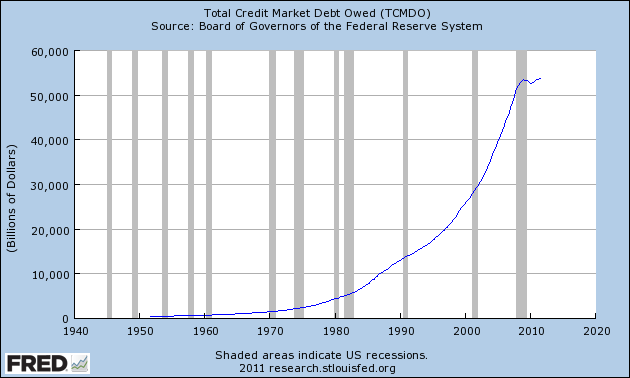 Since President Nixon severed the dollar from gold in 1971, credit market debt has been on a dramatic upswing. The chart goes virtually exponential in the last two decades. We believe this dramatic increase in credit market debt is unsustainable.
CHART 2: FEDERAL FUNDS RATE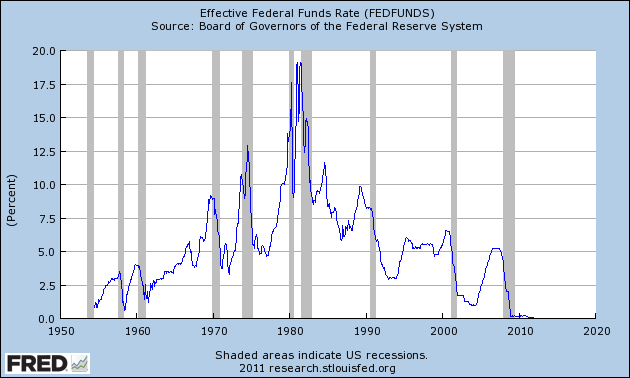 At the same time credit market debt has been skyrocketing, interest rates have been driven lower. The US has a term structure where approximately 50% of our debt rolls each year, thus low interest rates are vital.
CHARTS 3 & 4: MONETARY BASE AND THE MULTIPLIER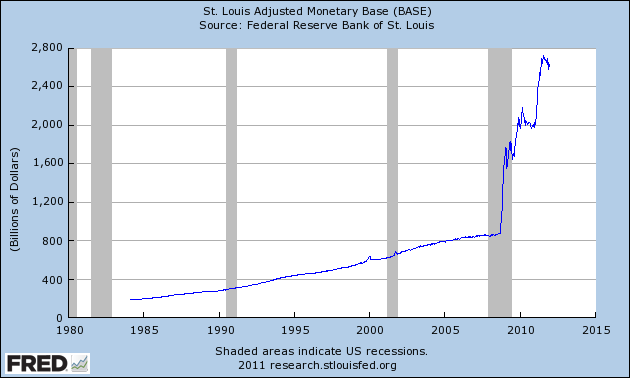 The Base is the total amount of a currency that is either circulated in the hands of the public or in the commercial bank deposits held in the central bank's reserves.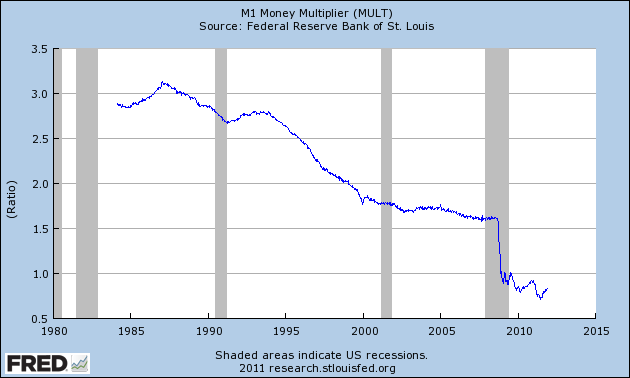 The dramatic increase in the monetary base has not been inflationary as the money multiplier has remained very depressed. If animal spirits unleashes, an inflationary problem could grow quickly.
CHART 5: CONSUMER PRICE INDEX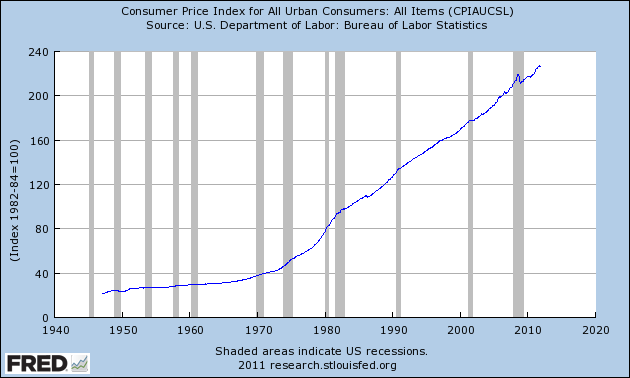 The CPI chart above mirrors chart 1, the growth in credit market debt owed. As credit has increased so have prices consumers pay for everyday items.
CHART 6: INDUSTRIAL PRODUCTION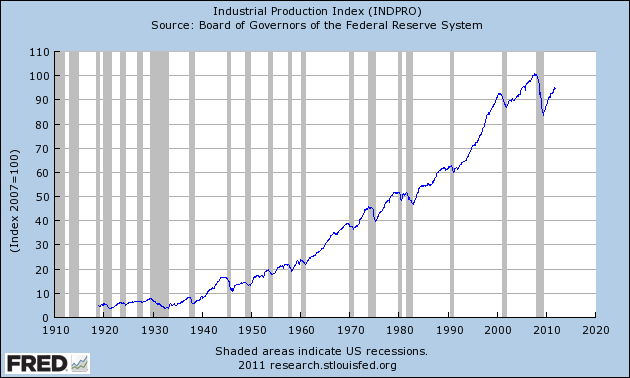 Industrial production remains below its pre recession peak. Despite significant fiscal stimulus and monetary easing, we have been unable to get this economy going.
CHART 7: HOUSING STARTS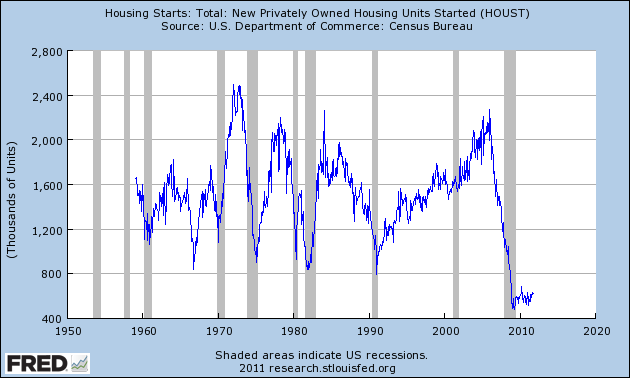 Housing remains to be abysmally low in relation to any period after 1950.
CHART 8: UNEMPLOYMENT RATE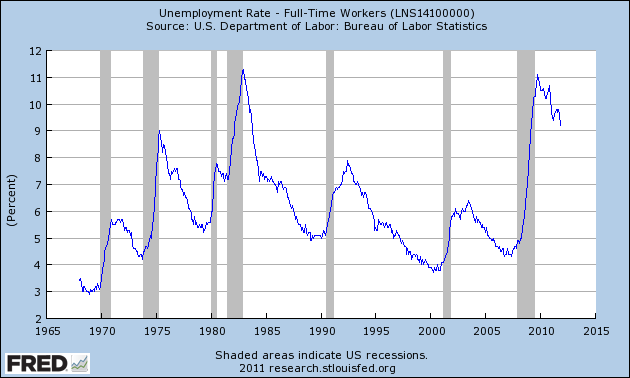 The unemployment rate we are experiencing today, has not been seen in over 30 years. Layering in the significant debt overhang, we believe the unemployment rate will remain stubbornly high for years to come.
CHART 9: CONSUMER SENTIMENT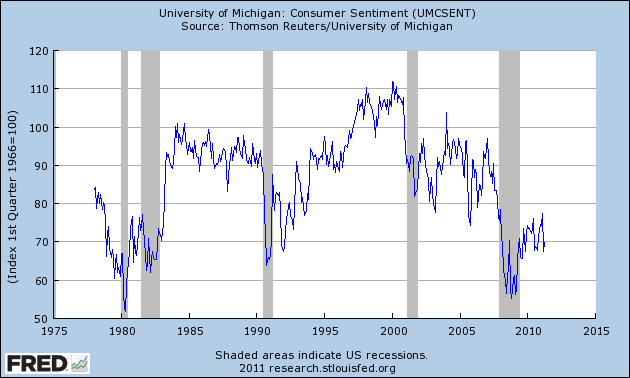 Despite modest increases in sentiment since the recession, when compared to historical periods, sentiment remains low.
TACTICAL STRATEGY
Due to the structural headwinds we face, we are focused on (i) conservative equity strategy and (ii) an allocation to precious metals (gold and silver) due to what we see as increased monetary stimulus by central bankers. We outlined our thesis in detail in "Confessions Of A Gold Bull: Following The Lead Of Prominent Fund Managers".
Despite a rather dramatic and well documented selloff in gold and silver this week, the long-term thesis remains intact. Precious metals are a form of insurance due to problems in the banking system or adverse consequences from dramatic money printing.
We own gold and silver in physical and ETF forms (GLD and SLV). We follow a policy of not timing the market, but slowly accumulating these metals, as they are our insurance policy against inflation. Investors interested in vehicles that retain physical metal should look into Sprott Asset Management's Sprott Physical Gold Trust (NYSEARCA:PHYS) and Sprott Physical Silver Trust (NYSEARCA:PSLV).
Disclosure: I am long GLD, SLV.
Additional disclosure: I am also long physical gold and silver.