Caterpillar Inc. (NYSE:CAT)
Introduction
Caterpillar Inc is one of the world's largest manufacturers of construction and mining equipment, diesel and natural gas engines, industrial gas turbines, and diesel-electric locomotives. The company has a significant presence in other sectors also through its group services – Cat Financial, Caterpillar Remanufacturing Services, Caterpillar Logistics Services Inc. (Cat Logistics), and Progress Rail Services Corporation (Progress Rail). Earthmoving equipments form the biggest segment (15.3%) in terms of revenues, followed by excavation (13.8%), mining (12.0%), and turbines (10.0%).
The company operated as Caterpillar Tractor Co. since 1925, reorganizing as Caterpillar Inc. in 1986. It is currently headed by Doug Oberhelman, who serves as Chairman and CEO. Caterpillar faces competition across all of its business lines. The key competitors include Komatsu Ltd., Volvo Construction Equipment, CNH Global N.V., Deere & Co., Hitachi Construction Machinery Co., J.C.Bamford Ltd., Doosan Infracore Co., Ltd. and LiuGong Construction Machinery N.A., LLC.
Growth and Performance
Over the last 10 years, Caterpillar's revenues have registered a CAGR of 7.8%. The company was severely hit by the recession and revenue growth entered deeply into the negative territory with a ~37% y-o-y decline in revenues in FY 2009. The decrease was primarily attributed to machinery and engines that were plagued by plunging end-user demand and reduced dealer inventory in developed nations. Machinery and engines currently form over 90% of revenues. However, as the economy rebounded, Caterpillar made a comeback with a ~31% increase in FY 2010, a growth pattern that continues. High leverage drives the above average ROE of the company, while it somewhat trails behind the industry in terms of actual profitability as indicated by its ROI. Caterpillar is a highly levered company with a debt equity ratio of 2.4 against 0.7 for the industry. Nevertheless, it enjoys high investment grade ratings (A/A2) from the three major agencies. Its ROE further indicates that the debt level remains manageable.


(Click to enlarge)
Caterpillar is returning money to the shareholders in the form of buybacks and dividends. Its dividend payout in FY 2010 was 41.9%. In Q2 FY 2011, it increased the dividends from $0.44 per share to $0.46 per share. Despite the dismal performance in FY 2009, the company continued to pay dividends at the same rate. The EPS trend chart below clearly indicates the impact of the recent recession on Caterpillar's earnings and the rebound in FY 2010. As per consensus estimates, revenues for FY 2011 are expected to be around $56.8-$59.4 billion, while FY 2012 revenues are expected between $60.9-$73.2 billion. EPS is likely to be $6.05-$6.99 for FY 2011 and $8.08-$9.75 for FY 2012. Five-year growth forecast for the company is 21.6%.
Long-term Strategy and Vision
Caterpillar does not report its results by the principal lines of business, rather as subdivisions by the type of product. The principal lines of business are machinery, engines, and financial products. The company derives its competitive strength from its established brand name, dominant market position, portfolio of profitable products, geographical reach, and strong dealer network & logistics. Caterpillar does have well-diversified product offerings, but strong concentration in Machinery and Engines leaves it vulnerable to business cycles and the broader state of world economy. Though the U.S. remains the most important geography with ~32% revenue share, it is emerging markets, such as Asia/Pacific and Latin America that are supporting the current recovery of the company after being battered by the recession. Moving forward, it behooves the company to focus on these areas and expand on the back of growing consumer demand. Caterpillar has been increasing its footprints through strategic alliances/acquisition and organic growth. Forth instance, its 2008 share redemption plan that increased its holding in Shin Caterpillar Mitsubishi Ltd. was a part of its strategy designed at strengthening its base in Asia Pacific and CIS countries.
Caterpillar's multipronged long-term strategy includes increasing resource allocation in product development, controlling costs, becoming a top provider across industry and geographical lines through organic/inorganic channels, and continuing growth in mature markets. Towards this end it is joining forces with existing players with complementary areas of strength. Examples include the recent acquisition of MWM Holdings, a supplier of alternative fuel engines, and $8.8 billion acquisition of Bucyrus International Inc., a complete spectrum manufacturer of mining equipment. Mining is one of the key focus areas of Caterpillar's strategy and it announced its next big initiative as an offer to Era Mining Machinery, a China-based underground coal mining equipment manufacturer.
Deere & Company
Introduction
Deere & company competes with Caterpillar in the agricultural and forestry-related equipments. Deere is a 175-year old name that has dominated the global designing and manufacturing market for agricultural, landscaping, construction and forestry equipment. The company has aligned its reportable segments along its principal business lines: Agriculture and Turf, Construction and Forestry, and Credit. Like Caterpillar, Deere has a financial line of business that provides credit for sales and leases of its equipments. Agriculture and Turf division is the biggest money spinner for Deere with ~75% of the total revenues, followed by Construction and Forestry at ~17%. While Caterpillar serves both its dealers and customers, Deere primarily extends financial support to its dealers.
A Delaware corporation, Deere was formally incorporated in 1958. It is currently headed by Samuel R. Allen, who serves as the Chairman and CEO. Deere faces competition across its business divisions. Key competitors include AGCO Corporation, CNH Global N.V., Kubota Tractor Corporation, The Toro company, Caterpillar Inc., Komatsu Ltd., Volvo Construction Equipment, CNH Global N.V., Tigercat Industries Inc., and Ponsse Plc.
Growth and Performance
In the long term, Deere has registered a growth of 8.7% with fluctuations year-on-year. After the uncertainties related to farm legislations in the U.S. and oversupply of used equipment hit the company in FY 2006 and FY 2007, the recession contracted the revenues, forcing the revenues in the negative territory with an 18.7% fall. Post-recession, Construction and Forestry has indicated most promising recovery on the back of increased volumes. Geographically, U.S. still dominates the revenue generation constituting almost ~62%. Therefore, the future performance of Deere depends a lot upon the industry headwinds domestically. Like Caterpillar, Deere is also giving above-average returns on equity, though at a slightly lower rate. Again, this is an effect of high leverage. Deere has a debt-equity ratio of 3.9 against an industry average of 0.7. This is much higher than Caterpillar's 2.4. Reading this with the ROE of both the companies, Deere has higher credit risk currently. Nevertheless, an interest cover of 4.7 and high investment grade ratings (A/A2) provide reasonable assurance of Deere's long-term solvency. As indicated by the table below, the other profitability metrics are in similar range for both the companies.
Compared to Caterpillar, Deere's EPS chart indicates a slightly less stable trend; but, it also indicates lower impact of the broader economic environment on its profitability. Deere is returning money to its shareholders in the form of dividends and buybacks. The declared dividends for FY 2011 were $1.52 per share as compared to $1.16 per share in FY 2010. In absolute dollar terms, Deere is paying lesser than Caterpillar's declared FY 2011 dividends of $1.82. The consensus analyst estimate for Deere's revenues for FY 2012 is the range $30.3-$35.4 billion, while EPS is expected near $6.36-$8.45. The five-year growth is expected to be 14.0%.
Long-term Strategy and Vision
Deere obtains its durable competitive advantage from its established track-record, market leadership, skilled workforce, customer loyalty, and global reach. Though apparently the company has significant risk concentration in two primary sectors, agriculture and forestry, it has demonstrated more resilience under economic pressure than Caterpillar. This is primarily explained by the inherent stability in its primary operating segment, agriculture, where equipment demand is a function of the expanding world population. On the other hand, forestry equipment demand is driven by production levels in other sectors, such as housing, paper, and furniture. This explains why forestry was the hardest hit segment during recession with a ~45% drop in FY 2009. Both, agriculture and forestry are poised for impressive growth in the future, which is good news for both the companies.
Deere's long-term strategy revolves around operational improvements and aggressive investments. It is looking at streamlining its operations through initiatives, such as matching production with demand as closely as possible, thereby reducing field inventories. To match with competitors, like Caterpillar, Deere has maintained its strong focus on technological innovation and automation. Its research and development expenses were 3.8%, 4.5%, and 4.7% of the net sales in FY 2011, FY 2010, and FY 2009, respectively. On similar lines as Caterpillar, Deere's big opportunity lies in utilizing its existing brand to increase its footprints in the emerging markets, which is also a good strategy for diversifying geographical risk.
Which company is better investment for value investors?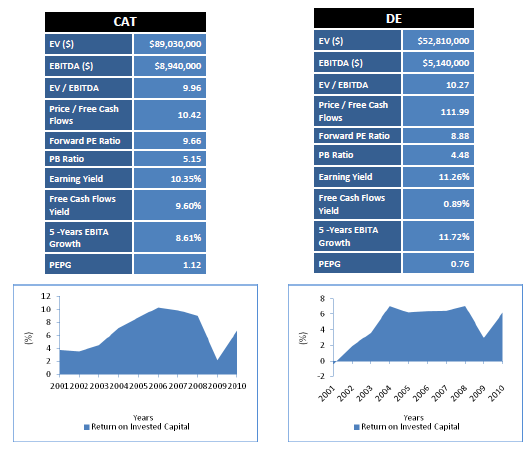 The ROIC charts of the two companies clearly indicate that Caterpillar has been a stronger performer in the long-term. A well-diversified company, Caterpillar is larger in terms of market capitalization. Lower EV/EBITDA ratio and earnings yield also tilts the balance somewhat in favor of Caterpillar. Forward dividend yields for Caterpillar and Deere are in close proximity at 2.1% and 2.2%, respectively and therefore, cannot be taken as deciding factors. The forward EPS estimates and dollar dividends are higher for Caterpillar. In addition, Deere may also not suit the risk appetite of most value investors. Though the industrial growth in developed nations has stabilized, there is an upside to it in the emerging economies that holds positive indications for Caterpillar. Agriculture, on the other hand, holds promise for both the companies. Despite Deere appearing to be slightly more undervalued, the verdict is in favor of Caterpillar, and we would look to buy in the $70-75 range.
Disclosure: I have no positions in any stocks mentioned, and no plans to initiate any positions within the next 72 hours.