This morning I used Barchart to screen all the stocks with over 100,000 volume per day that were hitting the most frequent new highs, and came up with a very interesting pick Exar Corp (NASDAQ:EXAR). I found it because of its recent activity, but on further review found another Seeking Alpha article saying it is an insider buying pick.
I've invested long enough to know that when a stock starts being bought up during a recession, it means one of 2 things: the stock has great unannounced prospects for the future, or there might be an unannounced merger in the near future. Before you all jump on me saying there are insider trading rules, all you have to do is look at any merger and then look at the activity in the acquired company in the month before the acquisition.
Compare the information in the article with this Barchart graph of the last two and a half month price momentum: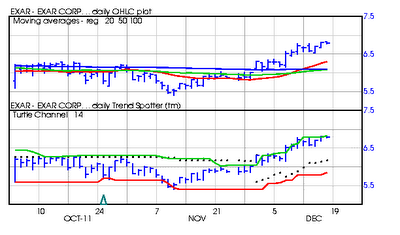 Whatever the reason, this stock warrants your attention.
Exar Corporation, a fabless semiconductor company, engages in the design, sub-contract manufacture, and sale of silicon, software, and subsystem solutions for industrial, telecom, networking, and storage applications. Its product portfolio includes power management and interface components, communications products, storage optimization solutions, network security, and applied service processors. The company's products has applications in portable electronic devices, set top boxes, digital video recorders, telecommunication systems, servers, enterprise storage systems, and industrial automation equipment. Exar Corporation sells its products to distributors and original equipment manufacturers or their contract manufacturers worldwide. It markets its products through independent sales representatives, distributors, direct sales organization, and catalog distributors. The company was founded in 1971 and is headquartered in Fremont, California. (Yahoo Finance profile)
Factors to Consider
Barchart technical indicators:
80% Barchart technical buy signal
Trend Spotter buy signal
Above its 20, 50 and 100 day moving averages
13 new highs and up 19.79% in just the last month
Barchart computes a technical support level at 6.725
Relative Strength Index 67.26%
Recently traded at 6.76 with a 50 day moving average of 6.09
Fundamental factors:
Not widely followed on Wall Street but 2 brokerage firms are following the stock
Revenue is expected to be up 11.40% next year
Earnings are forecast to be increasing by 15.00% a year for at least the next 5 years
These consensus numbers resulted in a strong buy and a hold recommendation to their clients
General investor interest:
I use Motley Fool it see what individual investors think about a stock and 88 readers have good opinions about it
The general readers voted 94% that the stock will beat the market
The more experienced All Stars also voted 91% for the same result
Fool notes the past 4 reports on the stock have all been positive
Summary: If you like speculative plays, this has a lot in your favor. EXAR is expected to have increased revenue and earnings, and insiders are buying it up. The recent price movement as evidenced by this 14 day turtle channel provided by Barchart shows, you can't wait for a dip.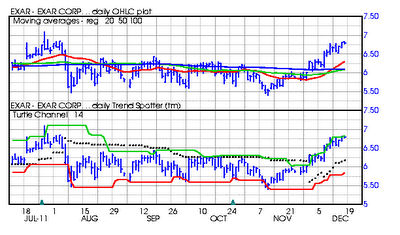 Disclosure: I have no positions in any stocks mentioned, and no plans to initiate any positions within the next 72 hours.