Last July, I published the tenth of a string of articles on China based, Nasdaq listed Kandi Technologies, Inc.(NASDAQ:KNDI) titled; "Kandi Technologies Set to Be Big Winner in International Electric Car Market." The day before that article came out, KNDI had closed at $2.47 a share. In that article, I had a section titled "Kandi vs. Tesla," where I said the following:
"Based on all available public information on both companies, the odds are extremely in favor that over the next three to four years, but perhaps a lot sooner, KNDI's stock will be trading higher then TSLA's. That is not to say that Tesla will not do well in the future. I base this on its existing share price just under $28, giving it a current market cap of some $3.1 billion which is priced some 30 times Morgan Stanley's (MS) Base 2015 earnings estimate of 1.07 GAAP, and 19 times MS 2019 GAAP earnings estimate. This MS report did not factor in the 7.5 million share dilution for its recent $220 million offering completed in May… "
Also In that section:
"I have elected to compare the two companies not to denigrate TSLA as I am of the conclusion, particularly after doing research for this article that TSLA seems to be doing things right in attempting to capture a lead position in their niche of medium to higher priced EVs. However, while the potential market for EVs over the next decade and beyond is immense, TSLA is still going to be effectively competing "heads up" with most of the world's major auto manufacturers competing for market share. KNDI and its CEO/founder, on the other hand, are following the historic model of Henry Ford with his Model T and Ferdinand Porsche with his Volkswagen or "People's Car" by providing EVs for sale to the masses at prices from as low as $6,100 to as high as $14,000 and doing it with incredible government sponsorship."
Now KNDI is trading around the $3 level and TSLA, while having recently had a run above $35, is now back to that same $28 level. Not a big move up for KNDI, but a performance that certainly has outperformed all major market indexes and the vast majority of U.S. listed China stocks over this time. What caused this better performance by KNDI certainly had nothing to do with any major event published by the media or announced by the company with a press release. Quite the contrary; aside from a recently completed, exceptionally well done Four Part KNDI Seeking Alpha article by Taiwan based Marc Chang, there has been no media; and only three company press releases to include in reverse order; an announcement last week of the annual shareholders meeting, an OK, but "nothing to write home about" press release on second quarter results, Nov. 14, and on Oct. 17th a interesting tidbit titled: "Kandi Technologies, Corp. Announces the Government Subsidies to 3,000 Kandi Pure Energy Vehicles by Jinhua City and Zhejiang Province." This last, while actually very noteworthy, saw the stock price decline on only 35,000 shares of volume on the day of release.
On the other hand; during these five months TSLA has had many Press Releases and hundreds of media articles published driving the stock to its all time highs above $35 just over a week ago. So what has happened in so short a period of time for the bloom to come off of the TSLA rose? As the TSLA "Groupies" woefully found out, TSLA's "super bull" analyst, Adam Jonahs, has now conceded to the reality I have been saying back to my first SA article in Sept. 2010 which was: "With the exception of China, the Worlds consumers are not ready for pure EVs."
As I mentioned in my last article linked above, I chose to compare these two Companies for they really are the only two public companies accessible to U.S. investors where EV sales will be the major component of future growth.
In this Article as well as in Marc Chang's recent Seeking Alpha piece as you will see below, we both address the likelihood of KNDI actually selling in excess of 25,000 EVs in the year 2012 alone. Not only would sales of this amount exceed TSLA's annual production expectations for several years out, but it would make KNDI by far the largest seller of "highway speed" EVs in the World, and likely total more EVs then all U.S. manufacturers combined.
Current Attitude Toward EVs Sales World-Wide
To anyone paying attention to pure EV development world-wide, there is no question that the attitude has recently turned quite negative; that is with one exception, China.
There are many reasons for this the negativity; a few include;
High cost of the Lithium Acid battery (and therefore the whole car)
Long (6+ hours) plug-in charging time required to efficiently charge
Short driving range between charges (most cases under 80 mi)
High cost for charging infrastructure build-out to include real estate availability
Consumer contentment with current Internal Combustion (ICE) cars
Resistance against Quick Charge due to "Grid Stress" by electric utilities
What The Experts Are Saying:
A few quotes from well known Seeking Alpha author and vehicle electrification expert, John Petersen,
"… there is no 'Moores law' when it comes to the cost of lithium batteries; recycling is not efficient; Grids are adverse to 'Quick Charge' due to 'stress on the Grid'; and resale value will be terrible due to rapid depreciation of core component, the very expensive lithium batteries."
And others:
"… LMC Automotive forecasts that automakers will sell 96,000 battery-electric vehicles in 2016, grabbing 0.6 percent share of the U.S. market, Michael Omotoso, LMC's forecaster of hybrid and electric power trains, wrote in an e-mail last month …

Combined deliveries of plug-in hybrid and battery-electric vehicles may total 750,000 through 2015 from 2008, short of President Barack Obama's goal of putting 1 million electric vehicles on U.S. roads, said Omotoso, who is based in Troy, Michigan ...

… U.S. deliveries of Nissan Motor Co., (OTCPK:NSANF) battery-powered Leaf have declined three months in a row as the pace of U.S. industrywide auto sales has accelerated. General Motors Co. (NYSE:GM) said Dec. 1 that its plug-in hybrid Chevrolet Volt will miss its 2011 target for 10,000 deliveries ..."
As alluded to above, even Morgan Stanley's analyst and Tesla bull, Adam Jonahs has now conceded to reality last week when he changed his outlook for TSLA from "Overweight to Underweight" and lowered his long term Target Price from $70 to $44. Noteworthy in his TSLA comments were:
"While we're still in the very early innings of vehicle electrification, the commercial progress of EVs in the marketplace has been mixed at best, and largely been unimpressive to date," Jonas wrote …

High fuel prices and "unwavering government support" will be needed for widespread consumer adoption of electric vehicles, he said.

The critical nature of the sovereign credit problems plaguing Europe poses a material threat to the necessary government support for EVs which we had previously taken for granted," Jonas wrote …"
Why Is China Immune To EV Malaise?
Before I get down to my reasons, let me take a moment to address a few comments about the exceptionally well documented "Four Part" SA article recently completed by Taiwan based Marc Chang that I referred to above. Rather than an "article," this writing is more of a white paper on EVs in China, than an article about Kandi. But this is a "must read" for any sophisticated investor or analyst who wants to understand in detail what is in the mind of the China government regarding EVs.
I have been following Marc's numerous well written comments on KNDI and EVs in China on various investment blogs and chat boards for going on two years and can unequivocally state that through his closeness to the area and subject, his knowledge on EVs in China in general and KNDI in particular is surpassed by no one outside of the company. Much of my past writings on KNDI was based on information and included points first disclosed by him on these various on-line venues which pointed me in the direction to enable a proper due diligence on the sector and company. Some may consider his lengthy tome almost too intensive, but again, for anyone who has a serious interest in either EVs in China or KNDI, his piece should be required reading.
More to the point of this piece, it also gives numerous reasons why China is immune to the problems regarding EVs worldwide and finds it mandatory to develop this technology. Rather than spending time repeating much of his revelations in this piece, I am just going to cover a few of the more obvious points in addition to what I might add. However, let me also mention here a point in Marc's writing for later. In Part 4 of his article, he gives two different possibilities regarding sales, revenues and earnings for KNDI in 2012. Based on my own independent research, I am largely in agreement with what he has published regarding likely EV units to be sold in 2012, with the minor differences being price, gross margins, corporate income taxes and bottom line. This will be addressed later in this article. With the above said, back to the current subject; why "China is immune."
As, MS's analyst Jonas so clearly stated in one of his quotes above, "unwavering government support" will be needed for widespread consumer adoption of electric vehicles." Nowhere in the World other than China will you find this strong Government conviction toward EVs. Due to the absolute need for a future replacement to ICE vehicles, the China Central Government has intelligently addressed the first four "bulleted" points above with their decision to develop Quick Battery Exchange (QBEX) as their preferred standard. With this in place, EVs can be bought without the expensive battery. Also, a quick battery change takes less than 2 minutes compared to hours for a plug-in charge. As Chang saw and reported in Part 2 of his article, it now appears the KD5011, with its light weight and new drive train/battery combo, has a range between changes that can now exceed 250km (162 mi). A range which is far in excess of most of the Worlds currently developed production EVs and far better than all of the mid to lower priced vehicles. Since the Government already owns the "Grids" and all of the land in China, prime locations for both battery changing stations and major power stations can be readily available for both optimum location to build both. In the former instance, by using the QBEX, major power station build-out requirements can be reduced by 85%.
Just yesterday, an article was released in the China media where PRC owned State Grid is "showcasing" a "mock up" of a QBEX station with newly developed (I assume by State Grid since I have never seen this before today) "robotic arm" specifically made for KNDI's patented "Side Slide" battery. You will notice in the article that the only car at the State Grid booth is the KNDI, KD5011 Lithium Battery EV. This article shows further evidence confirming what both Chang and I have been saying about KNDI's "Golden Child" standing with China State Grid which is by far the World's largest electric utility.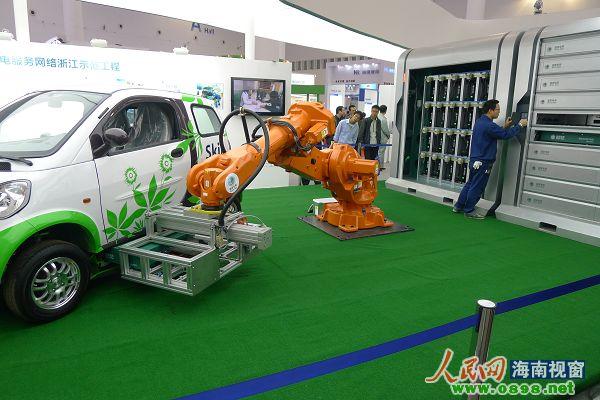 (Click to enlarge)
State Grid QBEX Changing Station Mock-UP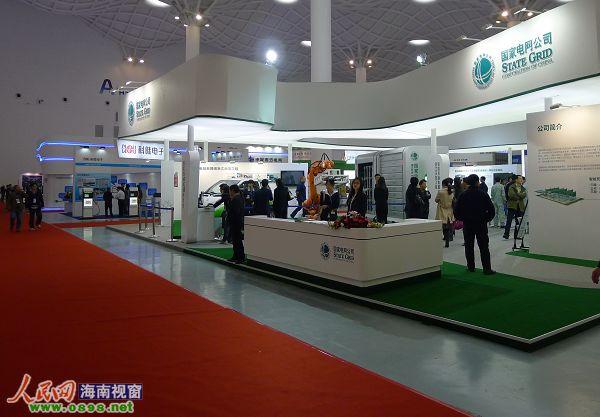 (Click to enlarge)
SG Booth showing Mock-Up Area in back.
To move on. As you will see below, with estimated 2011 auto ownership in China now around 40 four wheeled vehicles per 1,000 population (compared to the U.S. with 840 per thousand), China has over 1.2 billion of its population that currently has no four wheeled vehicles, so re-education to EVs and away from ICE vehicles is not a significant issue. Also by using the QBEX, batteries can be safely and efficiently slow charged overnight while the "grid" is at its low point.
Let me digress for a moment and remind and clarify one of the major points Marc touched on in various "Parts" of his article having to do with why the "Grids" in China embracing the QBEX concept, it's called "Smart Grid Stabilization." One element of a "Smart Grid" is the ability to store power generated during off peak and put it back into the grid when needed. The QBEX concept creates a duel opportunity for the "Grids" in that excess batteries which are being charged during off peak hours to ultimately be exchanged in EVs, can also have their stored power reversed and provide need power during peak times. This similar to the concept in the U.S. where businesses and individuals who have solar or windmill power can sell their power back to the Grid from their storage batteries.
Another point on this subject inferred in the China media but which I have not yet confirmed, is that by using the batteries for Grid Stabilization it could be considered a "Grid Upgrade" or Cap Ex item for the Grid which could allow the Grid to pass the purchase cost of all the batteries on to all of their electric consuming customers. If so, it could end up effectively costing the Grid nothing, but allowing them to profit from the EV exchange. If this proves to be so, once again it shows the brilliance of the Chinese business mind.
Back to why China must have an alternative to ICE vehicles. In my very early SA article, I included the following:
" Electric Vehicles (in China) must succeed

Rapidly growing China — with its 1.3 billion population — may rank second to the U.S. in World Purchasing Power as seen from the table below, but the following comparison of motor vehicles per capita shows a disparity, which based on "Peak Oil" assumptions leaves little room to even noticeably "close the gap," let alone allowing a catching up with internal combustion vehicles. With China's massive coal and hydro resources along with aggressive building of Nuclear Power Plants, there is no reason they must rely on ICEs.
Top 10 Countries, as listed by PPP GDP
| | | |
| --- | --- | --- |
| Rank | Country | Approximate, GDP- Purchasing Power Parity |
| 1 | USA | $13,860,000,000,000 |
| 2 | China | $7,043,000,000,000 |
| 3 | Japan | $4,305,000,000,000 |
| 4 | India | $2,965,000,000,000 |
| 5 | Germany | $2,833,000,000,000 |
| 6 | United Kingdom | $2,147,000,000,000 |
| 7 | Russia | $2,076,000,000,000 |
| 8 | France | $2,067,000,000,000 |
| 9 | Brazil | $1,838,000,000,000 |
| 10 | Italy | $1,800,000,000,000 |
Source: Economy Watch
Source: TradingEconomics-US
The tables above compare China to the U.S. in per capita motor vehicle ownership (cars, trucks, buses and freight but not 2-wheelers) as of 2008, China on top chart with 32.2 motor vehicles per thousand population as compared to the bottom table for the U.S. with 819.8. On this basis, stunningly, China stands in 2008 where the U.S. stood in 1915. Considering China's current population exceeds the U.S. four fold, it should clearly be evident, even ignoring the rest of the rapidly growing emerging economies, that alternative energy vehicles will soon be mandatory in China, (or for that matter, every country irrespective of the price of oil).…"
It is hard to imagine that sometime in the next few decades that China would not at least try to put one out of two residents in some sort of four wheeled vehicle. However, just based on the sheer magnitude of that number, if ICEs are still the main vehicle in use, they alone would have to be using most of the Worlds projected hydrocarbon supply.
Sales, Revenues and Earnings Forecast
In my most recent SA article, I did attempt to forecast Kandi's revenues and earnings in a comparison with Tesla, (NASDAQ:TSLA) for the years 2011 and 2015.
At the time of that writing in July, based on China media reports, I was expecting PRC subsidies to be released earlier in Q3 of this year. As it turned out, the first PRC subsidies were finally released later in October for Lithium battery powered cars, the only cars currently eligible for the PRC 60,000 rmb ($9,400 U.S.) subsidy; this is for consumer sales only, not leases. Since it now appears, based on published comments from a very high level member of the Governments EV decision making hierarchy, Quan-Shi Chen, that Hangzhou beginning later this month will be offering their residents a subsidized three year lease option at only $126 a month covering 20,000 cars over the following year, I find it unlikely many cars are currently being bought out-right prior to the launch of the lease program.
Point of Note: in the last paragraph of Professor Chens's comment on the above link:
"Quan-Shi Chen said, Hangzhou, Zhejiang Condit car industry from centralized purchasing, but he also expressed his company's actual capacity of the challenge, that its produce within a year 20,000 cars should be difficult"
After this article appeared, I contacted KNDI's representatives to request a comment from Mr. Hu, KNDI's CEO as to the validity of the article in general and this last comment in particular. The response I got back was "the company is not prepared at this (that) time to confirm or deny Chen's comment other than to say that KNDI does have the current Capacity to easily make and deliver 20,000 cars in a year."
Additional reasons for a consumer to wait for a lease over a purchase, as Marc Chang pointed out in his Part 4; during the term of the lease, even the QBEX price has a subsidy given to the lessee. Translating this additional Battery Exchange Subsidy, instead of the lessee having to pay the normal 50 rmb ($7.84 U.S.) for a fully charged exchange in Hangzhou, he will pay approximately half that amount to get a fresh battery with approximately 162 miles of range. Yes, the lessee cost equivalent to power their KD5011 would be in the vicinity of 162 miles per gallon! (With the population of Hangzhou approaching 10 million, I would think that the 20,000 cars will go quickly at this incredibly low monthly lease price).
In Jinhua, where the larger PRC subsidy is not available, the City of Jinhua and Zhejiang Province provide a special subsidy announced for and underway exclusively for 3000 Kandi KD5010 Lead Acid battery cars which extends to the end of 2012. As announced by the company in October, only 300 are being released under this subsidy this year. For all these reasons, my July forecast of 5300 total EV sales in 2011 will not be met. I was pleased to see that Marc addressed this in his Part 4 and felt with the information we had at that time, my estimate had "made sense." With hindsight, I now believe a more likely number of total EV sales for 2012 will be around 1,400-1,600. I am also happy to see that Chang's 2015 forecast seems to be very close to what I had forecast in July. That being approximately 100,000 cars, a billion in revenues and over $6 a share in net income.
At the time of my last article, I did not attempt to address KNDI's 2012 results, which now appears will not only inherit the 3500 or so sales that "slipped" this year, but also will likely include the full contingent of the 20,000 EVs in Hangzhou along with the 2,700 balance of Jinhua sales. A number much higher then what I had estimated for 2012 EV sales which was perhaps 10,000 unit sales in Hangzhou.
In 2012, I am confident, based on what Marc has reported and from published documents to included comments in KNDI's recently reported 10Q on page 42 under "Recent Development Activities", KNDI should sell in the vicinity of 25,700 EVs in China alone. While likely it will change in years after 2012, KNDI's China EV sales through 2012 are all being sold directly by the company, both in Jinhua and Hangzhou with no dealer or distributor share to be paid. Thus leaving Kandi what should be an extraordinary gross profit margin conservatively in excess of 37% on China sales, with legacy business along historic lines approximately 25% giving a combined gross margin of approximately 34%.
As you can see in the table below, for 2012, should KNDI achieve the above sales levels in China, I estimate the company to have Gross Revenues around US$248 million and fully diluted net after tax income of over $60 million. Thus, based on full dilution of approximately 30 million shares if all warrants and options are exercised, could see reported bottom line net income per share of US$2.01. I base these numbers on information I provide in the paragraph above and also several following the table:
Kandi Projections for 2012

City

Type EV

Type Sale

Units Sold

Price

Total Rev

Hangzhou

KD5011 Li

Hangzhou for lease

20,000

*(1)8,000

$160,000,000

Hangzhou

KD5011 Li

Misc. Private purchase

2,000

*9,000

$18,000,000

Jinhua

KD5010 LA

without battery

2,700

6,700

$18,090,000

Other

KD5010 LA

Other Sales

1,000

6,700

$6,700,000

Total EV

25,700

Misc Legacy Products

42,000

various

$44,100,000

Quick Exp. Bat. Ex

?

Total Rev.

$246,890,000

Gross Profit

0.34

$83,942,600

Operating Expenses

0.1

$8,394,260

Net Operating Profit

$75,548,340

PRC Corporate Taxes

0.2

$15,109,668

Net Income

$60,438,672

Diluted Net Income/ sh

$2.01
*My Estimate without battery based on company reports that KD5011 with battery is 89,000 rmb (US$14,000)
(1) I am assuming a volume discount on the Sale for Lease
One of the reasons I believe the unit sales in Hangzhou will be considerably higher then what Marc has estimated ($7000 low, $8000 high) is based on information we have found on just the PRC subsidy to the City of Hangzhou alone.
KNDI has announced, and I have found many articles, showing KNDI's KD5011 is eligible for the full 60,000 rmb PRC subsidy. At today's exchange rate that would be around US$9400. As also reported in Chang's article, Hangzhou has stated that they will also add to the PRC subsidy for all approved EV's sold to their residents. That additional Hangzhou subsidy seems to be between 30,000 and 60,000 rmb which would be added to the PRC 60,000 subsidy. Now both these subsidies were reported by both Federal and City Governments before any talk of leasing emerged. Also, we know that the PRC subsidy is also available to the local Governments for their EV purchases -- i.e. if Hangzhou wants to buy a BYD EV's at $50,000 for Government use, the PRC will give the City the $9400 toward the cost of that purchase.
Taking the above "knowns" into consideration, and also knowing that the 20,000 KD5011's expected to be purchased for lease in Hangzhou are being bought by the City Gov in Hangzhou (i.e. meaning they will get the PRC 60,000 rmb (US$9400 subsidy), if KNDI were to be only paid $7000 per car as Chang suggested in his forecast, not only would Hangzhou no contribution of their own to make on the 20,000 cars, but would actually make $2400 per car profit from the PRC each time a car is purchased. In addition, if that were the case, the City would also keep 100% of the lease revenues as additional profit. What a great deal for Hangzhou at that price! But, IMO, not likely a deal that the PRC would embrace.
One might also surmise, if Hangzhou only had to pay KNDI $7000 per car, you can bet they would forget about "pushing" any other EVs like KNDI cheapest competitor approved in Hangzhou, the $28,000 Zoyte Longhorn where the City would "have to write a check" for their share of the subsidy and instead just "push" KNDI cars where instant profits to the city would be considerable.
For the above reasons, I believe that when all is said and done, KNDI will be getting at least $9000 per car for the Hangzhou lease cars.
I have arbitrarily estimated operating expense at 10% in my calculation, though I believe this will be lower since there would be no logical reason fixed costs should jump more than 300% on basically a large unadvertised sale. PRC Corporate Income Tax has a maximum limit of 25%, however it could be reduced to 15% for qualified enterprises which are engaged in industries encouraged by the China government (e.g. New/high Tech Enterprises … ) Not knowing the tax specifics of Kandi, I have used a median tax rate of 20% in the above calculations.
As you can see from the above forecast table, if these sales levels in 2012 should be reached, all would witness a stunning year for Kandi. As mentioned above, based on company and China media articles, sales of their two EVs in China over the next 13 months could realistically reach the level of 22,700 based on just the Hangzhou lease program and Jinhua local consumer subsidy programs alone. With these programs underway, it is also likely that some outright individual and fleet sales will be made, so I have added 2,000 cars to cover those realistic possibilities. Other information I have found which was also pointed out by Chang, two other Zhejiang Province cities, Ningbo and Huzhou are also preparing for sales of Kandi's EVs in 2012, so I have taken the liberty to add prospective sales of another 1000 KD5010 Lead Acid cars. This brings U.S. to the 25,700 number in China conservatively addressing over $200 million in new revenues for 2012.
This year I now conservatively estimate that legacy business consisting of Off Road ATV's, UTV's, Go-Carts, LSEVs, Trikes, etc. should reach a record in excess of $42 million, plus some $2 million in initial China sales for a total of $44 million. For my 2012 numbers above, I conservatively assumed legacy business only grows 5%, to $44 million. (I honestly expect business "outside of China" to grow faster than this, but have not spent any recent time investigating other markets.) But do let me mention here. In my last article, I spoke of, and used in my calculation a KNDI announced order the company received earlier this year for 1,000 of their smaller "Coco" type Low Speed Electric Vehicles from a group in Italy who were expecting subsidies from the Italian Government. As can be seen in this article with picture, the purchase order was signed. However, due to the recent economic problems in Italy, that particular contract has been for now delayed, not cancelled according to company sources. This another cause for the deficiency in my earlier estimate for 2011.
I have decided to not even attempt to address a 2011 bottom line number due to wild swings caused by GAAP accounting of non-cash items such as "Change in Fair Value of Financial Instruments." Ironically, under this form of U.S. accounting, the year end closing price of the stock has much heavier weight on final bottom line reported results then the actual company performance numbers. Curiously, the higher the stock price closes on Dec. 31, the more negative affect will be had on 2011 GAAP bottom line. However, after this year, the affect of these items should be negligible, so a smart investor should be looking at the potential of 2012 and beyond, not whatever unimportant bottom line results for 2011 are reported.
Should anyone wonder how KNDI would come up with the capital to build out this number of cars, let me remind; the sales for the expected 20,000 cars will be directly to the Government of Hangzhou. A credit that's purchase orders will be easily financed.
In Conclusion
Thanks to the Internet and Google Translator and Search, what intelligent investors have with Kandi is a very unique opportunity to have a peek behind the "Corporate Curtin," almost a form of legal inside information. As Chang mentioned in his Part 3, Kandi has wisely kept a low profile in the media as these potentially monumental events unfold:
"… is heavily involved as a key and lead participant along with various levels of National, State and Local Governments as well as several State Owned Enterprises in the early roll-out of EVs in China. Based on culture, it is best that KNDI respect "proper order" in China, allowing its senior participants to take the lead in timing of formal disclosure of the monumental events I have so far described. For this reason, the company has been relatively quiet in initiating release of much of the information I have included to date …"
This, low profile situation KNDI shareholders find their company in, as mentioned above, is quite different than Tesla who is in the press and media multiple times each day. For this reason alone, it is not surprising that TSLA's market cap, even after the negative events of the past week or so, is still outperforming KNDI by more than forty-fold. It is my belief that in a matter of just weeks, not months, what Chang and I have discovered and brought to all Seeking Alpha readers will begin to unfold. At that time the disparity in valuation between TSLA and KNDI; again, the only two Companies that U.S. investors can readily participate where EVs will make a difference, will begin to noticeably close. An effect that I suspect is already underway based on the relative performance of KNDI's stock to both indexes and TSLA's share price over the past half year.
Disclaimer: The decision to write and publish this article was mine alone, based on my own personal findings. At no point prior to publication have I conferred with anyone in the Kandi organization or informed them of my intention to write this article.
Disclosure: I am long KNDI.