I love living in Mississippi during this time of year. December and January is the time to get out into the woods and begin hunting deer. The operative term here is "hunting deer."
For the non-hunter, let me explain. From February through October there is no deer hunting. That time is reserved for preparation to go deer hunting. There is land to clear, food plots to plant, maintenance on your shooting spots, and more. It's hard work and it involves a commitment to the effort. We call this process, "herd management."
You see, deer are not all that migratory. They like to stay close to the area where they were born. They are finicky about one thing though--they like to eat. They will scout out areas where there is abundant food supply and that is where they will stay. In order to get them to come to your land, you have to provide them with a reason to come visit then decide that this will become their new habitat.
Taking care of the herd means that the deer will prosper. They will grow larger in size, produce more offspring, and as long as they have their abundant food supply, they will continue to stay close to home.
The lesson to be learned here is that managing the deer herd is not all that different from managing your Dividend Growth portfolio. November and December are the times to be managing the herd. It is the prep time for moving forward into 2012. January is when the DGI starts his hunting season--now is the time to do the work and get prepared.
MANAGING THE HERD:
Six years ago, my children and I sat at our kitchen table with the idea of creating a stock portfolio for the long term. We plowed through stock screens, income statements, analyst reports, and looked at plenty of websites until we came across SA and David Fish's CCC stock lists. We did our preparation and then we went hunting and bought our 10 selections. Here's the results we had during 6 hunting seasons running from 2006-2011.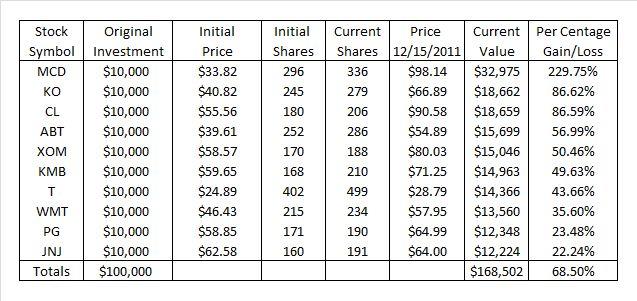 GETTING READY FOR THIS SEASON:
We still love every stock on this list. Each is a Dividend Champion, which means that they have paid dividends for 25 years or more, have raised those dividends annually, and have the earnings power to support those dividends moving forward.
This time of year we begin to "manage the herd." What we are doing is looking at our current portfolio and asking these questions:
How do we find more money so that we can add additional companies to our portfolio?
Since that would require selling stocks in the portfolio, we need to ask, which ones and by how much?
What new additions to we want to make to the portfolio? Sticking to the notion that dividends provide an income stream that we can reinvest either in the same stock or perhaps another stock, we want to look for dividend payers.
What is our overall objective and how do any additional companies that we would consider buying meet those objectives?
Are there companies out there that are not among the CCC companies that we should consider for our portfolio, but never losing sight of our criteria of being a dividend paying stock?
COURSE OF ACTION:
We will reduce our existing positions to 10k per company. That will generate $65k, which we can use for new purchases.
The new purchases will be made in 10k increments (5 additions) and that will leave 15k left in cash to purchase either additional shares of the existing holdings or new opportunities in 2012 as they present themselves.
All dividends will be reinvested into the existing shares that make up the portfolio and it is our intention to hold all of our positions for the long term.
Annual trimming will be done to keep the portfolio in balance and monies from any rebalancing will be used for additional purchases of new holdings, as the plan is to bring the portfolio to a lineup of 20 companies.
STRATEGY AND PLAN MOVING FORWARD:
After looking at a number of different potential stocks to own, we have narrowed our list down to the following companies. As we move forward, these are the additions that we will make to the portfolio in January:
Intel (NASDAQ:INTC): Is a Dividend Challenger that has raised dividends for the last 8 years. Over the last 3 years, INTC has raised the dividend 11.9% and this most recent year raised the dividend by 12.5%. The company currently yields 3.6%, has a PE of 10, ROE is 27.2% and NPM is 26.7%.
Harris Corp (NYSE:HRS): Is a Dividend Contender with 10 years history of raising dividends. Over the last 3 years, HRS has raised the dividend 21.8% and this most recent year raised the dividend by 11.9%. The company currently yields 3.3%, has a PE of 7.9, ROE is 24.21%, and NPM is 9.93%.
Aflac (NYSE:AFL): is a Dividend Champion with a 29-year history of raising dividends. Over the last 3 years, AFL has raised the dividend by 12.5%, but this latest raise was 1.8% largely due to the situation in Japan. The company currently yields 3.2%, has a PE of 10.4%, ROE is 15.57%, and NPM is 11.3%.
Emerson Electric (NYSE:EMR): Is a Dividend Champion with a 55-year history of raising dividends. Over the last 3 years, the company has raised dividends 7.5% and the latest dividend increase was 1.9%. The company currently yields 3.3%, has a PE of 14.98%, the ROE is 24.31%, and the NPM is 10.45%.
Illinois Tool Works (NYSE:ITW): Is a Dividend Champion with a 48-year history of raising dividends. Over the last 3 years, the company has raised dividends 11.8% and the lates dividend increase was 2.4%. The company currently yields 3.1%, has a PE of 11.56%, the ROE is 21.08%, and the NPM is 9.62%.
CONCLUSION:
While these particular companies may not be right for every investor, the Retirement Portfolio for Do It Yourselfers is designed for both younger and older investors. The first 5 years have rewarded us well and we anticipate that over the next 5 years, we should have good results with the portfolio as well.
We are not market timers and do not have as a primary goal, "beating the market." Instead we are looking for a steady stream of income from our portfolio that will allow us to reinvest and add to our holdings, with the purpose of taking this portfolio forward for the next 30 years.
Hopefully, SA will still be here and we will be able to do a report on where the portfolio is and where it is going. Our plan is to update twice a year moving forward.
Disclosure: I am long ABT, CL, PG, KO, MCD, XOM, WMT, JNJ, T, KMB.