Every once in awhile you read an article about investing in rhodium, which is one of the platinum group metals, probably the third most well-known PGM after platinum and palladium.
I suppose that investors might look at a chart of rhodium prices and wonder if it will soar past $10,000 an ounce again.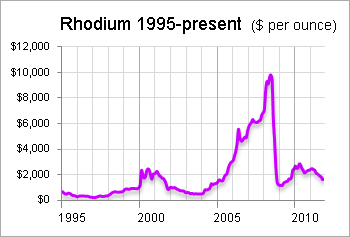 It could, but that doesn't make it a good investment idea. The market is very thin and rhodium is not a commodity suitable for most investors. There are three reasons why.
1) Rhodium is mostly a byproduct
You won't find many companies that specialize in "rhodium mining" because nobody really goes looking for the stuff. It sort of comes along for the ride. PGM miners have a specific type of ore that they mine and it yields a certain amount of platinum, palladium, rhodium and other PGMs.
Rhodium is certainly useful, but its supply and demand characteristics are based to a large extent on the prices for the "main" PGMs, platinum and palladium. Or, in other words, I can't envision a scenario where a company would refine PGMs and basically throw away the platinum and palladium just to get at the rhodium.
2) Rhodium isn't the metal you think it is
Yes, technically rhodium is a metal, but it's not like gold, platinum and palladium at all. It's remarkably brittle and not very ductile, making it difficult to turn into a coin or ingot.
One company that makes rhodium coins, Cohen Mint, explains that working with rhodium is like trying to stamp a design into a piece of tempered glass. As Cohen Mint notes, if you put a gold coin in a vice, you could bend it. A rhodium coin will just snap into two. That doesn't mean it's fragile. It just means it's more glass-like than gold-like, which makes it cumbersome to trade.
This is why most rhodium investors buy it in "sponge" form, which is a powder that comes in a bottle.
Note that much of the world's palladium and platinum also come in sponge form. There's probably some in your car in your catalytic converter. But with rhodium, making coins and bars for investment purposes is impractical. And to me, that takes it out of the realm of being a good precious metals investment.
3) There's no efficient way to invest
You may buy one of the few ingots or coins available, but they are mostly curiosities. I doubt you'd be able to sell one to your local precious metals dealer. Kitco will sell you a bottle of rhodium sponge, but unless it stays stored in its "chain of integrity," you'll be penalized on the price as the company's terms explains:
Taking delivery of your Kitco Rhodium Sponge will mean that the Kitco Rhodium Chain of Integrity is considered compromised. This will impact the resale value of your rhodium. If the seal is intact, we will buy back at 95% of the Kitco Rhodium Pool bid price. If, for any reason, the seal is not intact or has been tampered with in any way, we will only buy back at 80% of the Kitco Rhodium Pool bid price and we will charge a $250 assay fee per container.
I don't know about you, but if I buy something as exotic as rhodium, I'm going to want to open that bottle and take a look at it. (But if you do order a bottle and open it, don't sneeze like Woody Allen did in "Annie Hall").
As far as exchange-traded products, Deutsche Bank launched the db Physical Rhodium ETC back in May. It does not trade in the U.S. Even so, the fund is backed not by bars of rhodium, but by "direct and sole ownership of rhodium which is stored in secure uniquely identifiable bottles of rhodium in sponge form in the U.K."
Even if the fund did trade in the U.S., I'm not exactly comfortable investing in a fund that's backed by bottles of powder.
So while rhodium may be "precious" and a "metal," it's not very practical as a precious metal investment.
I happen to be bullish on palladium (and the PALL ETF) for reasons I explain here. And while I'm humble enough to admit that rhodium prices could conceivably take off and soar back into the $10,000 per ounce range, I prefer palladium. Even though the market for palladium is pretty thin, it's a whole lot more liquid than the rhodium market.
Disclosure: I am long PALL.