2012 is getting closer and everyone is looking for the long-waited Christmas rally. I first read about this market anomaly in Jeremy Siegel's book, "Stocks for the Long Run." Jeremy Siegel is a well-known professor from University of Pennsylvania's Wharton School of Business. He is also a prominent investor, who holds a significant stake in WisdomTree Investments. In his book, Prof. Siegel suggests that the period between Christmas and New Year has experienced superior returns in the last century. A portion of this market anomaly is attributed to the so-called "January" effect, where stocks start the year with big returns.
So far, there are no signs of a rally. Unfortunately, 2011 has been a disastrous year for many stocks, particularly financials, which lost an average of 20% - 25% from their market caps. Basic materials and industrials also experienced double-digit losses in this year. The only sector winners were the defensive companies. Utilities were the star-performers, followed by healthcare companies. I think the European issues will keep dominating the macroeconomic scene in 2012, but the recovery in the U.S. will keep its momentum. The largest companies in the U.S. were able to boost their earnings by an average of 10.26% in the last 5 years. Some of them actually reported record profits in this year. Therefore, I think the full recovery is imminent. Europeans might stay in the no-growth-zone for a while, but this should not deter investors from buying stocks with high potential. Here is a list of 6 stocks, which I believe would be outperformers in the 2012. I have examined these stocks from a fundamental perspective, adding my O-Metrix Grading System, where applicable:
| | | | |
| --- | --- | --- | --- |
| Stock Name | O-Metrix Score | Fair-Value Range | My Take |
| General Electric | 7.15 | $23 - $35 | Buy |
| Ford | 4.68 | $20 - $22 | Buy |
| SiriusXM | 4.48 | $1.8 - $1.9 | Hold |
| JP Morgan | 9.26 | $67 - $113 | Buy |
| Annaly Capital | 11.28 | $24 - $40 | Buy |
| Apple | 8.07 | $670 - $750 | Buy |
General Electric (GE) has been a long-term disappointment, and 2011 was no different. The stock lost nearly 5%, since January. However, GE pays a nifty yield of 4%, which is rare for a company of General Electric's size. GE is trading at attractive ratios, partially due to the conglomerate's sizable operations in the financial sector.
In fact, GE is everywhere. Besides its financial arm, GE produces high-tech engines, industrial systems, construction and power equipment. The size of the company is so big; anything that happens around the world has an effect on the General Electric. That is another reason the stock has been a loser. Investors have this "too big, too complicated, you will never know which part is wrong" psychology. Nevertheless, I think GE has reached its bottom and there is a strong resistance at $15. Thus, there is not much downside left, but it has at least 30% upside potential to reach fair value range.
(Click charts to expand)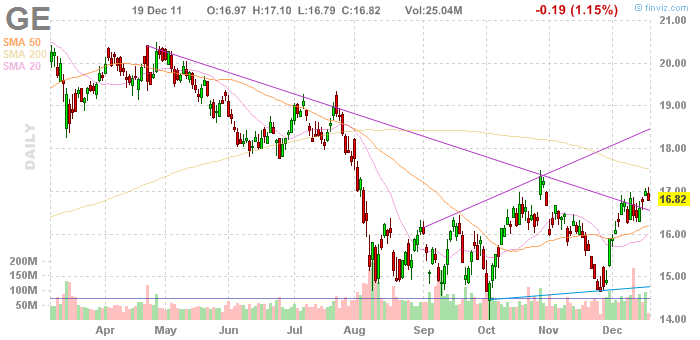 Ford (F) has been one of the biggest disasters of 2011, losing nearly 40% of its market cap. That was contrary to the earnings growth trend. Ford was able to double its earnings this year, generating an income of $6.79 billion, from sales of $134 billion. Ford is not a financial company, it is not a speculative company, but for some reason it has a high beta of 2.37. I think investors over-react to bad news when it comes to playing Ford.
The stock is trading at a trailing P/E ratio of 6.17, and forward P/E ratio of 6.45. It also has a 5-star rating from Morningstar. Surely, Ford's gigantic debt load is a huge scary factor. However, Ford was able to reduce its current liabilities by nearly 50% in the last 2 years. Non-current liabilities are also in a steady downward trend. Ford also reinstated its quarterly dividend after 5 long years. I believe the flood of bad news overshadowed Ford's dividend announcement. The stock looks like it's poised for a rebound in 2012. The multiple-bottom formation also supports this claim:
SiriusXM (SIRI) is one of the most liquid stocks in the market. It is very consistent in staying among the most-active stocks of the week. It is not quite hard to see the reason why the stock gets so much publicity. After recovering from a value of near-zero, the stock made a remarkable recovery to near $2. Still, it is trading way below its heyday price of $8. Sirius is also highly shorted with a short interest of 8%.
While the stock is trading at a pretty high trailing P/E ratio of 42, the forward P/E ratio falls to 25. Given the large amount of depreciation expenses on the book, it might be better to use P/FCF ratio for SiriusXM. The P/FCF ratio of 17.43 is a very low number for a company that aims for 30% EPS growth over the next 5 years. In a recent article, I showed that the first 4 months of the year are usually the best months for SiriusXM. Maybe, we will experience the same pattern again in 2012.
JP Morgan (JPM) is no Bank of America (NYSE:BAC), but the fire does not distinguish between wet and dry wood. What I mean is JP Morgan is one of the most profitable banks that pay regular dividends. The banking giant was able to boost its earnings by 75% in this year, but the stock lost near a quarter of its market value. JP Morgan is also trading at 0.66 times the book value and only 1.88 times the free cash flow. Its trailing and forward P/E ratios of 6.80 and 6.53 indicate that it will take at most seven years to recover our initial investment -even with zero growth. JP Morgan is also double-bottomed, and is poised for a rebound in 2012.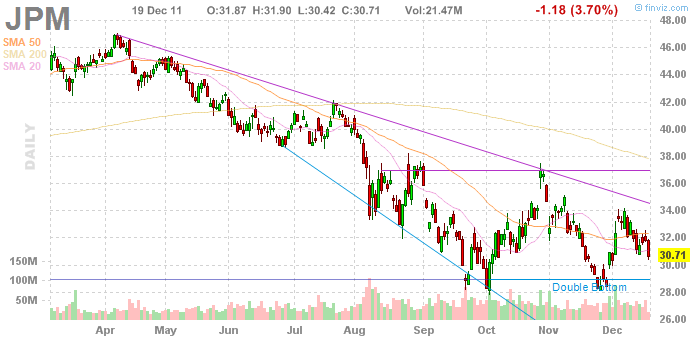 Annaly Capital (NLY) is one of the best managed mortgage real estate investment trusts [mREITs] in the market. As an mREIT, Annaly is subject to favorable taxation rules, as long as it keeps distributing 90% of the dividends. I guess, this is the best part of Annaly. The company is not a dividend-growth company, but it has paid double-digit yields almost every year since 2005.
As of December 19, the stock is trading a trailing P/E ratio of 8.5, and P/B ratio of 1, both of which are significantly below 5-year average. The stock did not perform well this year. If it were not for the 15% yield, the year-to-date return would have been -10%. It is quite hard to guess the dividends for the next year, but a quick calculation gives a sustainable dividend range of 1.92 and 2.30, which translates into a yield range of 11% - 14%. That is one safe dividend in a risky market.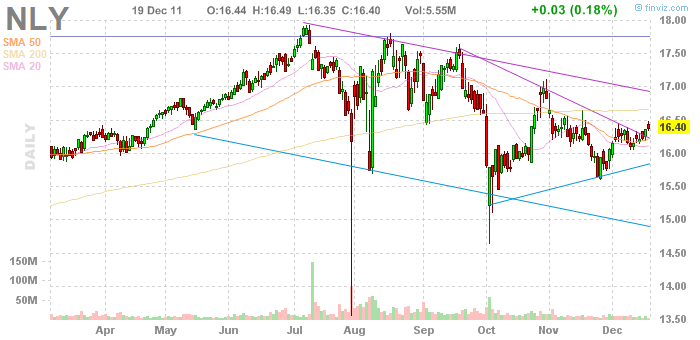 Apple (AAPL) is a no brainer for 2012. The stock has been an outperformer, and it will be an outperformer for a long time. One of the things that kept irritating me regarding Apple was the high P/B ratio. Apple has a P/B ratio of 4.62, which is pretty high for my standards. Nevertheless, Buffett's stake in IBM provided a relief to me, since the 100-year old IBM is trading at 10 times the book value. If IBM fits into Buffett's comfort zone, it would be much easier for Apple to find its place in Buffett's portfolio one day.
Analysts estimate an annualized EPS growth of 19% from Apple, which is very reasonable given Apple's growth track. If Apple keeps this conservative growth rate for the next seven years, earnings will be boosted by 3.6 times, reaching near $93 billion by 2018. At a P/E ratio of 11, that will give Apple a market cap of $1 trillion. In any case, the stock is obviously undervalued. My fair value range for Apple is between $670 - $751 per share.


Disclosure: I am long AAPL.