The rural economy continued to move forward and has remained above growth neutral for nearly two years, reaching its highest level since June of 2007. The farmland price index reached a record high in the month of December and cash rents followed the rising trend.
The Rural Mainstreet Index advanced to 59.7 from 58.4 to remain positive for the fourth straight month and well above the 55.4 it posted 12 months ago. This growth is largely due to the areas of the country tied to agriculture and alternative energy.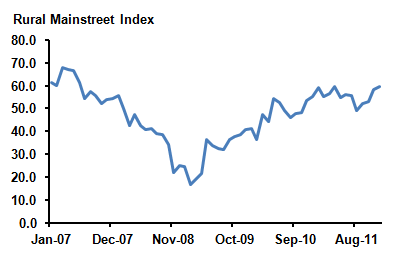 Creighton University economist Ernie Goss said, "Growth in the areas of the region and country tied to agriculture and energy are outpacing urban areas. Our survey is detecting a very healthy Rural Mainstreet economy with the gap between urban and rural widening. Bankers reported that approximately 60 percent of agricultural producers have contracted or sold their 2011 production. Global demand and alternative energy generation are driving the Rural Mainstreet economy higher."
Agriculture
The farmland price index rose to a record high 84.1 in December. This marks the 23rd straight month the index has been above growth-neutral. The farm equipment sales index increased to 73.8, its highest level since February of 2008, from November's 68.4.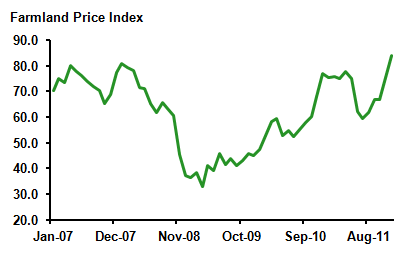 Bankers were asked to provide average cash rents per acre in their area. The average cash rent was $191 and 22% of bankers reported average per acre rents above $250.
Don Reynolds, president of Regional Missouri Bank, said, "Land prices appear to continue to rise. But, we noted that a few small tracts that were desired by multiple cash rich buyers appeared to distort people's thinking."
Banking
The loan volume index increased to 50.8 from 44.2 a month prior. The check deposit index decreased to 68.9 from 81.7 in November and the certificate of deposit and savings instruments decreased to a weak 37.0 from 41.7 last month.
"Tepid loan demand, and healthy checking deposits are consistent with a very strong farm economy across the region," said Goss. October's job index increased to 54.6 compared to 53.4 in November. "Year over year job growth for Rural Mainstreet communities is approximately 1.4 percent compared to 0.8 percent for urban areas of the region," said Goss.
The economic confidence climbed to 61.8 from November's 57.5. "While the index stood at growth neutral 50.0, bankers remain less than optimistic about future economic conditions, compared to last year at this time," explained Goss.
However, MF Global's bankruptcy and handling of clients capital might have affected the agricultural region. 23% of bankers said the firm's bankruptcy has had a negative impact on agricultural customers. The majority of bankers, 52%, indicated there was no impact to MF Global's bankruptcy.
Survey
This survey represents an early snapshot of the economy of rural, agriculturally and energy-dependent portions of the nation. The RMI is a unique index covering 10 regional states, focusing on approximately 200 rural communities with an average population of 1,300. It gives the most current real-time analysis of the rural economy.
Disclosure: I have no positions in any stocks mentioned, and no plans to initiate any positions within the next 72 hours.