Shareholders of Concur Technologies (NASDAQ:CNQR) have experienced a roller coaster ride to nowhere in 2011. After starting the year at $52.37 per share and plummeting down to $34.30 in August, shares are now back to the year's starting point at the current price of, you guessed it, $52.37. Concur is in the business of providing integrated travel and expense management solutions for companies of all industries, sizes and geographies. Not really an exciting business but add in in aura of "the cloud" and unbridled investor enthusiasm can take, what is essentially a bookkeeping business, into the valuation stratosphere.
While Concur Technologies has had impressive sales growth, it finished its fiscal year ending September 30, 2011 in the red with a loss of $10,743,000 or $.20 per share. Looking at the income statement, the reason for the loss is clear. While revenues increased by a respectable 19%, sales and marketing expenses skyrocketed by a whopping 45.8%. The following chart reveals some selected numbers from the company's 10-K:
Click to enlarge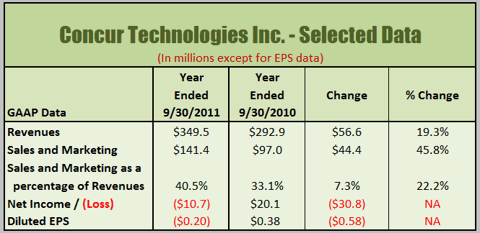 Concur Technologies seems to be taking a page out of the Groupon (NASDAQ:GRPN) IPO playbook. Groupon fueled sales growth by pumping up customer acquisition costs, the result of which were massive losses and questions raised about the viability of its business plan. One has to ask, where would revenue growth at Concur be without a 45% ramp up in sales and marketing?
Concur has a market capitalization of about $2,830,000,000 and trades at very rich price to sales ratio of 8.1. While a 19% year over year sales growth is healthy, it is certainly not spectacular. One has to wonder what happens to that revenue growth rate if sales and marketing expenses level off and whether this company can be reasonably profitable at a reduced spending level. As per the company's 10-K, the competition is fierce and this may be the rationale for the marketing expense ramp up:
The market for our integrated travel and expense management solutions is highly competitive and subject to rapid change. Our principal direct competition comes from independent vendors of corporate travel and expense management software and services, as well as financial institutions and enterprise resource planning software vendors that sell products similar to ours along with their suites of other products and services. We also face indirect competition from potential customers' internal development efforts and, at times, have to overcome their reluctance to move away from existing paper-based systems.
CNQR trades at a forward P/E ratio of 60. However, caution is required as this forward P/E is not based on GAAP EPS but on "adjusted" EPS projected by Wall Street analysts. Adjusted EPS adds back stock based compensation costs, among other items, and is not a true picture of how shareholders fare.
GAAP, on the other hand, is the more appropriate method to analyze this company. So while this forward P/E may be seem rich for a company growing its revenues at only 19%, the real GAAP P/E ratio is much richer. Unfortunately EPS estimates based on GAAP are not easy to come by as Wall Street analysts choose to blindly follow the company's lead in focusing on adjusted GAAP earnings.
Way back in 1877, there were probably a few companies that were first to announce that they would begin selling product over an incredible new platform based on an exciting new technology. The resulting irrational exuberance caused the stock prices of these companies to rally to P/E ratios never seen before. They proved to be unsustainable. What was that new platform? The telephone.
The thing about the cloud that investors need to understand is that nobody has a monopoly on it, and first mover advantage is often fleeting. The cold stark reality is that the goal of trying to grow into a perfection priced valuation is likely to prove unattainable.
Disclosure: I am short CNQR.
Disclaimer: These are the personal views of Wall Street Titan and should not be relied upon for your personal investment decisions. Do your own due diligence.