Gold was the headline-grabber of the week, dropping almost 7%. Longtime readers of The Commodity Analyst know that we have been bearish on gold for quite some time, but even we were surprised by this week's move. Nevertheless, we see further downside.
The following chart shows the price of gold in yellow and Managed Money net longs in blue.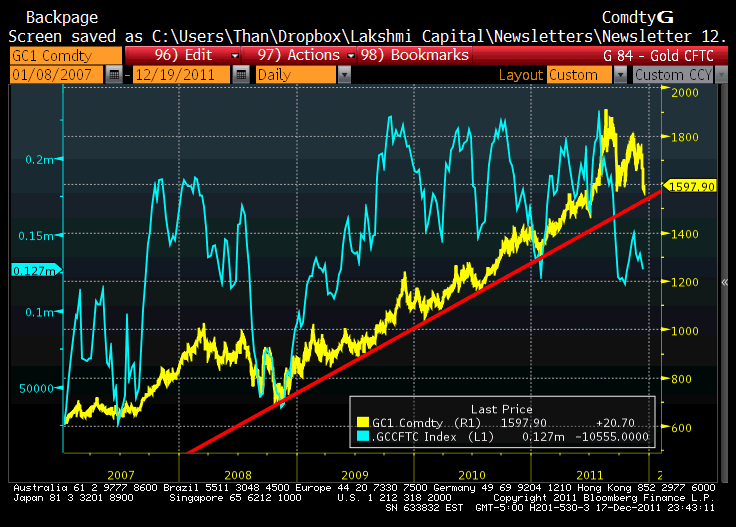 Chart courtesy of 12/19 Commodity Analyst Newsletter.
While Managed Money interest is certainly not extremely high, it is also not necessarily very low. While Managed Money longs most likely dropped a good amount after Tuesday (when the CFTC report is accurate until), gold Managed Money longs are nowhere near the lows seen in 2008, when the metal fell and washed out many weak long holders before moving higher. Furthermore, the red trendline of gold's uptrend since 2008 appears to be on the verge of being broken. This upcoming week could be critical for the price of gold.
The following shows the price of gold in on OHLC bar chart.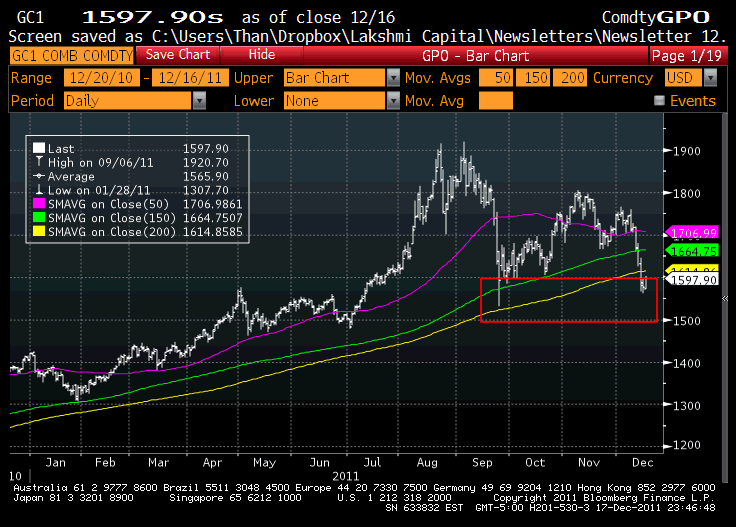 Chart courtesy of 12/19 Commodity Analyst Newsletter.
From a simple technical standpoint, we can see that gold has made consistently lower highs since peaking in September. Gold is also significantly below both the 150 day and 200 day moving averages, levels that served as ironclad support for the past 3 years.
Even more critical, gold is now within striking distance of the intraday low put in on September 26th. That day, gold opened lower on the Sunday night electronic session after margin requirements were raised the previous Friday. The selling quickly cascaded, taking gold down over $100 intraday by 2:45 am EST, or the middle of the European trading day.
However, gold then rallied just as strongly as it fell, ending up finishing the day down only $10 from Friday's close, and going on to rally to $1700 within weeks and $1800 within a couple months. This type of intraday fall and recovery was also seen on August 25, which precipitated another move higher. These moves are in contrast to gold's fall over the past few days.
While Friday saw gold briefly retake the $1600 level, it has yet to have a large intraday price spike downwards accompanied by buyers stepping in en masse to support the metal. We believe if gold breaks below $1560 initially, and then critically at $1535-$1530, it could easily fall to $1475 and possibly $1300 in a hurry.
Considering prices were at $1300 as recently as January, continued selling pressure in the equity markets would put heavy pressure on managers to liquidate the one asset that has actually gained in 2011. With prices still up 12.5% on the year, managers are highly likely to sell into gold's weakness, as its chart looks very poor, and its high degree of liquidity providing quick cash.
Another large factor to consider is both wide retail ownership of gold, as well as John Paulson's outsized GLD holdings. The following table shows the top holders of GLD, and the chart shows total number of ounces of gold held by exchange-traded products: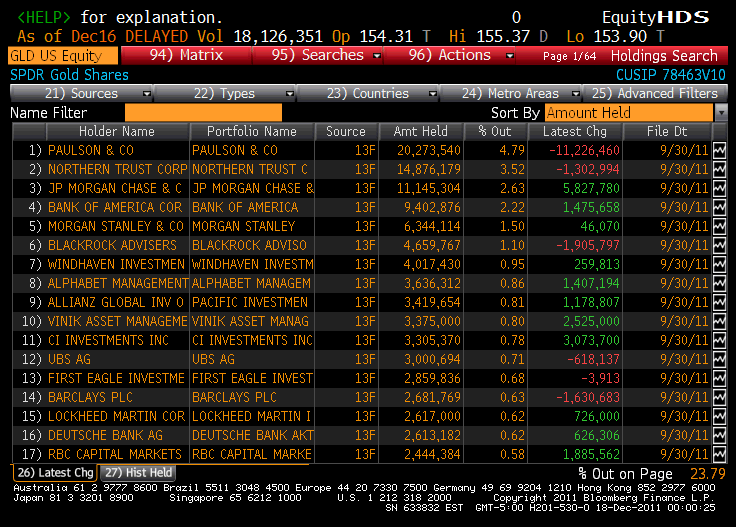 Chart courtesy of 12/19 Commodity Analyst Newsletter.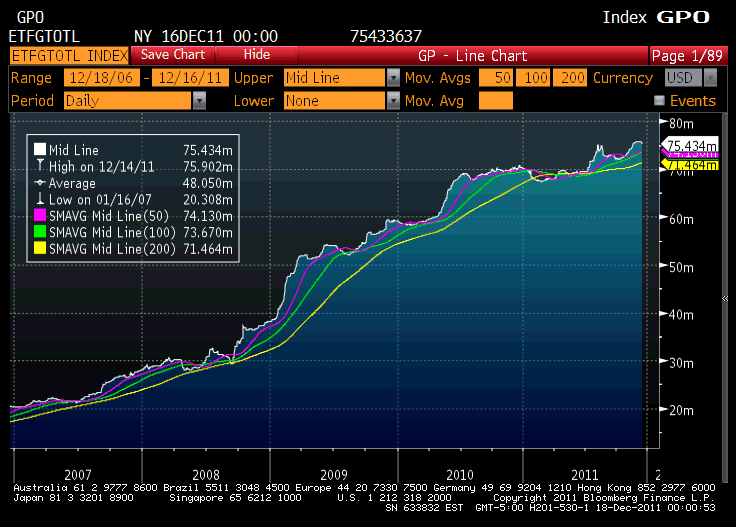 Chart courtesy of 12/19 Commodity Analyst Newsletter.
As can be seen, John Paulson's funds continue to hold over 20 million shares of GLD, or almost 5% of the entire fund. This is especially problematic, as Paulson's poor performance this year (his main funds are down 30-50% year to date) will most likely lead to redemptions. As Paulson needs to raise liquidity, he will probably reach for the one asset he can sell at a gain, gold. Given that Paulson's remaining GLD holdings comprise quite a bit more than one full day's average volume of GLD shares traded, heavy divestment of GLD by Paulson could singlehandedly cause gold to fall an additional 5-10%.
Additionally, retail investors have become extremely enamored with gold over the past 5 years. The chart above shows that exchange-traded funds' holdings of gold have skyrocketed from 20mm ounces in 2007 to over 75mm ounces today. Of course this number does not incorporate all the physical holders of gold who were seduced by Monex.com and other endless television advertisements for the "next big investment."
If and when gold prices continue to move lower, a good deal of panic selling by retail investors could easily ensue, especially if equity markets move lower. Gold has fooled most every retail investor into thinking that it is a safe haven asset, so if gold actually moves lower with force, it could face waves of selling by panicked retail investors who are now simultaneously losing on stocks as well as their false security blanket -- gold.
For all these reasons, it is critical for gold bulls that gold at least break downward momentum and stabilize at current levels immediately. Just a 4% loss from current levels could lead to significantly lower prices in a hurry, with $1300 as a perfectly reasonable target.
Also, despite numerous gold bugs recently claiming that the current fall in prices presents a good buying opportunity in order for gold to climb a "wall of worry," implied volatility data indicates the opposite. The following chart shows the GVZ, which is the gold VIX. It measures the implied volatility on GLD options.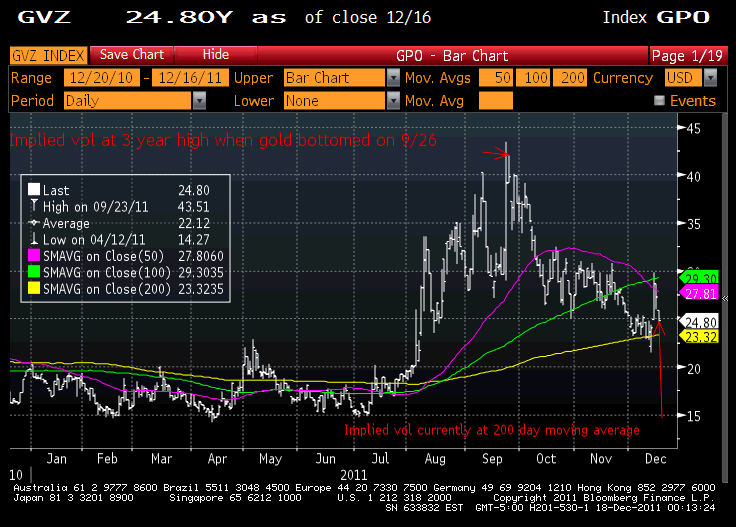 Chart courtesy of 12/19 Commodity Analyst Newsletter.
As can be seen, gold volatility is actually near a 4 month low at present levels. By contrast, the last time gold traded near these prices, the GVZ was well above 40. To us, this indicates complacency on the part of gold bulls, which is not at all indicative of a market climbing a wall of worry. Furthermore, the relatively low implied volatility presents very good opportunities for bearish traders to enter positions.
Trade Recommendation
With implied volatility this low and with gold bulls claiming that this is yet another short-term blip, buying put options on gold to speculate on lower prices seems like a highly attractive risk/reward trade. The $1400 put option expiring on January 26, 2012 can be purchased for $6.10. This trade would be profitable if gold closes below $1393.90 on January 26.
While this is a low strike price, we believe a decline to or below these prices is fully within the realm of possibility. Furthermore, we believe that a deeper decline will most likely materialize soon if it is in fact in the cards, so purchasing these options with an eye towards reselling them upon further price weakness seems like a highly attractive proposition. Conservative traders could cut their losses if this option loses half its value.
Disclosure: I have no positions in any stocks mentioned, and no plans to initiate any positions within the next 72 hours. I am long gold puts, and short gold futures.
Disclaimer: All information included herein is the opinion of the firm and should not be considered investment advice. Past performance is not necessarily indicative of future results.