No stock exists in a vacuum that's quite as isolated from the real world as Sirius XM (NASDAQ:SIRI). If you follow the sentiment of ardent SIRI longs, you see cries of frustration and bewilderment over the stock's inability to break the all-important $2.00 psychological seal for any meaningful period of time.
You must realize that, much like JFK conspiracy theorists, UFO nuts, French-speaking Montreal Canadiens' fans and Tim Tebow, these people live in their own world. Modest revenue growth, debt, bailouts and 46 trillion outstanding shares aside, they think SIRI should be a $300 stock.
For better or worse, though, it feels like this cult of longs exists in droves. I, for one, have stopped getting annoyed with them. Instead I feel empathy for their plight. It makes perfect psycho-social sense to pump the heck out of a stock you bought at $2.44 thinking the market makers would finally stop their manipulative ways and let this thing run to $3, $4, $5 before Apple (NASDAQ:AAPL) could no longer resist a buyout attempt.
But, in all seriousness, let's assume you're holding this stock - or an equally frustrating one - and (A) you do not have enough of a profit to bail and (B) you actually think there's a near- to long-term, sustainable upside. I can only assume quite a few SIRI shareholders exist in this or a very similar position. How can you pass the time between now and when your company finally takes over the world?
Consider an investor who bought 15,000 shares of SIRI at $1.50 (many, of course, were not quite so lucky). If I'm you, I take the roughly $4,500 in profits and run for my life. Sure, you could wait for a pre-earnings run or a post-earnings bounce, but greed is not good. If you get a spike, you'll read the message boards and decide to hang on for $100. Emotions are crazy things. But, I digress ...
Here's what I would do if I signed a suicide pact to not completely cut ties with my position in SIRI until Pandora (NYSE:P) goes out of business.
Write Covered Calls
Hopefully, you've included a clause in your agreement that provides an out in the event you have your shares called away. In any case, when you own just one or 200 shares of a stock like this, writing covered calls can be more trouble than it's worth. There's a good chance, however, that you've been able to build up a considerable SIRI nest egg.
While the SIRI January 2012 $2 calls only fetch about $0.02 a contract right now, you'd be smart to the take the deal that comes along with selling 150 of them against your 15,000 shares. You'll collect $300. I know that sounds like pocket change, especially compared to the $4,500 you could pick up if you just sold, but at least it takes some of the sting out of your carrying cost. If SIRI hits $2.00 a share on or before options expiration day in about a month, you could have your shares called away, but you'll have profited on the stock and kept your $300.
I recently pulled this off with another frustrating stock that, like SIRI, deserves the stock price investors have slapped on it.
I bought 900 shares of Sprint (NYSE:S) for $2.17. In my first month of ownership, I sold $3 calls and collected about $150. They expired worthless. I kept my shares. In my second month of holding the stock, I sold $2.50 calls. The stock moved above that level prior to options expiration and, to my surprise, my shares got called away. That's a great deal for me. I made a $300 profit on the stock and kept the covered call income for two months straight. If the person who called my shares away did not unload them immediately as part of a relatively massive trade, he erred and drew the short end of the stick. Simply put, he's holding the bag at $2.50, plus the premium he paid for the contracts.
If you're holding the bag, it's an even better deal to ease your on-paper losses and take in covered call income on SIRI, but, of course, you risk losing money if your cost basis sits much higher than $2.00 a share.
Trade The Stock
That's what everybody else does. Where do you think all of that volume comes from? It sure as heck isn't from the local chapter of the Sirius XM investment club.
As I noted the other day, this stock is a day trader's dream. You need some guts to pull this off, but you could take in some considerable pocket change on most days by trading in and out of 10,000 shares of SIRI on a regular basis. For every penny, you make $100 scalping SIRI. If you trade in an account with low commissions, you'll keep most of that before taxes.
Look at the stock's recent price history, courtesy of Yahoo Finance.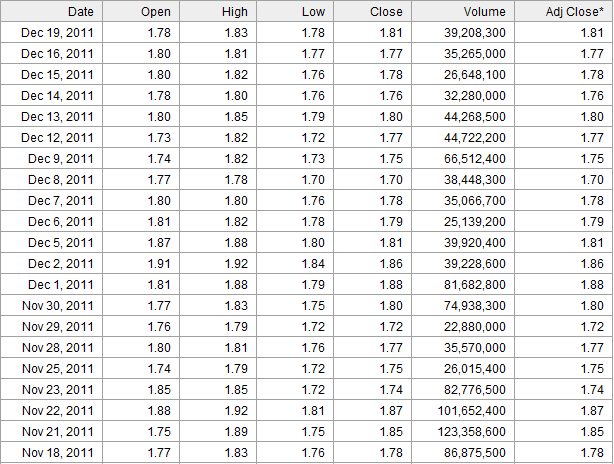 I don't expect most people to take the time or risk to trade SIRI like that, but, if this is what you do for a living or would like to, it's not a bad place to get your feet wet. But, more so, trading is what explains the volume in this thing. Long to the high, short for the almost inevitable drop. There's no doubt several people/entities with big money do this several times a week.
Whatever you do, proceed with caution. I expect things to get even more frustrating for Sirius XM investors in 2012. When the company reports Q4 earnings, it needs to report 442,000 net subscriber additions to meet its year-long guidance of 1.6 million. While I don't think this is even remotely possible, if Sirius XM somehow manages to hit that number, it will do so at the expense of revenues. Something has got to give and it's likely offers of "free" or "cheap" to keep churn stable that will drive revenue and, possibly, EPS down if the company hits its subscriber number.
Satellite radio 2.0 could have been a savior, but to think the company will sell a considerable number of the clunky new receivers at retail is little more than wishful thinking. As I've been saying for months, Sirius XM does just enough to keep a sizable stable of its current subscribers happy, but it's doing very little to drive the number of net additions it needs to warrant sustained stock price appreciation.
Disclosure: I am long P, AAPL.