Annaly Capital Management (NYSE:NLY) recently announced its 4th quarter 2011 dividend, which is payable to common shareholders of record on December 29, 2011.
As shown in the chart below, this is the second straight quarter that NLY has reduced its dividend to shareholders.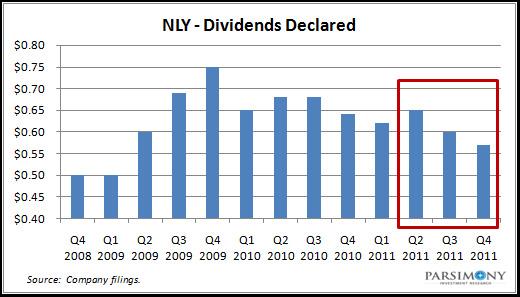 Despite the past two quarters of dividend reductions, we still believe that NLY is one of the best run mortgage REITs, and we think the stock is a buy at current levels.
Prudent Risk Management has Driven Dividend Reduction
NLY management has slowly been reducing its leverage (see chart below) which has been the main driver of the dividend reduction. While lower leverage leads to lower profits (and dividends), it also reduces risk. We view this as a positive risk management technique, which is why we are still bullish on NLY.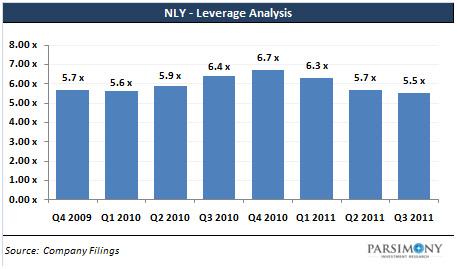 The Current Interest Rate Environment is Ideal for Agency mREITs
Mortgage REITs have had a halo of uncertainty since September, when the Securities and Exchange Commission sent shockwaves through the mortgage REIT market seeking comment regarding the treatment of asset-backed issuers and mortgage REITs.
While we have trimmed our overall allocation of mortgage REITs, we think agency REITs continue to be a suitable investment for investors seeking good risk-adjusted yield. Agency mortgages are guaranteed by government sponsored entities (implying limited credit risk). Conversely, non-agency securities do not carry a similar implied guarantee, making them inherently more risky due to the higher relative credit risk.
Agency Mortgage REITs provide yield hungry investors access to strong dividend yields. These securities typically perform well in low-interest-rate environments with steep yield curves. We think they provide investors a hedge against heavy cash and short-term bond portfolios in the event interest rates stay low for an exceptionally long period of time.
Below is a list of agency-focused mortgage REITs:
Agency REITs with bias toward Fixed Rate Mix
Annaly Capital Managment
American Capital Agency (NASDAQ:AGNC)
Agency REITs with bias toward Floating Rate Mix
Anworth Mortgage Asset Corp. (NYSE:ANH)
Capstead Mortgage Corp. (NYSE:CMO)
Hatteras Financial Corp. (NYSE:HTS)

Invest in the Industry Veteran
In general, we think interests rates will remain low for the foreseeable future (and the Fed seems to agree based on Bernanke's recent comments) and we believe agency mREITs offer investors an extremely compelling risk/reward profile.
That said, we recommend that income investors stick to industry veterans like NLY, which was formed in 1997. The NLY management team has a proven track record of successfully managing their portfolio through various interest rate cycles and has consistently delivered positive long-term returns to shareholders.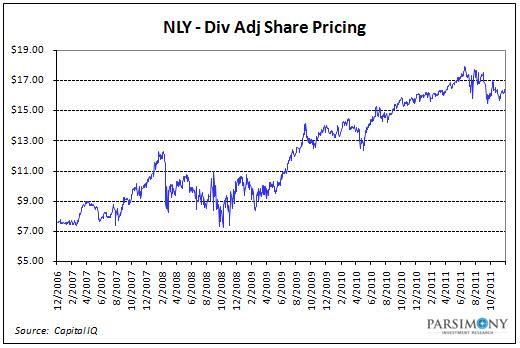 Disclosure: I am long NLY, AGNC.