The market has been more than generous lately as it has discounted great value bargains. If a company's fundamentals are currently intact, and an investor has a long term optimistic outlook on the equity, then it just makes sense to scour for calls to write while waiting for price appreciation. Here is a list of options that are currently on my watch list: Foster Wheeler AG (FWLT), Jacobs Engineering Group (NYSE:JEC), Cal-Maine Foods Inc. (NASDAQ:CALM), CarMax, Inc.(NYSE:KMX), Finish Line (NASDAQ:FINL), KB Home (NYSE:KBH), and Netflix (NASDAQ:NFLX). Before diving into the chart, it's important to highlight a few important facts on covered calls.
When comparing option premiums, please realize that most of the time the shorter term options with the same strike price are more expensive to hold even though the nominal dollar amount might be lower.
Stocks that are riskier have more expensive premiums, therefore as an option seller you can gravitate towards riskier companies to make it more advantageous, but yet maintain a balance with your longer term horizon outlook.
Despite the fact that shorter term maturities are favored by option writers, at times it is also advised to write longer term derivatives.
Please do not trade these options on or right before earnings or dividends day! Wait for the earnings release date, and then pull the trigger after performing your own due diligence.
Click to enlarge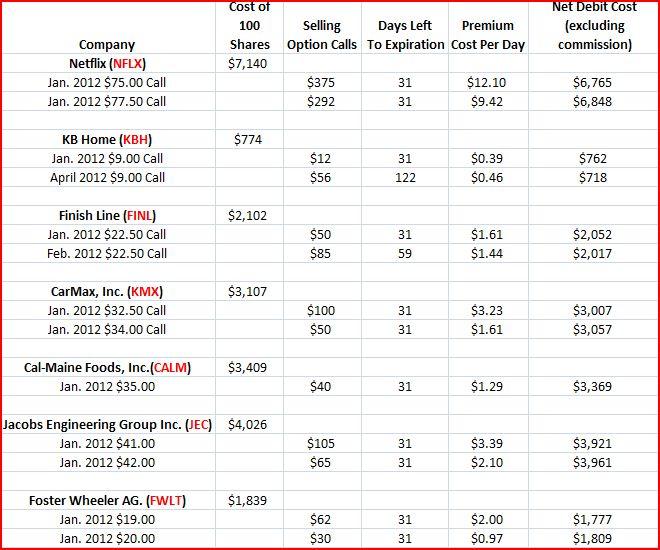 Disclosure: I have no positions in any stocks mentioned, but may initiate a long position in JEC over the next 72 hours.