First Opportunity Fund is traded Over The Counter under the symbol FOFI.PK. It was de-listed from the NYSE when the fund elected to invest a substantial portion of its assets in hedge funds. The fund is run by the Horejsi Group, which has a substantial investment in the First Opportunity Fund and also manages a group of other funds which include: Boulder Growth, Denali and Boulder Total Return. The sub-investment manager is Wellington Management, based in Boston, which is a reputable manager.

First Opportunity was originally named First Financial Fund before being acquired by Horejsi. At that time the fund was dedicated to investing solely in the financial sector. The fund is now in transition but still has substantial investments in financial securities. As of September 30, 2011, First Opportunity had net assets of $238,125,186.

First Opportunity does not have a good history and has done poorly. It has substantial tax losses, as of March 31, 2011, which are as follows:
| | |
| --- | --- |
| Undistributed ordinary income | ($52,260,299) |
| Accumulated long term capital loss | ($23,327,836) |
| Unrealized depreciation | ($216,276) |
| Carryover tax losses expiring 3/31/17 | ($16,642,136) |
| Carryover tax losses expiring 3/31/18 | ($35,618,163) |
Ratio statistics for the 6 months ending September 30, 2011, were as follows:
| | |
| --- | --- |
| Market value investment return | (16.69%) |
| Operating expenses | .98% |
| Net investment income | .01% |
| Portfolio Turnover | 7% |
The following four sectors represent the major sectors in which FOFI has investments:
| | |
| --- | --- |
| Hedge Funds | 52.5% |
| Short Term Investments | 9.4% |
| Banks and Thrifts | 9.1% |
| Savings and Loans | 8.7% |
Needless to say, the above figures are not inspiring, but then First Opportunity does sell at a 27.25% discount from net asset value, which reflects all that has occurred.

Opinion

It is not all gloom and doom. The 17.8% of the portfolio invested in financial institutions is widely diversified and has holdings in 95 separate companies. Most of these financial institutions are small to mid-sized and should benefit from any future stability or growth. The holdings seem interesting and something one would normally not have any access to investment.

Some 52.5% of assets are invested in five hedge funds. The original investment of $118,500,000 is being valued at $125,054,500. I have no personal knowledge of these hedge funds, but First Opportunity's management has a substantial investment in the fund and has chosen to make these investments. You are buying in at a 27.25% discount from net assets.
As you already know, I am a sucker for deep discounts from net asset value and tax benefits. First Opportunity offers both. Its past performance has been poor but that is primarily a result of the disaster which struck the financial sector, where it was primarily invested.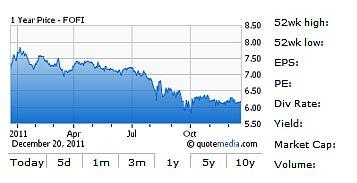 I would not put all my money in First Opportunity but I would include it in a basket of securities which I was holding.
Disclosure: I am long FOFI.PK.