China's dynamic development is reflected in all areas of economic activity. In particular, it concerns international trade. As Chart 1 shows, nothing seems to have the strength to halt an increase in China's exports. Neither the collapse of dot-com firms, nor the subprime crisis and serious problems in the global economy as a whole have been able to do so. In 2004 China outpaced Japan, the United States in 2007 and Germany in 2009.
Chart 1. China's weighting in global exports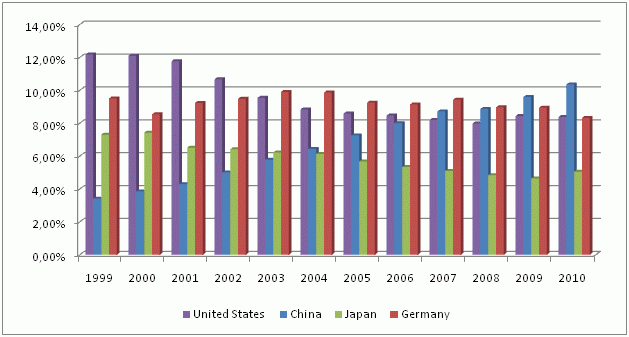 Source: WTO
Meanwhile, the primary export area for China is not the United States or the EU, as it often seems, but Asia. Asia's portion (42% as of 2010) exceeds aggregate exports (34%) falling to the European Union (18%) and the United States (16%).
Chart 2. China's exports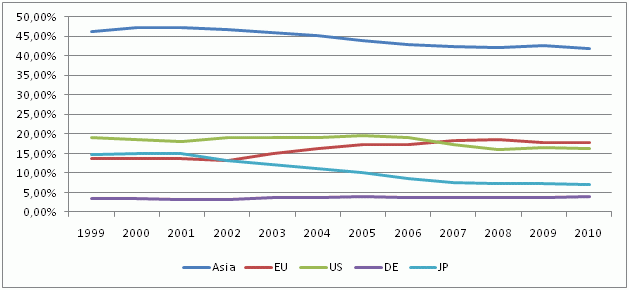 Source: WTO
Also, we'd like to note that China has recorded a trade balance deficit with Asia, Japan and Germany.
Chart 3. China's trade balance, USD bn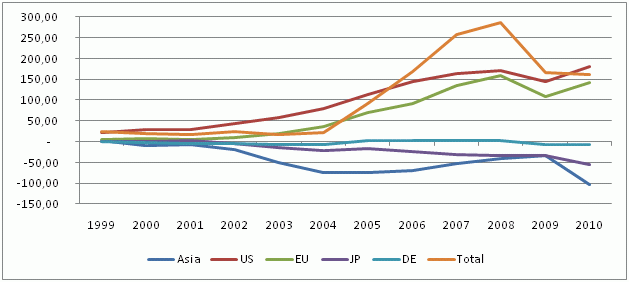 Source: WTO
The case of Japan is especially illustrative. Despite the yen's strong firming in the period under analysis, this did not hinder Japan from widening its trade surplus with China. This proves that first and foremost it is essential to manufacture export items which are in demand. A currency's undervalue/overvalue is a secondary fact, although we, of course, do not deny that, all other things being equal, weakness of a national currency is an advantage for exporters. That is the position of Chinese leaders that the yuan's exchange rate is not the initial cause of imbalance in global trade, in our opinion, is correct and substantiated.
This year external trade numbers are extremely curious. Table 1 shows data for the first ten months of 2011 compared to the year-earlier period. If 2010 was considered a year when the global economy began to recover, then 2011, especially its second half, looked, taking into account headlines in the newspapers, like the threshold of the Apocalypse. Some expected a default of the United States as American authorities appeared to be unable to lift the debt ceiling, while other investors expected the breakdown of the Eurozone as the ECB has no desire to repurchase government debt in unlimited volumes, etc. It's hard to imagine what external trade could be against such a backdrop.
However, as we can see, China's external trade with its primary partners has been expanding at quite a fast clip. In the first place, Asia draws attention. China managed to bump up exports by 25% and it should be noted that exports increased from a very high base (USD 583.7 bn). Also, the situation surrounding the EU and the United States is quite palatable as we see double-digit growth rates. We'd like to emphasize that as far as these trade partners are concerned it is more interesting that the pace of import growth is far higher than that of exports. For instance, the EU ramped up exports to China by 27.5%.
Table 1. China's external trade with primary partners, USD bn
10M10
10M11
Chng
Exports
Imports
Balance
Exports
Imports
Balance
Exports
Imports
Balance
Asia
583.7
675.3
-91.6
730.9
823.5
-92.6
25.21%
21.95%
1.14%
EU
252.9
135.6
117.2
294.1
172.9
121.2
16.29%
27.45%
3.38%
USA
230.7
80.1
150.6
264.3
98.8
165.5
14.55%
23.29%
9.90%
Japan
97.1
142.3
-45.1
120.5
161.3
-40.8
24.01%
13.35%
-9.59%
Germany
55.5
59.6
-4.0
63.6
76.6
-13.1
14.45%
28.68%
225.20%
Source: ThomsonReuters
Rapid growth of international trade explains why the Baltic Dry Index has been performing so confidently this year.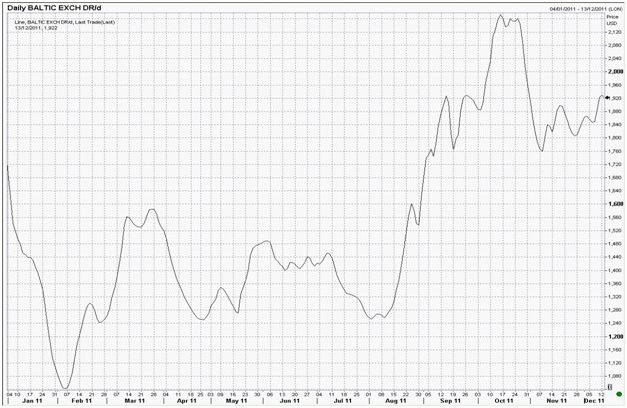 Source: ThomsonReuters

The data given above, in our view, prove the following:
The real sector of the economy is in quite good shape, and not only in Asia, but also in the EU and the United States.
The importance of the Asian region for China will grow, which implies a smaller weight of the EU and the United States.
In our opinion, China will strive to achieve balanced external trade, which means a decreasing trade deficit with Asia and a falling surplus with the EU and the US. This again will lead to lesser dependence on consumer demand in the EU and the US.
China's higher exports also mean bigger domestic consumer demand, which will make its economy more stable. At the same time, growing imports will increase China's economic influence worldwide. Specifically, based on 2010 results, China is already No. 2 worldwide by imports, trailing only the United States.
Unfortunately, at present these positive factors are not reflected in stock quotes or stock indexes. Everybody is concerned about the size of government debt in developed countries and the firepower of major banks. However, we believe that Europe has chosen the right way to solve its problems and once the markets come to a similar opinion they will no longer be able to ignore growth potential in Asia.


Disclosure: I have no positions in any stocks mentioned, and no plans to initiate any positions within the next 72 hours.