Introduction
Interactive Multi-Media Auction Corporation (OTCQB:IMMA) is a British Virgin Islands incorporated, Hong Kong based auctioneer, dealer and broker of, among others, fine art, fashion, design and décor. The company plans to create a live internet streaming auction style broadcast for an international viewing audience. It hopes to make money earning a commission on any sale. To date it has never generated any revenue though.
On April 26th, a Seeking Alpha article written by Stone Fox Capital on IMMA drew my attention. Stone Fox Capital in its article emphasizes the risks associated with an investment in IMMA, but is generally positive about the company. In my opinion, the article is very heavy on art-related auction sites in general, but very light on specifics about this particular company. The author concludes "The stock is a high-risk investment, but it provide a very unique investment opportunity not typically afforded investors in the public market these days." I decided to write a counter-article, as I couldn't disagree more. I believe IMMA is not suitable for any kind of long investment.
Background
IMMA went public in 2013, despite some initial concerns from the SEC. Thirty-two shareholders used the IPO to sell all of their shares; none of the proceeds went to the company.
Three years later, according to its latest quarterly filing, IMMA has literally zero cash, 75k in liabilities and no employees. Yet the current stock price of $0.67 assumes a market cap of $30 million. This is even after the stock crashed 50% on the 6th of May from a market cap of over 60 million previously.
At the time IMMA went public, there appeared to be two driving forces behind the company: Hong-Kong based Morpheus Financial Corporation and an American actress/producer named Amber McCandless. These two appear to go back quite a while. Both Morpheus and the McCandless family were involved in the IPO of Essential Innovations Technology (OTC:ESIV) in 2003.
Management
Amber McCandless signed on with IMMA as its CEO (and in effect its President, CFO, Treasurer, Secretary and Director). McCandless committed to spending approximately 20 hours per week on the business at the time, no other directors were appointed, no employees were hired. McCandless did have a background in art auctioning. From 2005 to 2008, one of her companies produced the Art Showcase Auction, a television show which apparently aired on DirecTV and UK's Sky TV. McCandless served as the on-air host of this program. I have never watched the show myself, but reading the description, the concept does not appear to be that different from what IMMA is trying to do ten years later, albeit over the internet.
Late 2014, with the company having made very little progress, McCandless resigned. She was succeeded by Julius Cesar Legayo de Vera, from what I can gather a 29-year-old engineer from the Philippines. It's unclear to me on what basis De Vera would be qualified for the job. The company apparently thinks he's qualified based on his "strong contacts and relationships throughout Asia" though.
Financials
Both McCandless and de Vera do not appear to have been compensated in any way for their work. McCandless can't complain though. Effective July 13, 2012, she was awarded an adjusted 16.9 million founder shares in exchange for payment of $4,225 (or 0.00025$ per share). She then went on to sell 4.9 million shares in a private transaction. Two days later Morpheus was awarded an adjusted 8 million founder shares in exchange for only $2,000, and then proceeded to sell 3.6 million shares in a private transaction.
(click to enlarge)

Source: SEC-filing Form S-1/A
As of February 9, 2015, McCandless still owns 12 million shares, Morpheus still owns 4.4 million shares. In total, IMMA has 45.2 million shares outstanding.
Many OTC-listed companies strapped for cash go about paying their bills in shares, in the process massively diluting existing shareholders over and over again. IMMA started out the same way: the company sold shares for cash and services at prices ranging from $0.0125 to $0.0375 per share to outside investors and unnamed consultants.
(click to enlarge)

Source: SEC-filing Form 10-K
However, since October 2013, the company stopped issuing any new shares. This is quite remarkable since the company at that point still didn't have any cash available. So what happened? IMMA basically appears to have stopped doing anything at all.
For the fiscal year ended October 31, 2014, IMMA reported a net loss of "only" $29,773. Considering this includes the fees from the auditor adding up to $20,300, it seems the company came to a complete halt.
In that light, the sudden resignation of McCandless in late 2014, as well as bringing in an inexperienced replacement, seems to make more sense. However, communicating to the public the company appears to have given up on its plan probably didn't sound all that attractive to some of the shareholders. With several parties still holding on to a significant number of shares, the show had to go on.
Stock price on the rise
Until 2014, shares of IMMA never generated any sort of outside interest. However, despite an apparent Cease Trader order from the British Columbia Securities Commission from April to October 2014, in May, July and August of 2014 three small but significant transactions took place. An adjusted 2,800 shares in total changed hands in an otherwise completely empty market at prices of $0.8125, $0.8375 and $0.875 respectively, up significantly from a previous closing price $0.25 per share. It would be very interesting to know which parties traded those shares as these prices seem to have set the floor for any future transactions.
Note: the stock prices mentioned above were adjusted for a 4-for-1 stock split end of 2014. The image listed below shows non-adjusted prices.
(click to enlarge)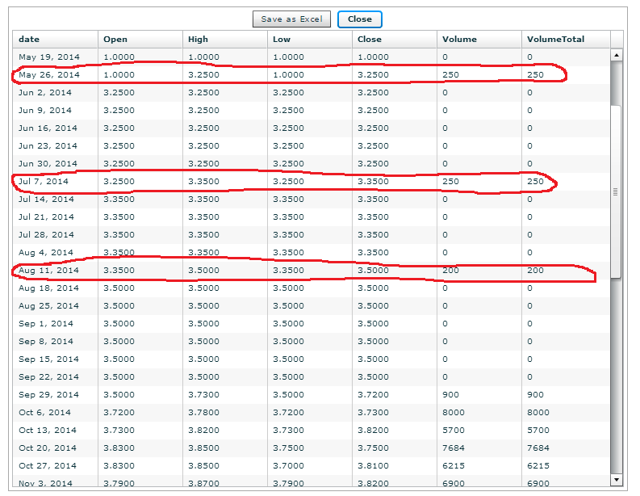 Source: otcmarkets.com
In October 2014, trading volumes went up to a more healthy consistent level trading around the $0.80 level. In the following months, the stock price of IMMA kept on rising until it reached a high of $1.60 in April 2015.
IMMA's PR-offensive
This steady rise in share price could very well have something to do with IMMA becoming more active on the PR-front. IMMA announced its plans to have "the streaming integration along with fully functional e-commerce capabilities entirely operational on our website by Q3 2015."
It also signed a financial consulting agreement with Regassi Management Inc. This company will assist IMMA to "execute upon its overall business strategy and making introductions to investor sources that may assist the company in securing its necessary capitalization." According to the press release, Regassi, like IMMA incorporated on the British Virgin Islands, has "extensive experience working with publicly traded companies." Unfortunately, my attempts to verify these claims were unsuccessful. I wasn't able to find a single detail about Regassi anywhere on the internet.
Last but not least, IMMA announced plans to hold its first launch live auction event in San José, Mexico in November 2015. It promised investors it would attract high-profile Hollywood actors to become actively involved in the pre-promotion and on-site marketing of the event. IMMA promises more details within the next few weeks. It is unclear how IMMA actually intends to pay for these celebrities.
Stock promotion
In conjunction with the sudden spark of press releases, several investors reported receiving phone calls from stock promoters advertising IMMA.
(click to enlarge)

Source: investorshub.advfn.com/
Also, on the 6th of May, Futuremoneytrends.com started a promotional campaign.
(click to enlarge)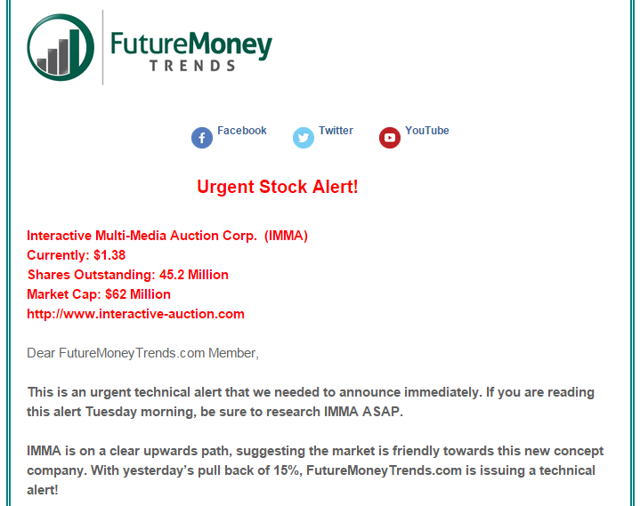 Source: e-mail Futuremoneytrends
Futuremoneytrends disclosed receiving 20,000 dollars for its advertising of IMMA from a third party company. The content of the e-mail is in fact in part a word-by-word copy of the previously mentioned Seeking Alpha article by Stone Fox Capital. I have contacted Stone Fox Capital about this: they have no knowledge of this promotional piece and have not authorized the usage of its content.
Website
I have tried contacting IMMA to ask a few questions about their business model. Unfortunately, their website is a complete mess. The contact form does not work, their only listed e-mail address isn't operational either.

Also, their website contains an "Interactive Gallery" with paintings that are supposedly (and contrary to what the company is communicating) for sale but go nowhere when you click on them. Furthermore, a lot of the links shown on the website are dead.
(click to enlarge)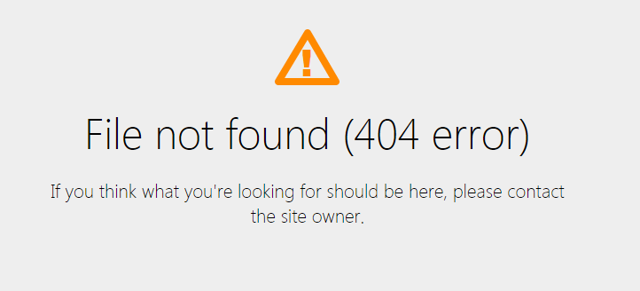 Source: www.interactive-auction.com
Finally, mysteriously, the Twitter-account IMMA lists on their website does not contain their own tweets, they were copied from the Twitter account of art auction house Christie's, dating back to March 2014.
The original tweet from Christie's: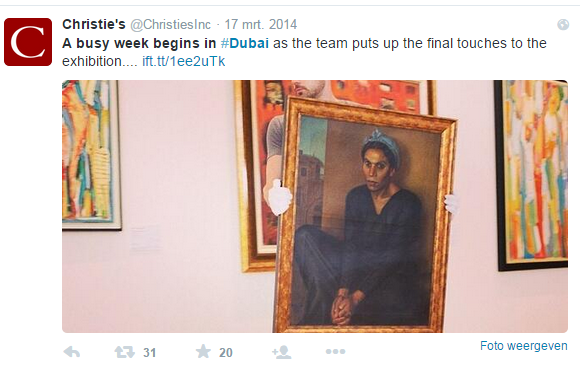 The copied tweet on the IMMA-website: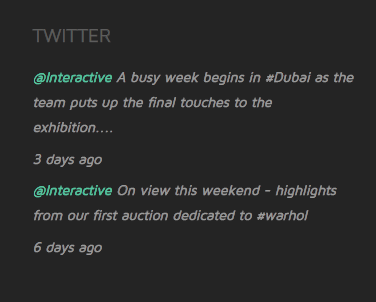 Conclusion
Even though Interactive Multi Media Auction Corporation might have started out as a genuine business idea, it appears to have changed into something less genuine along the way. Regardless, it's difficult to take any company seriously that has big dreams, but only appoints one director and no employees.
I believe the sole reason IMMA is currently still an active listed company is to offer an exit-opportunity to existing shareholders, at the expense of new investors. Even if the company is able to come up with some sort of an auction in Mexico later this year, I'm still very skeptical to IMMA ever becoming a success. It's not so much a problem with the business model, as it is with the management implementing it. Unlike Stone Fox Capital, I do not believe investing in IMMA offers "a unique investment opportunity." I believe it's basically flushing money down the toilet.
Timing is everything
As most investors know, timing in trading is everything. While researching this article, I found out the same concept applies to writing articles for Seeking Alpha.
On the day I was finishing up on this article, the stock price of IMMA came crashing down. On the same day, Futuremoneytrends send its promotional e-mail to its clients, shares in IMMA closed 51% lower at $0.67. While I am convinced this stock will go down and eventually will fall further, the extent and the timing of the dump took me by surprise. The goal of this article was to warn investors not to buy into the hype surrounding this company. Unfortunately, it appears I have been too late.
I have seriously considered to not submit this article as most of the damage has already been done, but at the current stock price, I still believe IMMA to be grossly overvalued. Also, the trading volumes (225k) on the 6th of May was relatively limited to what one would expect for such a price drop. Perhaps selling parties overestimated the effect of the Futuremoneytrends article on investors and overestimated the amount of shares they were able to dump in the market. Perhaps several different parties all went for the exit at once.
Considering IMMA itself promises investors future press releases containing names of endorsing Hollywood actors, this story might not be over yet. For that reason, I decided to publish this article anyway. Hopefully, it will help future investors when approached by a promoter or otherwise in possible future pump promotions. At the very least, it will provide guidance to investors researching IMMA on Seeking Alpha beyond the previous article written by Stone Fox Capital.
Disclosure
I am short IMMA through an owned entity. I have no business relationship with any of the companies mentioned in this article. This article is not an advice to either buy or sell; it expresses my own personal opinion.
Editor's Note: This article covers one or more microcap stocks. Please be aware of the risks associated with these stocks.