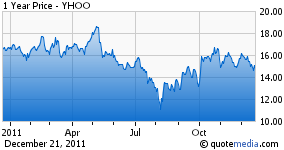 It seems these days there is another company besides Research In Motion (RIMM) that is constantly involved in M&A speculation. Where a company such as Apple (NASDAQ:AAPL) can't seem to escape its investors' desire for it to buy something, Yahoo (YHOO) on the other hand has been in a constant fight to prove that it has a future as a self sustaining entity. But no matter how much value it projects, there's always the obligatory mention of Microsoft (NASDAQ:MSFT) and how much sense it makes for the two to come together. Sort of reminds me of when I was single and dating. It seems Yahoo is constantly at the single's bar but always leaves alone.
Is Yahoo Still Worth The Risk?
The question is does Yahoo present enough value at the moment to demand such constant attention? The once proud search giant has certainly dropped the ball on a long list of possible lucrative businesses. Undoubtedly it indeed still has value, but among the things that it still does well ... are they complicated projects that Google (NASDAQ:GOOG) could not endeavor to duplicate if it wanted to – or anyone else for that matter? Yet that's the other point - who is willing to now acquire a somewhat relevant search engine only to go toe-to-toe with Google and immediately become a competitor? That idea does not inspire hope of profitable returns.
Investors have seen this recently with Sirius XM (NASDAQ:SIRI) and the constant rumors of an acquisition by Liberty Media (LCAPA). There are certain events that make little sense but it does not stop the rumors from resurfacing. For this reason, investors jump on the bandwagon and ride the wave of speculation up only to see the stock regress to its pre-rumor price point. So it stands to reason that too much attention is often paid to these rumors – many of which never amount to anything other than an act of desperation.
There Won't Be a Second Date
For Yahoo, these rumors have now resurfaced due to its recent change in leadership and with it come the obligatory Microsoft mentions. But investors forget that both firms once had a cup of coffee together and the date ended and nobody called back. Microsoft made an advance and Yahoo said no. So Microsoft moved on. Upon the termination of the deal, Microsoft CEO Steve Ballmer was quoted as saying the following:
We continue to believe that our proposed acquisition made sense for Microsoft, Yahoo and the market as a whole. Our goal in pursuing a combination with Yahoo was to provide greater choice and innovation in the marketplace and create real value for our respective stockholders and employees.
Despite our best efforts, including raising our bid by roughly $5 billion, Yahoo has not moved toward accepting our offer. After careful consideration, we believe the economics demanded by Yahoo do not make sense for us, and it is in the best interests of Microsoft stockholders, employees and other stakeholders to withdraw our proposal.
We have a talented team in place and a compelling plan to grow our business through innovative new services and strategic transactions with other business partners. While Yahoo would have accelerated our strategy, I am confident that we can continue to move forward toward our goals.
"We are investing heavily in new tools and Web experiences, we have dramatically improved our search performance and advertiser satisfaction, and we will continue to build our scale through organic growth and partnerships," said Kevin Johnson, Microsoft president for platforms and services.
I will concede that a Yahoo/Microsoft union would have made sense on many levels. Both firms have similar interest in the business of search and Yahoo's many popular destinations could easily be integrated in Microsoft's own Internet ecosystem. But for the many reasons that it did not happen before, these same reasons have now become more magnified. For starters, Microsoft's recent Skype acquisition will require tremendous focus by its management to make it work and its constant battle with Apple and Google in the mobile race will trump any new ideas of another bid for Yahoo. This one can be put to rest.
Yahoo's Best Bet
Seeking Alpha contributor Jiang Zhang made what I think is the best case for Yahoo going forward, and that is an acquisition by Chinese Internet conglomerate Alibaba. In the article, Jiang made the following points:
The acquisition of Yahoo will instantly give Alibaba a foothold in the U.S. online advertising and e-commerce market. To capitalize on the opportunity, Alibaba is likely to retain Yahoo's current headcounts because U.S. engineers are more innovative, creative and experienced than their Chinese counterparts. The Chinese engineers that Alibaba have are educated on a system that emphasizes memorization and theory while the U.S. engineers can contribute to the innovation and creativity to Yahoo based on their professional and academic experience.
The U.S. education system encourages innovative thinking among its students, as provided by universities such as Stanford and Caltech. Yahoo's location within the heart of Silicon Valley allows Alibaba to recruit talent in the region as it expands its online advertising and e-commerce footprints in the U.S.
While Jiang offered a very compelling case for Alibaba, I had to pause at the idea that information on millions of Americans will now be at the hands of a Chinese company. The concern has to be there even though its record shows a positive history of respecting the privacy of its users.
Summary
Admittedly, it seems that I am discounting Yahoo's ability to survive on its own, an idea that may be pre-mature, but then again it may not be. The fact of the matter is, it has lost the search war with Google and its dominance is not coming back. I think we can agree on this. But the question is can it find a way to leverage the volume of traffic it still generates?
As an avid sports fan, I can tell you that I love fantasy football and there is no better site than Yahoo sports. As a writer on Seeking Alpha my articles are accessed and read on its news feeds within Yahoo Finance – both are valuable segments of its business from which it must find a way to generate additional profits if it seeks to stay single. Until then, it will likely be the subject of M&A or the redundant dating rumors.
Disclosure: I am long AAPL, SIRI, MSFT.