Using the Russell 3000 index (proxy IWV) as the definition of the U.S. stock market, the Russell indexes for these investment styles, disciplines and performance factors beat the market over 1, 3 and 5 years ending November 30, 2011:
Total Market Growth (proxy IWZ)
Large-Cap Growth (proxy IWF)
Large-Cap Consistent Growth (proxy CONG-OLD)
Large-Cap Growth At a Reasonable Price (proxy GRPC)
Small-Cap Aggressive Growth (proxy SGGG)
Small-Cap Consistent Growth (proxy SCOG)
Small-Cap Low P/E (proxy SCLP)
Small-Cap Low Volatility (proxy SLVY)
The Small-Cap Contrarian index (proxy SCTR) came very close, but just missed the 1-year threshold.
These data are compiled from the Russell Investments website, where they provide data on their equity style, equity discipline and equity performance factor indexes.
This table provides the total return for the Russell indexes considered:
Click to enlarge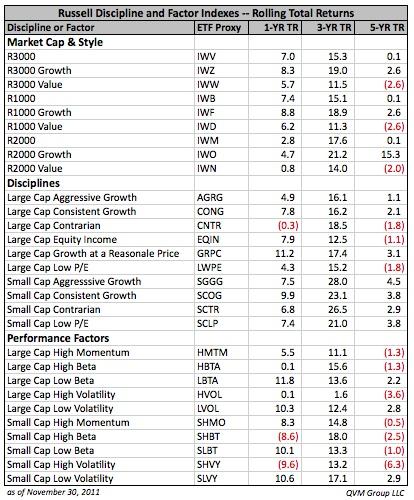 This table provides the difference between the Russell 3000 index total returns and each index:
Click to enlarge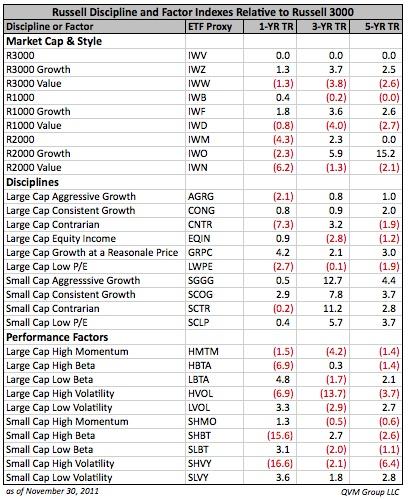 We do not currently have positions in any of these index proxy ETFs, but find them interesting and expect that over time we will utilize some of the ETFs in our portfolios. We like the ability to target specific disciplines and performance factors, and think that can be helpful.
Note that what works best shifts over time. These styles, disciplines and factors need continual observation to make sure you know which are working best.
Disclosure: QVM does not have positions in any mentioned security as of the creation date of this article (December 20, 2011).
Disclaimer: This article provides opinions and information, but does not contain recommendations or personal investment advice to any specific person for any particular purpose. Do your own research or obtain suitable personal advice. You are responsible for your own investment decisions. This article is presented subject to our full disclaimer found on the QVM site available here.