There is no question that Dendreon (NASDAQ:DNDN) has faced many hurdles in bringing Provenge, its immunotherapeutic treatment for end stage prostate cancer, to market. Among them were the many barriers thrown in its path by the FDA and CMS, to name a few. And now, with its treatment on the market, questions related to doctor reimbursement and the qualification of patients seeking treatment remain of paramount concern to doctors and investors alike. Let's look at reimbursement here.
Listen, for example, to the initial remarks of Dendreon CFO Greg Schiffman at the Deutsche Bank BioFEST on December 5, 2011. In discussing the potential for an uptick in revenues during the second or third quarter of 2012, Schiffman remarked that currently physicians, when they first begin treating patients with Provenge, usually will treat one patient every 2.5 months, or 0.4 patient per month. Why is this?
Plain and simple, physicians new to administering Provenge want to be assured they will be reimbursed. And so, the company is finding that initially a physician new to treating patients with Provenge will treat four or five patients in sequence before launching into a more aggressive service-provider program. By the way, it's interesting to note that this is one reason Dendreon has not extended its current Direct To Consumer, or DTC, advertising initiative beyond magazines and radio: Why create a "demand pull" for the product when providers might be unwilling to service patients seeking Provenge because they (the doctors) have yet to gain the confidence they seek in the reimbursement process?
I first discussed the matter of reimbursement in my Seeking Alpha instablog of August 10, 2011. There, I recounted an interview with Dr. Leonard Liang, an "earlier adapter" of Provenge, who began administrating the treatment in early June, 2011. Then, billing was cumbersome because the Q-code, which bundled services, had not yet been published. (It was subsequently published in early August 2011.) Nonetheless, as seen in the instablog article, Patient A's first infusion on 6/6/2011 was billed by Dr. Liang's billing service on 6/14/2011, and Medicare's reimbursement was received a month later. Reimbursement by the patient's supplemental insurance carrier followed soon thereafter.
Patient A has what should be considered good insurance. He has Medicare primary, Blue Shield PPO secondary. As primary, the Medicare allowable was calculated to be $32,860 for one infusion ($31,000 plus 6%). It's interesting to note that Dr. Liang had until 10/6/2011 to pay McKesson for the Provenge he used on Patient A's first infusion, providing more than sufficient time to pay his supplier.
Remember: This was before the issuance of the Q-code, when billers had to deal with all of the different procedures involved in treating a patient with Provenge. To be sure, the requirements laid down by CMS/Medicare to ensure on-label prescribing of Provenge were quite specific. But these can be addressed through the use of bone scans. Which raises serious questions, then, regarding the veracity of the media, something I addressed in another of my instablogs, Dendreon and Fuzzy Journalism: Wherein lies the truth?
Now that more than four months have passed since the publication of the Q-code by CMS for Provenge, I thought it would be a good time to update our knowledge regarding the state of reimbursement. To that end, I contacted Deepah A. Kapoor, MD, Chairman and CEO, Integrated Medical Professionals, PLLC, a multi-specialty physician group operating in the greater New York Metropolitan area. You may recall that Dr. Kapoor participated in an interview with Goldman Sachs' analyst Sapna Srivastava on November 16, 2011, at which time he stated that although "... he was unable to roll out a protocol for Provenge use until November 1, 2011 ... his practice has already placed seven patients on Provenge, and has identified 100-200 potentially eligible patients for the drug as well."
According to Dr. Kapoor, the latest information he is receiving from his billing service is that Medicare reimbursement is averaging less than 14 days, well within the needs of his organization. Dr. Kapoor reiterated the statements he made to Srivastava regarding his belief that there could be a " ... logarithmic increase in uptake of the drug in 2012," and again stated that it was his belief that if his practice did not offer Provenge, it would lose patients to those practices that did.
If Dr. Kapoor's experience is typical of that for a new commercial provider, then what Greg Schiffman said should result in an inflection point in Provenge sales sometime around the middle of next year ... something the company said it would report "with caution."
According to Dr. Mitch Gold, Dendreon president and CEO, who most recently spoke at the Nasdaq OMX 27th Investor Program on December 6, 2011 (here and here), "At the end of the third quarter we had over 425 sites that had actually infused Provenge. Our goal is to have 500 centers that are infusing Provenge by the end of this year, and we are on track to accomplish that. More than 600 centers have already completed the in-servicing process, meaning they are getting ready to identify patients and infuse their first patient with Provenge." A recent count of Provenge providers listed on Dendreon's Provenge Web site (here) shows more than 800 providers approved or in the process of obtaining approval to administer Provenge. Importantly, with 800 sites infusing patients, even at a rate of 0.5 patient per month, monthly revenues would be on the order of $40 million, which, when annualized, approaches the cash-flow positive value of $500 million.
This is speculative, of course. First and foremost, the company must execute its new marketing plan and work with physicians, especially those in the commercial sector, to ensure doctors have confidence in the reimbursement process and understand the qualification requirements (i.e., having patients screened with imaging modalities to look for metastatic disease). As well, the company must work with patients to minimize their out-of-pocket costs associated with the administration of Provenge. To that end, at this time, 75% of patients have no out-of-pocket expenses, meaning that co-pays are not a rate limiter for obtaining access to the treatment.
Despite all the missteps (and there have been several, many significant) both within the company and the government, the launch of Provenge still ranks among the Top 10 in the field of oncology. But it will take at least two, and possibly three, quarters of demonstrated uninterrupted revenue growth before the Street will give recognition to the true value of this company, something that now lies hidden beneath the surface.
Technical Analysis
The daily chart, courtesy StockChart.com, shows the stock stalled around $7.50, plus or minus, after being turned away from the 50-day moving average. The weekly chart is more encouraging, showing the stock coming out of its oversold condition, with the MACD positive. The latter suggests that despite the negative tone to this equity, beneath the surface there are signs the "smart money" is returning to the issue.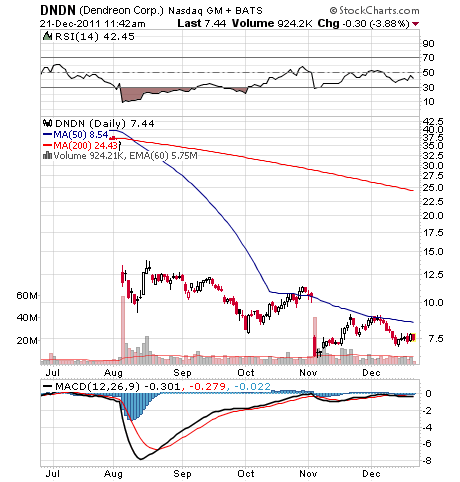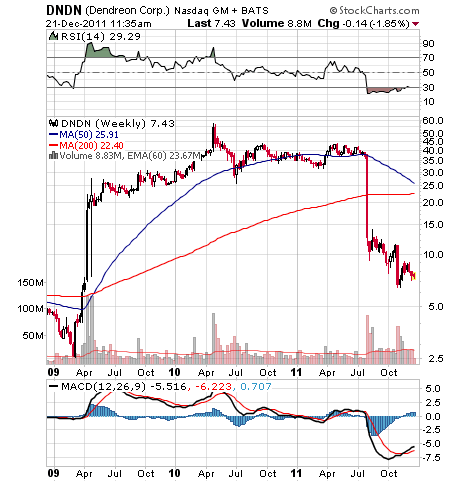 Disclosure: I am long DNDN and will not alter my position within 72 hours of the time of publication of this article.