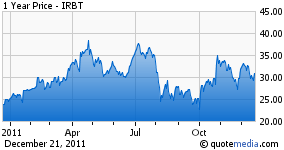 iRobot Corp. (NASDAQ:IRBT) offers very unique products as well as strong growth at a reasonable price. Now is a good time to take a look at this Zacks #1 Rank (Strong Buy).
Company Description
iRobot is not the latest gadget from Apple or a Will Smith movie, it is a company that makes robots for a variety of uses. Products range from the popular, floor-cleaning Roomba to bomb-disposal units in war zones.
Beat & Raised
On Oct 25 iRobot reported its third-quarter results that showed a 28% increase in revenues, to $120.4 million. Net income doubled, to $14.1 million.
Both business segment chipped in on the record-setting quarter, in addition to strong international growth. Earnings per share came in at $0.38, well ahead of the $0.26 that analysts were expecting. This was the company's eleventh consecutive surprise.
In the same press release, the company went on to raise its guidance for the rest of the year.
Estimates Jump
Given the great quarterly results, analysts had no choice but to raise forecasts. The full-year Zacks Consensus Estimate for 2011 is up 30 cents, to $1.40. That accounts for much more than the 12 cent surprise last quarter.
Analysts polled by Zacks are looking for $1.45 in 2012, up 14 cents on the earnings news. Last year iRobot made $0.88 per share, so the expected growth rates are now 59% and 3%, respectively.
Valuations
Shares of IRBT are going for 21 times estimates, which is not great but not too bad. However, the 25% long-term growth rate puts the PEG at 0.8 times, showing a solid value.
The Chart
You can see below that shares initially popped on the earnings news, but have since cooled off. With estimates significantly higher and the stock looking oversold, this could be a good time to pick up shares of IBRT.