Permian Basin Royalty Trust (NYSE: PBT) was created by Burlington Resources, a company that was subsequently purchased by ConocoPhillips (NYSE: COP). Roughly 80 percent of the trust's production comes from the 34,205 net producing acres on the Waddell Ranch property, an area in the Permian Basin of west Texas.
This acreage includes 797 oil wells, 212 gas wells and 267 injection wells. All the fields being produced in this area are undergoing water-flooding to enhance production and maintain reservoir pressures. Oil generates 63 percent of the trust's net proceeds, while the remainder comes from sales of natural gas and NGLs.
The remaining trust properties, known collectively as the Texas Royalty Properties, are spread across 33 counties in Texas. Oil sales account for roughly 84 percent of the net proceeds from these properties. Trust unitholders are entitled to receive 75 percent of the net proceeds from the Waddell Ranch Properties, and 95 percent from the trust's other Texas properties.
Permian Basin Royalty Trust's heavy exposure to oil prices is an advantage in the current market, while its focus on the mature Permian Basin should lead to predictable and relatively slow decline rates.
Over the past couple of years, for example, overall production from the trust's underlying wells has declined at an annualized rate of 6 percent to 7 percent; basic well maintenance and limited infill drilling should help keep production declines at bay.
With no hedges in place, the trust's monthly distributions hinge on crude-oil prices.
(Click chart to expand)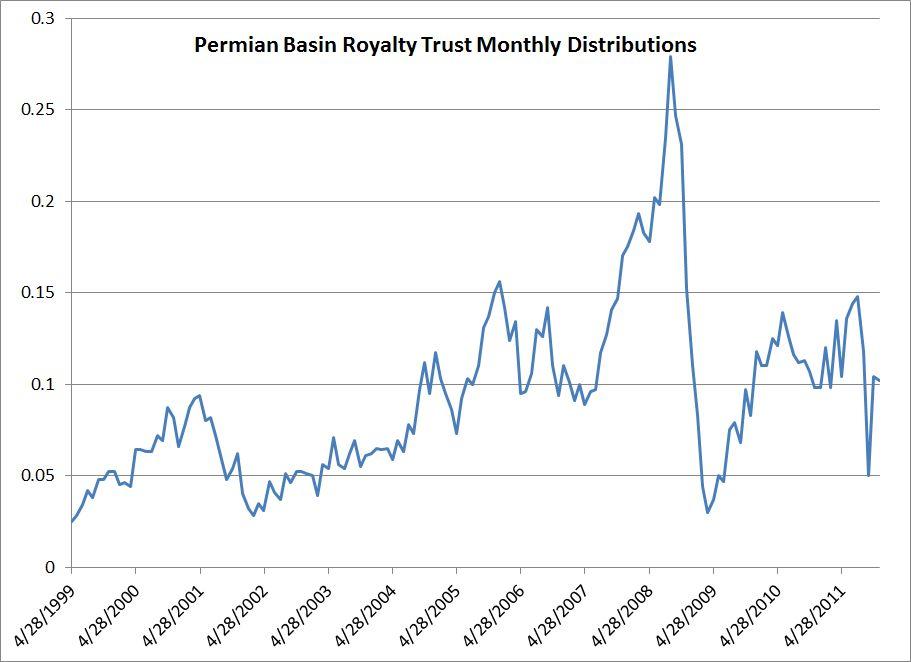 Source: Bloomberg
When Permian Basin Royalty Trust's distribution plummeted earlier this year, oil prices weren't the culprit. Rather, ConocoPhillips had deducted a charge from the trust's royalties related to overpayment in prior periods. This isn't all that unusual. Monthly production figures are often based on estimates. Once the actual production figures are in, ConocoPhillips adjusts subsequent payouts accordingly.
Aside from these adjustments, the monthly distribution should track oil prices relatively closely. Over the past 12 months, the trust has paid investors about $1.36 per unit, equivalent to a yield of almost 7 percent at the stock's current price.
Although the trust lacks the upside potential of some of the growth oriented trusts I cover in The Energy Strategist, this pass-through vehicle offers exposure to rising oil prices and solid monthly income.
Disclosure: I have no positions in any stocks mentioned, and no plans to initiate any positions within the next 72 hours.