This is the fourth piece in our Positioning for 2012 series. Readers can find the entire Positioning For 2012 series here.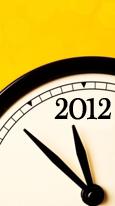 Paul M. Frank is the president of Aviemore Asset Management, LLC, and the portfolio manager of the ETF Market Opportunity Fund (ETFOX), which has earned a 5-star rating from Morningstar for every period measured. The fund is made up entirely of ETFs. ETFOX currently has $40 million in assets under management.
Seeking Alpha's Jonathan Liss recently spoke with Paul to find out how he planned to position clients in 2012 in light of his understanding of how a range of macro-economic and geopolitical trends were likely to unfold in the coming year.
Seeking Alpha (SA): How would you generally describe your investing style/philosophy?
Paul Frank (PF): The ETF Market Opportunity Fund (ETFOX) is a multi-cap, multi-style, multi-factor fund of ETFs. Under normal market conditions, this portfolio will invest at least 80% of its total assets in exchange traded funds. The underlying ETFs generally invest in, or track indices related to, equity securities, fixed income securities, commodities, natural resources or country markets or baskets.
Aviemore is an active manager of passive ETF index fund products. I use a quantitative multi-factor model to manage accounts. I search for ETFs that exhibit attractive valuations on several metrics, including:
Price movement
Volatility
Growth rates
I scan the universe of 1,200 U.S.-ETFs by performing multiple "Reward to Variability Ratio" (Sharpe Ratio) calculations for each ETF and by calculating the 1st derivative of those ratios. I conduct fundamental research to identify and discard ETFs with large tracking errors, higher expense ratios, or composed of illiquid underlying securities. I then run advanced statistical testing in order to construct a portfolio whose goal is to move UP and to the Left on the Efficient Frontier.
Aviemore combines both quantitative and qualitative research to determine the ETF Portfolio's optimum Cash position; weights between Value and Growth investment styles; sector and industry weights; correlations between and among asset classes; and domestic and international market exposures. Its ETF Portfolio may underweight, overweight or avoid altogether certain asset classes, industry or market sectors and styles but will not concentrate its investment in any particular asset class or sector.
SA: Which asset classes are you overweight? Which are you underweight? Why?
PF: I continue to underweight Financials. My goal is to make sure my shareholders are compensated for the risk they take, and Financials don't do this. A lot of my work is pointing to U.S. Small Caps and I hope to increase its allocation in 2012. I presently own Vanguard Small Cap (NYSEARCA:VB).
At the end of the third quarter the Fund had a large position in Technology through holdings in Vanguard Information Technology (NYSEARCA:VGT) and Technology Select SPDR (NYSEARCA:XLK). The emphasis on Technology was a direct result of Aviemore's proprietary model. The ETF Market Opportunity Fund normally has about 80% invested in U.S. Equities, and my work at that time was pointing to Technology. The Fund's holdings are published quarterly on our web page www.ETFmutualFund.com. The holdings as of December 31, 2011 will be posted in early January and you will definitely see some changes from the end of September.
ETFOX Holdings (as of 9/30/11)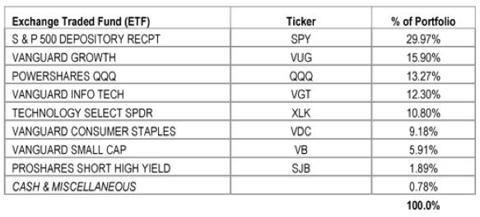 Chart courtesy of Aviemore
SA: Name one investment that exceeded your expectations in 2011, and one you had high hopes for that didn't pan out. Do you see any particular investment surprising investors over the next year?
PF: ETFOX 's performance was in the top 2% of Large Growth Funds for the 3rd Quarter of 2011 [Morningstar]. This was accomplished with large positions in Vanguard Healthcare (NYSEARCA:VHT) and Vanguard Consumer Staples (NYSEARCA:VDC) in the beginning of the quarter and overweighting the large caps Powershares Nasdaq 100 (NASDAQ:QQQ) and SPDR S&P 500 (NYSEARCA:SPY) towards the end of the quarter.
In the past the Fund has had some significant holdings in Emerging Markets [such as Indonesia]. This year we had no exposure to Emerging Markets. As I stated earlier, I rank all exchange traded products (ETPs) and none of the Emerging Market issues were near the top of my list.
The asset class that was most surprising was U.S. Government debt.

SA: To which index or fund - if any - do you benchmark your performance? Has this changed recently, and if so, why?
PF: ETFOX's benchmark has always been the S&P 500. This was "suggested" by both the Fund's attorneys and regulators. My most recent Semi-Annual report [10/31/2011] shows ETFOX [after fees] beating the S&P 500 by 3.37% for one year, 6.99% per year for 3 years, 3.73% per year for five years, and 1.57% per year since inception [5/03/2004].
An individual doesn't have to rely on what a fund chooses as its benchmark. With the computer based financial packages available today you can compare a fund to many different indices and make your own informed decisions.
SA: Some describe the current era as "The Great Deleveraging". Do you agree/disagree, and does this macro consideration affect your investment planning process?
PF: In deleveraging you generally don't want to own anything that people purchase with borrowed money. While many sectors have already proven this true, I believe there are a few more to go. Macro considerations such as this definitely affect my investment decisions, and are one of the main reasons we don't own any U.S. Government debt. Our profitable trade in ProShares Short High Yield ETF (NYSEARCA:SJB) this year was partly based on Macro conditions.
SA: 2010-11 saw a notable rush for the exits from equities and equity vehicles. Is this a cyclical or a secular shift?
PF: I saw 2011 as two distinctive entities. In the beginning of the year the "reflation" trade was both popular and profitable. Everything changed in the spring when GDP estimates started being guided downward. At this point equity volatility staged a comeback and a lot of equity funds saw redemptions.
This is ok. People have to be able to sleep at night and I want them to know that they haven't locked themselves into anything except the next market day when they own my Fund. We don't allow any type of 'timing' but we don't have any redemption charges and want our shareholders to know they can have all of their money back if they desire it.
SA: Do you believe gold is a genuine hedge in uncertain markets? If so, how much exposure to it or other precious metals do you have? If not, where are you turning for potential downside diversification?
PF: The Fund did very well in iShares Silver (NYSEARCA:SLV) in 2010 and early 2011, but presently doesn't own any precious metals. I would feel better about owning gold if it were a more widely used method of paying commitments. I know people are going to need coal and oil in 10 years, but gold doesn't have enough actual uses. There has been increased jewelry and industrial demand, but I believe the largest demand is to hold it in vaults.
All of the gold ever mined is still on the surface of the earth, and thus the price level is not sustainable if the "hoarders" were to back away from buying. If you want to hedge against currency risk, you can buy other currencies.
SA: The Iran nuke situation and a potential Israeli, U.S. or global attack. How serious would such an event be to oil prices and subsequently, the global economy/exchanges? Is this something you're positioning for and if so, how?
PF: This sword has been hanging over our heads for a few years now. I've owned iShares DJ U.S. Aerospace & Defense (BATS:ITA) and Vanguard Energy (NYSEARCA:VDE) in the past and done well. I don't own either now but they are both on my radar going forward.
High oil prices and fear would be two by-products of a prolonged conflagration and the global economy would experience a slowdown. Nations such as Brazil and Canada could benefit from being natural resources rich and out of harm's way.
SA: We are coming up on an election year. Will this be good or bad for markets? Are you positioning for different potential outcomes?
PF: Inactivity in Washington is usually good for U.S. equities. If reduced borrowing is part of that inactivity then I'm very bullish for 2012.
SA: What is the ideal asset allocation for someone with a long-term horizon (greater than a decade) and no need to touch their investments? Can investors continue to rely on stocks after the 'lost decade' we just experienced?
PF: An investor should find a few active managers that rely heavily on mathematics and fundamental research. A passive long-term investor in any sector is not fully compensated for the volatility they bear.
I strongly believe that investors with long-term goals can rely on stocks. They should choose their active mangers carefully and stick with the managers through a full stock market cycle. Investors need to be more disciplined when purchasing and selling an investment. My advice to anyone is not to buy something unless you know what it will take for you to sell it.

Disclosure: ETFOX currently owns SPY, QQQ, VB and VGT.
Disclaimer: Anyone thinking of investing in the ETF Market Opportunity Fund (ETFOX) should read the prospectus carefully before investing. It can be downloaded on the Fund's web site www.ETFmutualFund.com. Past performance is not a guarantee of future performance. In no way am I suggesting that anyone purchase any of the ETFs I have mentioned in the interview.