Sir John Templeton (knighted by Queen Elizabeth in 1987) was a pioneer in financial investments. An exceptional student, John graduated first in his high school class and was the first in his town to attend college. And not just any college, either; the teenager set his sights on one of the most challenging educational institutions in the country—Yale University.
Unfortunately, the Depression took its toll on the family's finances, so the young man tapped into his innate entrepreneurial spirit and determination to pay for tuition, board, and books to complete his college education. Again, his work ethic and focus paid off. Templeton graduated first in his college class. He was named a Rhodes Scholar to Balliol College at Oxford from which he graduated with a M.A. degree in law. As a student and later investor, Sir John's "down to earth" thought strategies made him an extraordinary second-level adviser and financial philosopher.
Sir John believed in higher education and his investment career was dedicated to enriching the lives of others. As he once said, "If we become increasingly humble about how little we know, we may be more eager to search." So as I was researching my next REIT article, I ran across an exceptional REIT that had many of the second-level fundamentals associated with Sir John's investment philosophy and perhaps a stock that he would have enjoyed.
The Differentiator
As Sir John once said, "If you want to have a better performance than the crowd, you must do things differently from the crowd." Within the NAREIT equity REIT index there are 123 REITs and the apartment sub-sector consists of 15 REITs with a combined market capitalization of $ 61.051 billion. Within the apartment sub-sector, there are three smaller categorical REITs (with a combined market-cap of around $ 3.78 billion) with a focused strategy aimed at renting to college students.
This niche-oriented student housing category is differentiated by the relatively new asset sector and the tremendous demand-driven growth opportunities. According to a report (Digest of Education Statistics prepared by the National Center for Education Statistics, College enrollment was a projected 20.6 million in fall 2010, higher than in any previous year. College enrollment is expected to continue setting new records from fall 2011 through fall 2019. Between fall 2010 and fall 2019, enrollment is expected to increase by 14 percent. Despite decreases in the size of the traditional college-age population (18 to 24 years old) during the late 1980s and early 1990s, total enrollment increased during this period.
The traditional college-age population rose 14 percent between 1999 and 2009, and total college enrollment increased 38 percent during the same period. Between 1999 and 2009, the number of full-time students increased by 45 percent, compared to a 28 percent increase in part-time students. During the same time period, the number of males enrolled increased 35 percent, while the number of females enrolled increased 40 percent.
As mentioned above, there are three (3) publicly traded REITs that make up the student housing category; the largest, and perhaps the most dominant player is American Campus Communities (NYSE:ACC). Founded in 1993 (originally named American Campus Lifestyle Companies) and based in Austin, Texas, American Campus Communities has a market cap of around $ 2.787 billion. That is over twice the size of the combined peers Education Realty Trust, Inc. (NYSE:EDR) ($684 million market cap) and Campus Crest Communities, Inc. (NYSE:CCG) ($309 million market cap).
As explained by best-selling authors Al Reis and Jack Trout in The 22 Immutable Laws of Marketing, "When you're the first in a new category, promote the category. In essence, you have no competition." And for American Campus Communities, Rule #2 (The Law of Category) is an essential strategy for the student housing leader to exploit its investor brand identity. As Reis explained, If you can't be first in a category (i.e. multi-family), set up a new category you can be first in (like campus housing).
Since its inception in 1993 (with around $350 million in assets), American Campus Communities has grown in size to around $2.705 billion (in assets) as of September 30, 2011. And since the student housing king has become public (in 2004), the company has delivered a total return of over 150%. (Year to date total return is 28.88% and two year total return is 57.31%). And with such strong college-based growth fundamentals, American Campus Communities is in a prime position to benefit from the demand for campus housing products.
As explained by Bill Bayless, president and CEO (of American Campus Communities), "The demand is there – a higher percentage of high school students are attending college and students are taking longer to graduate. The supply side also works in our favor. Dwindling state budget and aging on-campus facilities mean that privatization is a growing trend. Our operating platform enables us to capitalize on opportunities."
Clearly American Campus Communities benefits from the growing echo-boomer population as the niche-oriented student housing REIT administers a growing renter base. The company has grown from 25 facilities (since 2005) to around 107 (owned) communities today: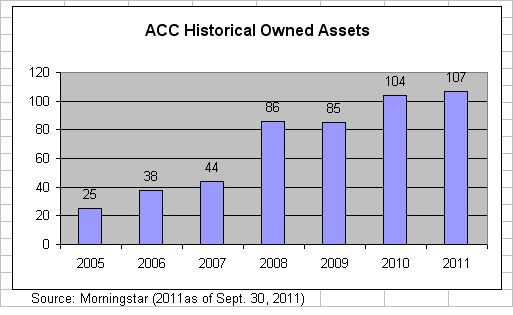 And with tenants leasing beds (as opposed to rooms), American Campus Communities has grown its campus model into an exceptionally diverse revenue operation. Currently the Texas-based REIT has around 69,200 rental units/beds (owned) providing for one of the most diverse revenue drivers in all of the REIT sectors. In addition, the campus REIT provides third-party management for another 24,800 units/ beds – thus providing for further diversification and increased risk-adjusted revenues.
Sir John Templeton was an outspoken supporter of diversification strategies as he was often quoted as saying, "The only investors who shouldn't diversify are those who are right 100% of the time."
With such a strategically "differentiated" and diverse asset model, American Campus Communities has exploded into a "Sir John" investment operation. Because of strong demand characteristics and highly fragmented ownership attributes, the asset base should continue to soar into a more dominating "best in class" brand.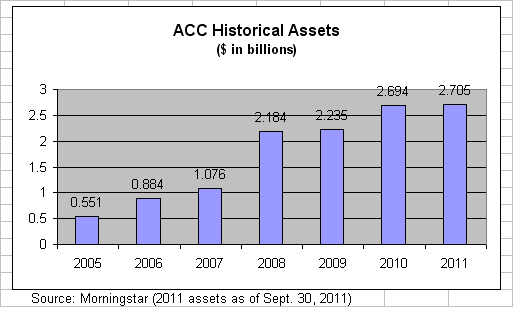 Today American Campus Communities has facilities in or around 66 primary markets/colleges (that does not include all the smaller colleges and community colleges that would be included within the university markets) and the student housing REIT has third party communities in or around 17 primary college markets. The growing campus REIT has a current occupancy rate of around 98.5% (owned) in the third quarter the REIT completed construction on four new properties (12,480 beds) totaling around $109.6 million with a weighted average occupancy of 98.7%. As evidenced below, the diversely unique asset model provides a high "margin of safety" to the attractive investment operation: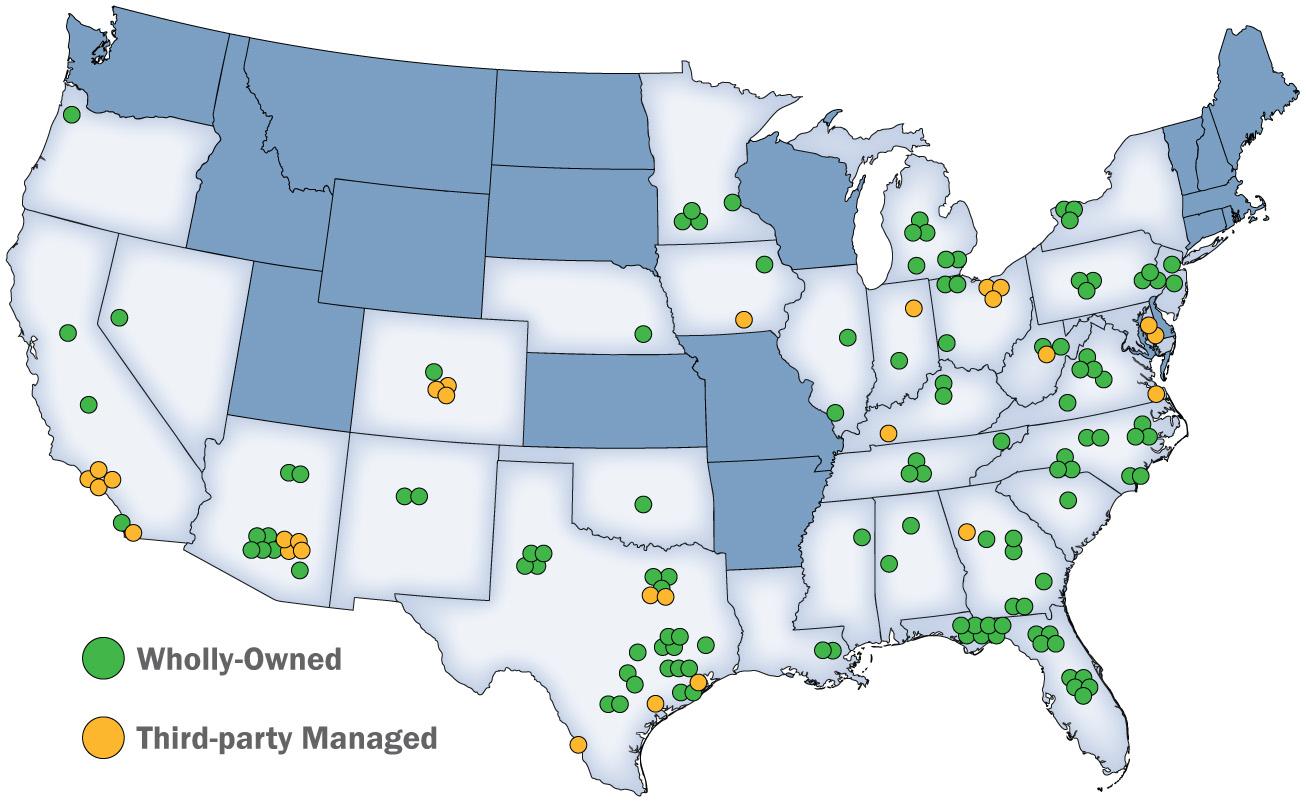 By focusing on differentiated fundamentals of renting to college students, American Campus Communities has developed a highly sophisticated operating model that provides a distinctive competitive advantage. And by exploiting the student and college relationships, the REIT has been a leader in transforming the misconception of "dorm rooms" into highly-respected "student housing" administrators. This differentiated investment strategy has facilitated a rapid growth in revenue. Since 2005, American Campus Communities has grown its annual revenue from around $82.5 million to around $375 million (estimated for year end 2011):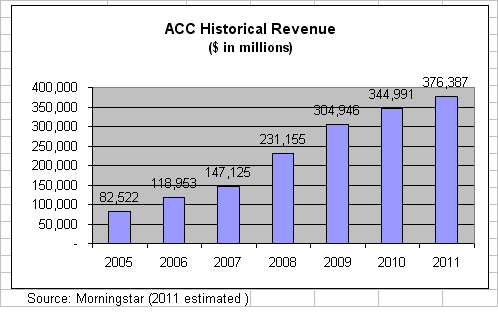 Conversely, funds from operations (FFO) has also increased over ten-fold from $19.975 million (in 2005) to an estimated (by the author) $116,621 million (in 2011):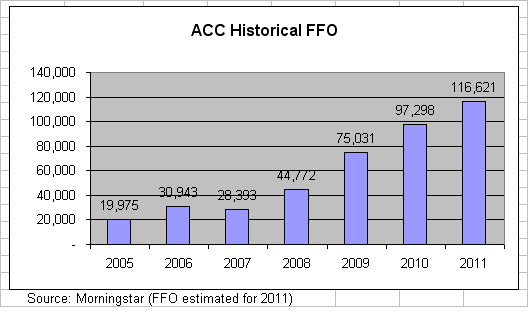 American Campus Communities capital structure is made up of around $1.153 billion in total debt and around $2.695 billion in total equity. The $3.848 billion market capitalization is well balanced with a debt-to-gross asset (assets of $2.924 billion) ration of 39.4% and a debt-to-market cap ratio of 30.0%. Interest coverage is around 3.1 and Net Debt to EBITDA is around 6.17. These capital metrics have improved considerably since the December 31, 2010 operating ratios (debt to market cap was 36.6%) as Moody's assigned a Baa3 rating (on October 25, 2011) and S&P assigned a BBB- rating (on November 3, 2011) – both investment grade
R.W. Baird recently reiterated an Outperform / Average Risk rating on American Campus Communities (and same for EDR; however, Baird rates CCG Outperform / Speculative Risk). The analyst writes," The $44 price target reflects a combination of a 20% premium to our NAV per share estimate ($36 based on a 6.15% nominal cap rate) and relative value: shares are trading at 22x our 2011 FFO per share estimate, representing a 16% premium to the peer group average; applying that to our 2012 estimate implies a $44 price target."
The Intelligent Campus REIT
Recently Alison Gregor wrote an article in The New York Times titled Specialty REITs, Exploiting Niche Categories, Outperform the Mainstream Players, and in this article the author explains, "Markets that drive the demand for assets of the specialty REITs tend to be different from the four core trust classes (office, retail, residential, and industrial), which can make some of them particularly good investment opportunities in tough economic times. Because of the relatively unknown market models, the specialty REITs have had to work harder to gain the attention of the investor community.
As Gregor adds, "Because REITs that invest in real estate outside the mainstream are often structured differently from traditional ones, financial planners and institutional investors have more research to do in formulating their real estate portfolio strategies." Based upon the most recent results, American Campus Communities has been executing its specialized REIT model with intelligent expertise. The stock is currently trading at $40.78 a share and the 52-week high was $ 41.29 (11-16-11). The REIT is currently paying a 3.6% dividend and the 12-month total return was 29.99% (ranking 4th compared with all equity REITs. EXR is 49.07%, PSA is 34.68%).
American Campus Communities should continue to build its strategic model by growing its acquisition, development, and third party management platforms. Sir John Templeton was perhaps one of the biggest proponents of diversification and he was always looking to diversify "away from the herd". American Campus Communities is a noble bet and I believe the exceptional campus housing REIT is an intelligent choice for a diversified growth and income portfolio. The dividend is durable (3.6%) and the growth prospects are exceptionally strong. I expect the "best in class" campus REIT to continue to outperform by providing a diverse "safe margin" investment strategy with possible annualized shareholder returns in excess of 30%.
Disclosure: I have no positions in any stocks mentioned, and no plans to initiate any positions within the next 72 hours. ACC was recently added to the S&P MidCap 400 Index