I will tell you right up front that I am NOT a fan of any retail stock except for Amazon (AMZN) and Wal-Mart (WMT). I simply cannot figure out how they are doing until after they have done whatever it is they do!
The Reality of Retail
Allow me to paint this picture; we drive by the shopping centers and the major malls, and they are packed. Loaded with cars, and no place to park. If we are not already frustrated, we search for the best spot we can find. Maybe it's only ½ mile from the entrance, but at least we were able to squeeze in next to two trucks with tires larger than my car.
As we note the aisle and row of our vehicle we can see off in the distance, the entrance to our destination. 45 minutes later, we have arrived. Depending upon where we live we either have a sunburn or frostbite, but we are determined.
The Mall has everything. Food courts, rides for the kids, maybe some live entertainment, and even a movie theater for all the husbands to catch the latest action flick while the wives spend the kids college fund.
Every store has at least 28 signs in their window announcing the lowest prices of the year. Forget that last month they had different signs saying the same thing, and 3 months ago had really cool ones that said this is the sale of the century, decade, month, week, year, hour, or as ordered by the manager that day! (Remember the "Blue Light Specials" while you were IN the store?)
Credit cards are poised and ready to be swiped. New sneakers so we can run up and down the store aisles and stop on a dime at any item we are drawn to, and a little portable chair for when we eventually arrive at the checkout line.
WOW, is this fun or what!!!!!
The Only Retail Stocks I Would Buy Now
Wal-Mart Stores : Price- $59.39/share, Dividend Yield- 2.50% ESS Rating- Bullish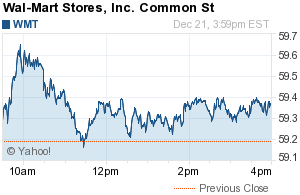 I am not a retailing marketing expert, but something tells me that when a retail store has basically every product available for consumer purchase under the sun, in ONE store, with bright lights, great prices, loads of helpful employees, and checkout lines for every person in the store, THAT is where I want to shop.
Obviously it is where most folks on the planet want to shop also.
With 2 million employees, 8,500 stores worldwide, 200 million shoppers EVERY WEEK, and an overall average square footage of over 75,000 ft, why would anyone go anywhere else to shop for anything? (including food and drugs!)
The answer is; obviously they don't!
All other brick and mortar stores pale in comparison (except maybe for Target (TGT), and their performance speaks for itself.
I am not going to use the usual boring fundamentals in this article because we all know how well this company has done basically forever. When it comes right down to it, the only number that matters right now is the "Holiday Season" rush from red.
The National Retail Federation has forecasted an increase of 3.8% in holiday revenues for 2011 over 2010. I cannot recall when they ever forecasted a decrease of any consequence anyway. That being said, we already know that Wal-Mart will get more than its fair share.
With a price range over the last 5 years between $45/share and $59/share, it has been basically flat for all intents and purposes, but if there were ever a time to own shares, it would be now, before the glowing reports after the holiday and into earnings season ... which for Wal-Mart ends 1/31/2012 (4th quarter and fiscal year).
Amazon.com : Price-$174.35/share, Dividend Yield- N/A, ESS Rating- Bullish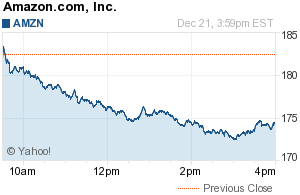 Here we have the "Wal-Mart" of the internet. Imagine sitting down at your laptop, or iPad, or iPhone, and browsing a selection of products that rivals only Wal-Mart, and not having to look for a parking spot!
Sounds good to me for sure!
According to the Wall Street Journal: a rosy season.
Holiday sales are up 14% from 2010 and last week totaled over 6 billion dollars. Just last week! To me, more and more folks are opting for the on line experience rather than the "head for the stores" experience. Amazon is the winner here, and it amazes me that people will consider shorting this stock. I mean why? How do you know that they are not participating in those lofty increases?
The fact is, they ARE getting their share. More than ever, and frankly, the PPS is trading towards the low end of the last 52 weeks! (its range has been $160/share to $246/share) Is Amazon going to fall flat this season? I don't think so. By the way, its 4th quarter and fiscal year ends 12/31/2011.
Now is the time to own this stock.
My Opinion
I guess I am just not a shopper in the historical sense (or hysterical sense) and feel that there really are only two choices for the vast majority of folks. Wal-Mart for the brick and mortar shopaholics, and Amazon for the rest of us lazy shoppers who like to type.
All of this has been said tongue in cheek of course, and in a very light note, but in all seriousness, I feel that these 2 stocks warrant the attention of individual investors who want to own retail stocks ahead of earnings season after the holidays.
Disclosure: I have no positions in any stocks mentioned, and no plans to initiate any positions within the next 72 hours.
*Please do your own research prior to buying or selling any security and do not base your decision on the opinions of others.