Town Sports' 'High-Value Low-Price' Strategy Is Doomed To Fail
Summary
The New York Sports Club parent is trying to win back market share from low-priced competitors with $20 & $40/month "high-value low-price" no-contract plans.
Most existing members will switch from $60-125/month memberships to these low-priced packages.
Members of low-cost competitors unlikely to switch for same or higher cost, with little if any difference in amenities/service at CLUB.
With generous assumptions, CLUB needs to increase membership 50% from 505,000 at 3/31/15 to 755,000 just to realize break-even operating income.
It is extremely unlikely that CLUB will break even, let alone turn a profit any time in the foreseeable future.
Town Sports (CLUB), the parent of New York, Boston, Philly, and Washington (D.C.) Sports Clubs has a problem: Most customers don't (and aren't going to) pay $60-$120 a month when hundreds of low-cost, amenity-filled gyms from competitors like Planet Fitness, Crunch, Lifetime Fitness, Retro Fitness, 24 Hour Fitness, and LA Fitness (to name a few) having opened just in the past few years.
The company's solution, way late in the game, is to try to compete on price. This strategy will not, and cannot work.
Why?
High operating costs: 2014 EBITDA margin was 11% vs. 29% for its only public competitor, Lifetime Fitness.
It doesn't own, but leases all of its facilities, the majority of which are in high-cost, space-constrained urban and metro suburban areas.
High interest expense from a high debt load. 4.4% of revenue vs. 3.4% for Lifetime.
CLUB gyms are comfortably in the middle of the pack in terms of offerings, quality, convenience, and the like, so even for the same price, there is little if any reason for members of competing gyms to switch. (The author is currently, and has been a member of New York Sports Clubs on and off since 2007.)
US gym memberships grew at a rate of 3.7% per year from 2000-2013. Gym turnover/attrition is also in the low single-digits.
Competing gym memberships run $10-30/month.
The new HVLP memberships are $20 or $40 month (the latter without an initiation fee), and, just as an example of value, don't even include towel service.
Existing members pay about $60-120/month. In 2014, gym operations, the bulk of revenue, came out to about $77/month per member.
As existing members switch to the HVLP plans, we expect average monthly revenue per member to decline into the mid $40/month range.
CLUB needs A LOT more members just to

break even.
How many more members?

With little if any reason for members of competitors to switch and a relatively small number of people without gym memberships likely to join, CLUB is extremely unlikely to offset the lower-cost memberships with enough new members.
Realistically, it won't even come close. CLUB will lose A LOT of money for the foreseeable future.
How much will it lose?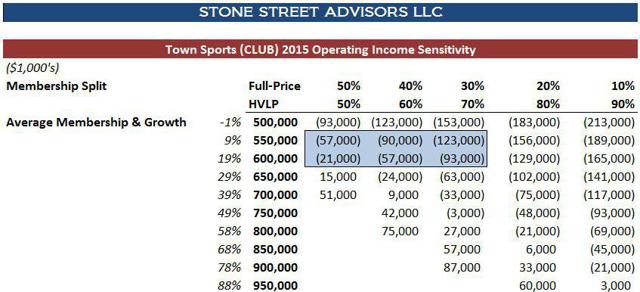 We are generously projecting 2015 FY operating income will be around minus $50 million, assuming a relatively slow shift of existing members to the HVLP plans and 9-19% membership growth. For perspective, the firm began offering the HVLP plans late in 2014. Membership only grew 4.3% in the first quarter of this year vs. the end of 2014.
While we do not think the HVLP strategy will work, we are sympathetic to the company's plight. It's being squeezed from both the bottom, by the dozen or so low-cost competitors, and from the top, by gyms like Equinox. It's stuck between the proverbial rock and a hard place. Ultimately, trying to compete on price in a competitive industry with little cost flexibility and a levered balance sheet is a recipe for disaster.
We think a lot of the bullish sentiment is anchored in some sort of misguided optimism, as there are a lot of "what-ifs" to this story.
What if CLUB didn't have a ton of debt?
What if it owned its facilities instead of leased?
What if operating expenses could be materially reduced (maybe, though the new strategy requires higher marketing expenses)?
What if it had responded to the proliferation of low-cost competitors 10 or even 5 years ago?
Unfortunately for bulls, we can't change the past, and there's not a lot of wiggle room to change the current or the future. Nostalgia and ego are a dangerous combination.
CLUB should (key word!) have enough cash to meet its interest payments for the next 2-3 years while it loses money. That said, default and bankruptcy risk are real concerns, though not imminent.
While we often find opportunity in restructurings, we see far more risk than reward in CLUB, and suggest investors avoid the name.
The stock was a screaming short going into earnings, however, after a 20% drop the past two days, that trade has become less obvious. Activist involvement, low volume and short-term volatility make a long-term bearish opportunity like this a risky short at today's price, but if you're comfortable with the possibility of a margin call or two while you take the long view, a short can still pay off. Can the company and its activist investors turn it around and drive the stock up? Maybe, though we've shown with simple math that a successful turn-around is unlikely.
As always,
CAVEAT EMPTOR
This article was written by
Jordan S. Terry is the Founder & Managing Director of Stone Street Advisors LLC. He has a BS in finance with minor coursework in engineering & entrepreneurship from Penn State, and an MBA from NYU Stern School of Business with concentrations in corporate finance and business law. He has work experience in corporate development, investment banking, operations, and investment research. His investing/analysis experience spans more than 10 years across virtually all industries and sectors. He has written about business, technology, innovation, policy and finance (both theory and practice) as well as industry- and firm-specific analysis since 2005. In 2011, Jordan founded Stone Street Advisors LLC, an investment research and consulting firm catering to investment funds and corporations. Stone Street's track record of picking both long and short ideas has significantly outperformed the S&P500 on both a absolute and relative basis (detailed information available upon request). He has written fairly extensively for The Atlantic, Forbes (where he has a column, "Fundamentally Speaking"), Zerohedge, Business Insider and other popular outlets, and his work has been highlighted by FT, WSJ, CNBC, NYT, The Globe & Mail, The Deal, and virtually every other major financial media outlet.
Analyst's Disclosure: The author has no positions in any stocks mentioned, and no plans to initiate any positions within the next 72 hours. The author wrote this article themselves, and it expresses their own opinions. The author is not receiving compensation for it. The author has no business relationship with any company whose stock is mentioned in this article.

The opinions presented herein are solely those of Stone Street Advisors LLC. Neither Stone Street Advisors LLC nor any of its members has a position in CLUB or CLUB derivatives, nor any plans to initiate a position. Nothing contained herein shall constitute a solicitation, recommendation or endorsement to buy or sell any security or other financial instrument. Stone Street Advisors LLC makes no representation or warranty as to the accuracy, completeness or timeliness of the information contained herein, and disclaims all liability arising from errors or omissions contained in this presentation. This presentation is for informational purposes only and does not constitute investment advice. Stone Street Advisors LLC is not an Investment Advisor.
Seeking Alpha's Disclosure: Past performance is no guarantee of future results. No recommendation or advice is being given as to whether any investment is suitable for a particular investor. Any views or opinions expressed above may not reflect those of Seeking Alpha as a whole. Seeking Alpha is not a licensed securities dealer, broker or US investment adviser or investment bank. Our analysts are third party authors that include both professional investors and individual investors who may not be licensed or certified by any institute or regulatory body.