Modern communication technology has allowed investors access to an unprecedented level of information around the clock. Yet, tools like CNBC and Bloomberg have also, to a degree, caused investors to lose sight of the big picture. A focus on tracking every stock tick by tick has caused some investors to lose sight of their long-term goals. A stock may drop for weeks, or even months, but be higher years from now. Sectors fall in and out of favor, as do individual stocks. The solar sector is currently one that has been left for dead by investors. And so has the leader in this sector, First Solar (NASDAQ:FSLR). This stock has been one of the worst performers of 2011, falling almost 76% since the start of 2011, as the S&P 500 (NYSEARCA:SPY) fell just over 1%.

We previously recommended First Solar on October 4, and freely admit that our call was poorly timed. The CEO has been ousted, guidance has been lowered, and volatile markets have taken their toll. But we remain bullish on FSLR for the long term, adding to our position as the stock has declined. We think that investors are throwing First Solar out with the rest of the solar sector, something that we think is a mistake. First Solar has been in freefall in 2011, along with all of its peers in the solar sector. Yet, over the last 5 years, First Solar is the only solar stock to have risen, and it has outperformed the S&P 500, a testament to its long-term strength and resilience.

First Solar's competitors have all fallen at least 28% over the last 5 years, and most have lost a good deal more. We think that the market is incorrect when it assumes the worst will occur to First Solar. Even though the company has suffered, for it has been unable to escape the ravages of the solar industry's current state, we think that going forward, it is best positioned to survive and thrive. First Solar, unlike all off its major competitors, has been consistently profitable for the last 5 quarters. It is the only major solar company with a positive net cash balance, and even with recently reduced guidance, will still be profitable in 2012, as well as the years ahead. Below, we give a financial and operational profile of First Solar and its competitors to highlight the fact that First Solar operates on an entirely different level than the rest of the sector.

| | | | |
| --- | --- | --- | --- |
| Company | Q3 2011 EPS/Revenue | Q2 2011 EPS/Revenue | Q1 2011 EPS/Revenue |
| First Solar | $2.25/$1.005788 Billion | $0.70/$532.774 Million | $1.33/$567.293 Million |
| SunPower | -$3.77/$705.427 Million | -$1.51/$592.255 Million | -$0.02/$451.418 Million |
| JinkoSolar | -$1.86/$279.249 Million | $1.38/$350.586 Million | $2.10/$326.719 Million |
| Renesola | -$0.05/$189.062 Million | $0.02/$249.313 Million | $0.49/$328.157 Million |
| JA Solar | -$0.36/$387.999 Million | -$0.22/$412.951 Million | $0.41/$556.383 Million |
| Trina Solar | -$0.45/$481.900 Million | $0.17/$579.459 Million | $0.63/$550.853 Million |
| LDK Solar | -$0.87/$471.870 Million | -$0.62/$499.437 Million | $0.95/$766.337 Million |
| Suntech | $0.18/$743.7 Million | -$0.97/$625.1 Million | $0.11/$588 Million |
| Yingli Green Energy | -$0.18/$667.697 Million | $0.36/$680.560 Million | $0.35/$527.312 Million |
| Canadian Solar | -$1.02/$499.639 | $0.16/$481.820 Million | $0.13/$443.404 Million |
| | | | |
| --- | --- | --- | --- |
| Company | 2010 EPS/Revenue | 2009 EPS/Revenue | 2008 EPS/Revenue |
| First Solar | $7.68/$2.6 Billion | $7.53/$2.1 Billion | $4.24/$1.2 Billion |
| SunPower | $1.64/$2.2 Billion | $0.35/$1.5 Billion | -$1.55/$1.4 Billion |
| JinkoSolar | $1.61/$0.7 Billion | -$0.11/$0.2 Billion | $0.51/$0.3 Billion |
| Renesola | $0.97/$1.2 Billion | -$0.49/$0.5 Billion | -$0.43/$0.7 Billion |
| JA Solar | $1.58/$1.7 Billion | -$0.18/$0.6 Billion | -$0.04/$0.8 Billion |
| Trina Solar | $0.08/$1.9 Billion | $0.03/$0.8 Billion | $0.02/$0.8 Billion |
| LDK Solar | $2.27/$2.5 Billion | -$2.18//$1.1 Billion | $0.61/$1.6 Billion |
| Suntech | $1.30/$2.9 Billion | $0.50/$1.7 Billion | $0.20/$1.9 Billion |
| Yingli Green Energy | $1.31/$1.8 Billion | -$0.56/$1.1 Billion | $0.73/$1.1 Billion |
| Canadian Solar | $1.16/$1.5 Billion | $0.60/$0.6 Billion | -$0.24/$0.7 Billion |
| | | | |
| --- | --- | --- | --- |
| Company | Cash (Q3 2011) | Debt (Q3 2011) | 2012 EPS/Revenue Estimates |
| First Solar | $794.769 Million | $582.744 Million | $3.75-$4.25/$3.7-$4 Billion |
| SunPower | $650.034 Million | $967.639 Million | $0.36/$2.8 Billion |
| JinkoSolar | $214.679 Million | $591.653 Million | -$0.44/$0.9 Billion |
| Renesola | $452.116 Million | $822.160 Million | -$0.50/$0.7 Billion |
| JA Solar | $533.956 Million | $900.912 Million | -$0.11/$1.3 Billion |
| Trina Solar | 733.276 Million | $1.007189 Billion | -$0.23/$1.8 Billion |
| LDK Solar | $868.144 Million | $3.615150 Billion | -$1.22/$2 Billion |
| Suntech | $1.0997 Billion | $1.7275 Billion | -$0.77/$2.5 Billion |
| Yingli Green Energy | $929.174 Million | $2.165350 Billion | -$0.28/$2 Billion |
| Canadian Solar | $627.108 Million | $948.399 Million | -$0.50/$1.6 Billion |
As the data above show, First Solar is clearly the strongest company in the sector, and even though SunPower (NASDAQ:SPWR) is projected to be profitable in 2012, it has yet to provide a 2012 update, like First Solar has. We think it is likely that SunPower will revise 2012 guidance sometime in the near future, and could very well estimate losses for 2012. The data above show just how fragmented and volatile the Chinese solar sector is. Of the 10 companies above, 7 are Chinese, and they swing between profits and losses on small changes in revenue. All but First Solar have negative net cash balances, and some, like LDK Solar, are drowning in debt.
We will be blunt. The solar sector will dramatically reshape itself in the next several years. It is clear that the market cannot sustain this many players. There will be consolidation in the sector, as well as bankruptcies. Already, we have seen Solyndra and Evergreen Solar file for bankruptcy, and rumors of a takeover of First Solar by GE have begun to surface. Analysts are blunt, stating that in the next few years, it is most likely that only top tier players, such a First Solar, SunPower, and select Chinese solar companies will survive the current industry downturn. First Solar itself has stated as much on its most recent conference call, where the company aired its dirty laundry and established what we think is a sustainable roadmap for future success.
On December 14, First Solar issued updated guidance for the fourth quarter and 2012 fiscal year. The company is now calling for Q4 EPS of $1.47-$1.72, and 2012 EPS of $3.75-$4.25. First Solar expects 2012 revenue to be between $3.7 and $4 billion. The stock market did not like what it saw, sending shares down 21%, and causing a whole host of analyst downgrades. In the short run, we understand the bearish view. Profit growth will be anemic in the next several years as the company waits for the weaker players to disappear and the company transitions to a more sustainable business model. Many bears have even assumed that First Solar itself will succumb to market forces and fold. We think this is absurd. First Solar is in a class above the market. Its strong balance sheet, consistent (albeit slow-growing) profitability, and project pipeline will allow it to weather current market conditions better than any other player. Analysts agree wholly with that notion. Argus analyst Jim Kelleher writes that, "despite the challenges facing First Solar as industry pricing continues to weaken, we regard First Solar as one of a very few PV companies that is operating a viable business model, based on its low-cost production process and the relative stability of its solar utility business." And Merrill Lynch agrees, writing that, "we don't have any concerns about the long-term viability of First Solar, and we agree with management's decision to take painful actions now in order to set the stage for future growth. The big declines in the stock are likely now behind, in our opinion."
First Solar, unlike many of its peers, is rushing away from small-scale projects, positioning itself as the leading utility-scale solar energy provider. While this is painful in the short term, it is what First Solar must do to succeed. We think the guidance call was a watershed moment for the company. CEO Mike Ahearn was blunt, stating everything that is wrong with the solar sector at this time, and what the company will do to succeed. On the call, he summed up the polysilicon market, stating that the supply chain is, in essence unworkable. He said:
the polysilicon supply chain has undergone a fundamental structural change. This is not a cyclical or seasonal phenomena. In a supply chain without structural entry barriers, several things occur. First, production volumes increase so long as capital is available to fund it, and we've seen over the past several years that U.S. equity markets and, more recently, Chinese governmental entities have been willing to provide the capital needed to fund a massive production expansion. Second, production volumes eventually exceed demand and pricing declines as manufacturers attempt to sell the excess product compressing margins. Third, prices and margins continue to decline until the financing eventually stops and only the most resilient producers remain in operation. And fourth, the supply-and-demand equilibrium that is eventually achieved is only temporary. Excess production resumes when capital again becomes available to fund it. And this last point is important. In an industry without entry barriers, which we believe in our case for polysilicon PV module industry, the easy reentry of competitors and expansion of capacity will keep downward pressure on prices and margins indefinitely.
First Solar is doing all that it can to avoid the ravages of this market.
(Click charts to expand)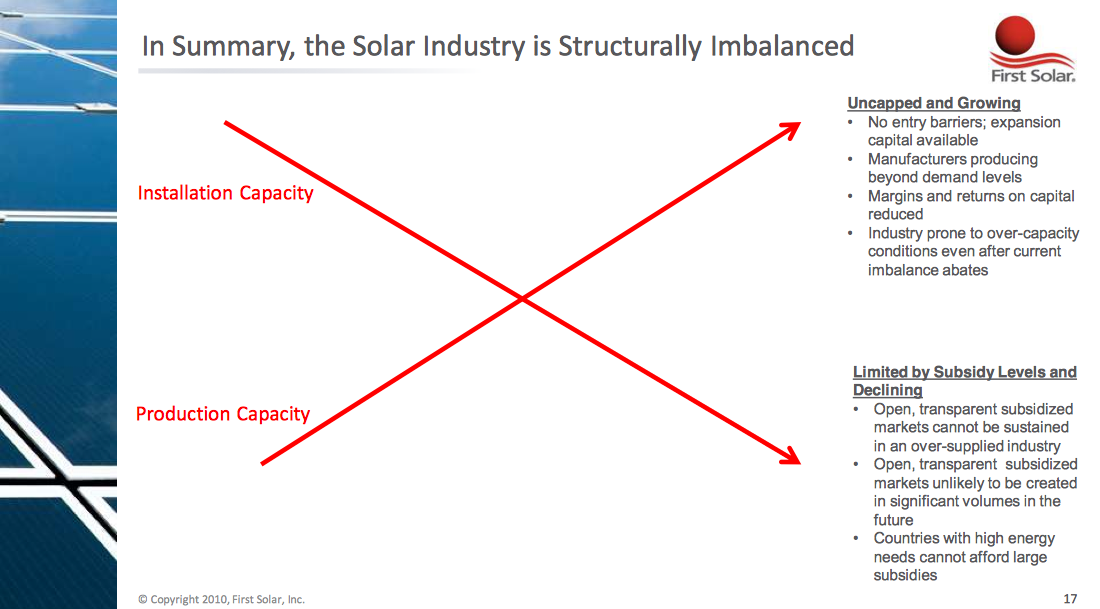 As you can see, First Solar sees many structural issues with the market, which it cannot avoid in the short term. We fully understand the bearish arguments for the next several years. But we are not recommending First Solar for the next 1-3 years. We argue that it is a stock for investors willing to hold it for a longer time period. There are many kinds of investors, and not every stock is suitable for every investor. Some investors simply will not buy a cheap, rapidly growing company because they need dividend income. And some investors need to cash out of a stock in a year or two. That is understandable. But for investors willing to wait it out with First Solar, we think the benefits will be well worth the wait.
First Solar and Mike Ahearn see the problems of the sector clearly, and have decided on a fundamental strategy shift to counter them. On the call, CEO Ahearn stated:
Our low-cost technology and captive U.S. project pipeline will help us remain profitable in a shrinking, structurally imbalanced industry, although we clearly face challenges in this environment, as Mark will describe. But our goal at First Solar has always been to drive [thrive]. And to do that, we must find a way to grow dramatically, notwithstanding a challenging environment. And just to throw out an example, to grow at a 20% CAGR would require that we install roughly 65 gigawatts over the next 10 years. So the external environment presents First Solar with a fundamental choice, either continue to play what we've been referring to internally as the "whack-a-mole" game, where an oversupply [oversupplied] supply-chain waits for the next subsidy market to pop up so they quickly descend and battle it out for a share of limited volumes or find another game to play. We've decided to move to another game, which I'll summarize for you now.
First Solar has essentially thrown in the towel on the current market, where a large number of players battle for shrinking subsidized markets. The company knows that while it can compete in this market, there is little point in doing so, as it is a market where no company can truly win, so long as this many companies are competing.
So what is First Solar doing to drive sustainable long-term growth and profits? The company is moving to utility scale projects. First Solar is the leader in solar utility plants, having worked with leaders in the industry such as GE, Southern Company, NextEra (NYSE:NEE), Exelon (NYSE:EXC), Southern California Edison, NRG, and PG&E, and most recently, MidAmerican Energy, Berkshire Hathaway's utility division.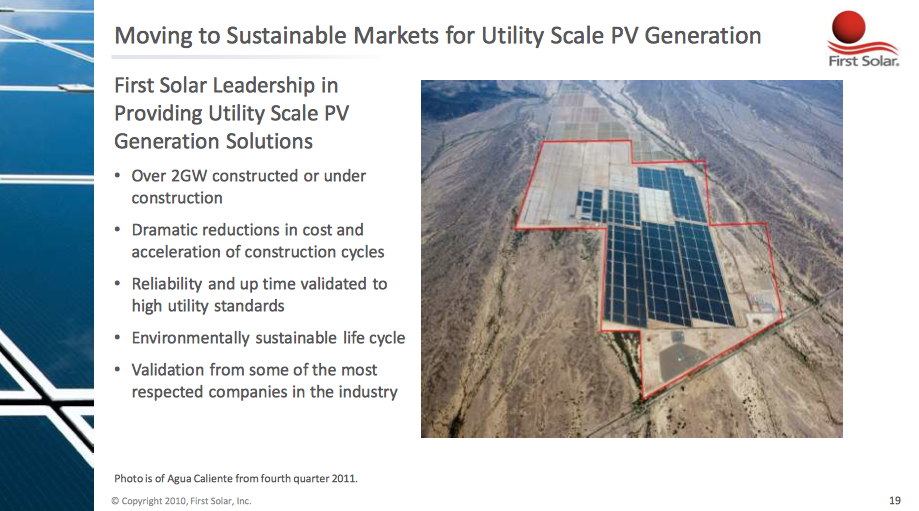 On Wednesday, December 7, MidAmerican announced that it would buy First Solar's Topaz plant, which cost $2 billion to build. PG&E has signed a 25-year agreement to buy energy from the plant, which has enough capacity to power 160,000 Californian homes. We do not think Warren Buffett would agree to make such an investment unless it was certain to be a profitable deal. And just a few days ago, MidAmerican announced another solar utility deal. The company has agreed to take a 49% stake in NRG Energy's Agua Caliente plant, which is also being build by First Solar. PG&E has also agreed to a 25-year deal to buy the electricity generated by the plant. Warren Buffet would not commit to such a deal if the economics did not work in his favor. Clearly there is demand for utility scale solar. And no one builds better solar power plants than First Solar.
CFO Mark Widmar laid out 2012 guidance on the call, and the guidance validates First Solar's leading position in the sector. The company will have operating cash flow of between $900 million to $1.1 billion, allaying our concerns over the company's balance sheet. Furthermore, the company narrowed its cash burn forecast for 2011 to a range of $100 million to breakeven from $200 million to breakeven.
The question and answer session was full of insight, and there are several key points we feel investors need to know. For starters, how is First Solar to post cash flows of $900 billion to $1.1 billion while recording operating income of $425 to $450 million? Lazard wondered this as well, and CFO Widmar explained that the company is going to have better working capital management due to a more conservative construction schedule and pipeline management. Widmar stated:
We're going to build out our EPS pipeline to the constructed contracted schedule, whereas in 2011, we got a little bit ahead of ourselves. We took some risk in some projects and that really drove a much higher working capital requirement for the Systems business than what was required.
First Solar is a changed company. It is true that shareholders who bought in prior months and years have no doubt been burned. But going forward, we think, as does Merrill Lynch, that the large declines in the stock are over. First Solar is undergoing a radical transformation, putting the rooftop market on the back burner to focus on utility scale projects. And unlike traditional solar, we think that First Solar's competitors will not be able to match the company in this sector. Credit Suisse addressed this issue, asking "what prevents your competitors to follow a similar strategy on the Systems business in the new markets? And what entry barriers might look like?" First Solar, on this call, unveiled its 3-year plan to transform the company into a utility focused company by 2014. The company announced that it would update investors on the plan in a more detailed fashion in early 2012.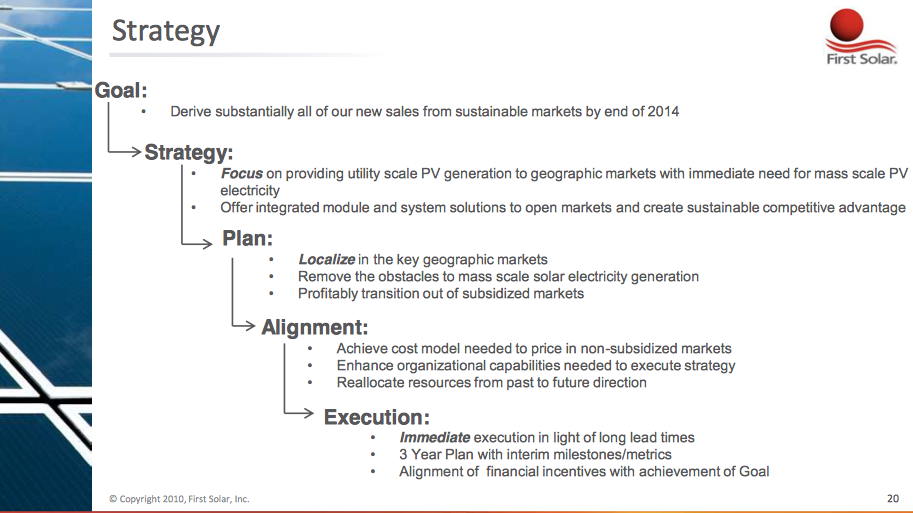 CEO Ahearn gave a detailed explanation to Credit Suisse, saying:
To open new markets for non-subsidized solar power, I think the threshold thing that has to occur is you have to be able to price on an installed system basis at $1.40 to $1.60, the range we talked about. We don't think our Chinese competitors can get there directly or indirectly. And I would underscore profitably. It's one thing to sell through existing capacity and recover your cash costs. I think it's another thing to invest billions of dollars in new capacity knowing for a fact you could never make a profit. And so I don't see it. I mean, our cost sensitivity model from the slide Mark took you through assumes cash costs recovery from a silicon perspective where we've got returns in excess of our cost to capital built into ours. So that would start with -- we have a sustainable significant cost advantage at a system level if we can execute our 3-year plan. The second thing is, it's going to take a lot more than a module component to open utility-scale markets. What we found is that these customers, which are essentially risk-averse, reliability-focused electricity generation and system operators, are concerned about installed systems, reliability, the data that verifies reliability, know-how in terms of how this is going to integrate into the grid. And to be able to provide that level of solution and inside, you've got to have a vertical model that is proven. And we've invested in that for the last 3 or 4 years and spent the time and money and effort and have the validation. You can't get that or build that easily. In the fullness of time, I mean, could somebody vertically integrate? I suppose so. I'm not sure that would be even be all bad by that point because the real competition, as we shift, is thermal. I think Mark had that right. And we need to focus on that, the road ahead, as opposed to the rearview mirror of these silicon guys.
Chinese solar companies, even with falling polysilicon prices, cannot achieve the same cost structure First Solar can, and that is what will help First Solar succeed. Furthermore, in its quest to be the leader in utility solar, First Solar has something that its competitors do not have: a relationship with the utilities. First Solar has shown utilities, both in the United States and around the world, that it has the resources and expertise to complete projects to the specifications its customers want. First Solar admits that given enough time, its competitors could integrate enough to build utility scale projects. But First Solar has built lasting relationships with electric utilities, and that is a difficult asset to compete with. First Solar has proven itself many times, something its competitors have not. Given this, we think any sensible utility will choose First Solar for its needs. First Solar addressed other issues as well, including the shift to unsubsidized markets and its view on consolidation in the industry. CEO Mike Ahearn argued that consolidation was not a prudent use of resources, and that First Solar's goal is to transition to unsubsidized markets completely, because they are based not on politics, but fundamentals. All solar companies have seen the effects politics have had on their markets, and nowhere is that more true than Europe.
Bears will argue that the company is still too dependent on Europe, and it was a point brought up by Susquehanna. Analyst Mehdi Hosseini asked about the company's confidence in its European sales forecasts, given the European debt crisis. CFO Widmar responded deftly, saying that First Solar's assumptions for 2012 include a potential reduction in sales to Europe. He stated:
We've tried to align to better understanding transparency around our specific customers' project and their pipeline into incorporate those volumes into our planning assumption. There's always risk, though. That's one of the reasons why we provided the assumption around volume already. There's a 10% reduction in volume and those module sales that will impact our EPS at around $0.30 or so. So we've given you that level of visibility. But we've scrubbed it. We worked very closely with our sales team trying to understand customer requirements and underlying market demand. We've aligned it to the new feed-in tariff that will be effective in 2012. So we believe from a pricing standpoint, the economics will still be very viable. But as you point out, there's a lot of uncertainty in the market and that's one reason why we've given some level of sensitivity around volumes, which would mean to be reflective of risks that we would see in Europe.
Even assuming a reduction in sales to Europe, First Solar will still be profitable, and over time, First Solar will slowly but surely lessen its reliance on Europe as it diversifies into the Asia-Pacific region and expands sales in North America.
We maintain no illusions First Solar's prospects in the next few years. The company is in transition, and even if it is the best positioned to weather the vagaries of this market, the next few years will be challenging, and the company will have to execute perfectly to succeed. We admit that we have been wrong in our call recommending First Solar shares in October. But we remain confident in the long- term potential of this company. Solar energy will generate more and more of America's, as well as the world's energy, and no company will be better positioned to ride that trend than First Solar. Unlike some analysts, we think First Solar can ultimately escape from the imbalances plaguing the solar industry, and will be able to be profitable over the long term. Adding to First Solar's appeal is that the company trades at just 0.74x tangible book value of $41.30. We think the worst is behind the company. First Solar's US pipeline allows it to have a much more stable earnings stream than its competitors, and its low cost technology will allow the company to ride out the imbalances of the market until it can transition to a more sustainable earnings base.
First Solar is rapidly working to exit what it calls "unsustainable markets" by 2014. First Solar is working to diversify into the Asia-Pacific region, and is targeting both oil-rich and oil-poor states, which have weak fossil fuel power grids, thus allowing them to bypass fossil fuels much quicker than has been the historic norm. Even now, the Reuters average price target of $47.83 represents upside of almost 57% from current levels. Investors are assuming the worst for First Solar, and we think that will not be the case. This company is not a Chinese solar company, most of which are operationally insolvent, backed only by subsidized financing from state banks, for both economic and political reasons. Nor is it a young startup with unproven technology. This is First Solar, the largest solar company in the world. The next several years will undoubtedly be challenging ones for the company, and the broader industry as a whole. But over the long run, we are confident that First Solar will diverge from the market, in a positive direction. First Solar is the current leader in the solar industry, and we are confident it will maintain that position. Management knows what must be done, and is quickly working to avoid the ills plaguing most of its competitors. Most solar companies, over the next several years will struggle to survive, let alone have any semblance of profitability. First Solar, however, has what it takes to survive, as well as thrive over the long term.
Disclosure: I am long FSLR.