With just five trading days left in 2011, below is an updated list of the 50 best performing stocks in the Russell 3,000 year to date.
The average stock in the entire index is down 4.6% in 2011, but the 50 best performing stocks are up an average of 120%. The top performing stock for the year is currently Pharmasset (OTCPK:VRUS) with a gain of 472.5%. The company is currently being acquired by Gilead, so its performance shouldn't change too much over the next few days. Inhibitex (INHX) ranks second with a gain of 323%, while Medivation (MDVN) ranks third with a gain of 200.79%.
The top three stocks and four out of the top five are in the Healthcare sector. In fact, a whopping 24 stocks on the list are in the Healthcare sector. The next most represented sectors are Industrials and Consumer Discretionary, which each have six stocks on the top 50 list.
The Health Care sector is currently up just under 10% year to date, ranking it second out of the ten sectors behind Utilities in 2011. With such a strong showing on the top performing stocks list and its 10% gain for the year (versus the S&P 500's current YTD change of -0.25%), Healthcare takes the title for sector of the year in our opinion. We'll see how things play out next year for the sector with the Supreme Court taking up the "Obamacare" case.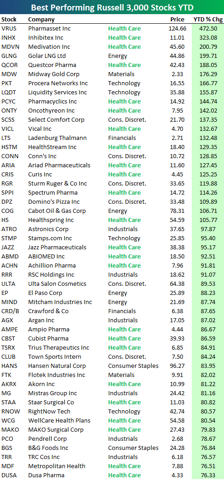 (Click chart to expand)