After several years of strong earnings growth and skyrocketing share prices, suddenly the agriculture stocks don't look so hot.
The sell off began earlier in 2011 and hasn't stopped. As a result, the fertilizers and the farm equipment manufacturers are now dirt cheap as investors have fled the sector.
What's going on? Didn't we just hear that the emerging market middle class is spending more on food and is adopting the western diet which means higher food prices from here until the end of time?
Supply and Demand Story Still Intact
Nothing has changed in the supply/demand story. Farmers are still running full throttle even though 2011 was a record year for farming income in the United States. The outlook is still very positive for further growth in 2012.
In the farming equipment category, demand is expected to remain strong, especially for high horsepower equipment. Farm-machinery sales are projected to rise between 5% and 10% in 2012.
With the agriculture stocks being beaten down in the last few months, that means this could be an opportunity to buy into the agriculture sector at very attractive levels.
The following four companies have solid earnings with some growth expected in 2012. But they are also extremely cheap, with forward P/Es well under the S&P 500 average of 12.7.
4 Cheap Agriculture Stocks for 2012
1. Potash Corporation (POT)
Potash is one of the largest fertilizer companies in the world. This Zacks #3 Rank (hold) produces about 20% of the world's potash as well as phosphates and nitrogen.
Forward P/E: 10.9
2011 expected EPS growth: 80%
2012 expected EPS growth: 19%

2. CF Industries Holdings (NYSE:CF)
CF Industries is the second largest nitrogen fertilizer maker in the world. This Zacks #2 Rank (buy) is also the third largest publicly traded phosphate producer. With a low single digit P/E, this is the cheapest the stock has been, on a valuation basis, since the Great Recession.
Forward P/E: 6.1
2011 expected EPS growth: 162%
2012 expected EPS growth: 2%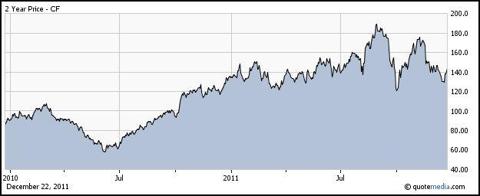 3. Deere & Company (NYSE:DE)
Deere manufactures farm and construction equipment in 30 countries worldwide. This Zacks #2 Rank (buy) has been in business since 1837. It just posted a record fiscal 2011. It's bullish on fiscal 2012 as well.
Forward P/E: 9.9
Fiscal 2012 expected EPS growth: 17.2%
Fiscal 2013 expected EPS growth: 6.7%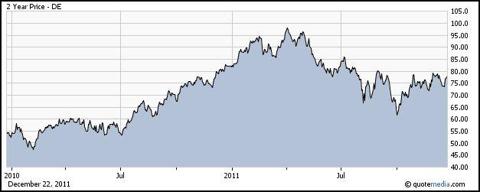 4. AGCO (NYSE:AGCO)
AGCO manufactures agriculture equipment, including tractors, combines, sprayers and forage equipment through distributors in 140 counties. The CEO recently commented that demand is still strong in the emerging markets.
Forward P/E: 9.5
Fiscal 2011 expected EPS growth: 88.4%
Fiscal 2013 expected EPS growth: 13.4%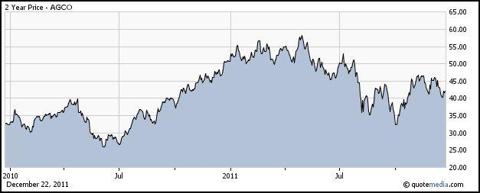 Feeding the World
Diets and food consumption patterns are changing as the global middle class grows. Yet the agriculture stocks have sold off like no one is going to be eating tomorrow. With valuations as low as they are, the agriculture stocks are a good value buy heading into 2012.
Disclosure: The author of this article owns shares of POT and CF.
Tracey Ryniec is the Value Stock Strategist for Zacks.com. She is also the Editor of the Turnaround Trader and Insider Trader services. You can follow her on twitter at traceyryniec.
AGCO CORP: Free Stock Analysis Report
POTASH SASK: Free Stock Analysis Report