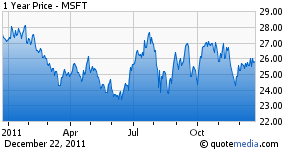 Microsoft (NASDAQ:MSFT), to the dismay of investors of all sizes and types, has been dead money for over 10 years now with its stock price at the beginning of 1998 being roughly equivalent to the way it will close out 2011. Although it has one of the best brands (valued at $43 billion) and most substantial balance sheet of all corporate history that supports its place as a Dividend King, it remains stuck in a tight trading range and a P/E ratio under 10.
Microsoft's senior management has had to change to a bifurcated strategy for optimizing the business going forward. One segment of the business continues to revolve around Windows, its maintenance and improvements, and Office, the ubiquitous productivity suite that has been the source of so many huge sales gains, and the free cash flow that comes from it.
For a growth platform, it now appears that Microsoft is fully engaged with a combination of cloud computing and the Windows Mobile for smart phones and tablets.
Cloud Computing
Microsoft's cloud computing has at its base two initiatives, SkyDrive and Azure. SkyDrive is more of an individual offering closely likened to Apple's (NASDAQ:AAPL) recently announced iCloud. It gives an individual 25GB of free storage that they can access from any device. Microsoft has just announced SkyDrive apps for iPad, iPhone, and iPod Touch. These allows one to aggregate music, video, documents, etc. in a secure location, and then have them accessible from any device, and in any location, given Internet connectivity. Corresponding to SkyDrive is Office Live, which basically the ability to utilize cloud driven versions of the familiar tools from a variety of devices without having to acquire additional licenses, especially if they are used less frequently.
The other, more enterprise centric offering is Azure. Azure allows a company to turn to the cloud for basically any part, or all, of their I/T infrastructure and needs. Within Azure you can actually run many of Microsoft's enterprise applications and servers. Sharepoint Server, SQL Server, Exchange Enterprise mail and collaboration Services, are among the many offerings that Microsoft makes available under its corporate Azure Service.
Many companies are realizing the benefits of this offering are widespread. Not only does the service itself handle many thorny problems from capacity expansion, security, maintenance and backup recovery to spiked needs, seasonal demand and the staff to implement it all. For example, one large package deliverer sees a 400% increase in its network traffic, database needs, and computing power over a single 45 day window. Utilizing a service such as Azure will allow them to pay for that excess capacity only in the 45 days it is needed, not the other 320 days a year when it is not utilized, but must be maintained, upgraded, and licensed.
Microsoft has many competitors within the cloud computing space. IBM (NYSE:IBM), Hewlett-Packard Company (NYSE:HPQ), Amazon (NASDAQ:AMZN), Oracle (NYSE:ORCL) and many smaller parties all want to gain market share in this growth space. Microsoft has certain advantages in its ability to build favorable "packages" of cloud computing capacity with licenses and user access seats that are often difficult for the others to match if the customer is a heavy user of Microsoft's various platforms for their enterprise needs.
Mobile Computing
Window Mobile 7 is a newly created edition that many reviewers and industry insiders are giving high marks for "finally" getting Windows mobile right. (It has taken YEARS and many iterations.)
Boasting a much more intuitive design and some true innovation, Windows Mobile 7 is poised to be a force in the smart phone world, and is deemed to be a player in the fight for market share with Google's (NASDAQ:GOOG) Android and Apple's (AAPL) iOS.
Mobile computing is so important to Microsoft's future for several reasons:
It is now suggested that as much as 25% of corporate America's future computing (including cloud technology) needs will be transformed, and transferred, to some form of the tablet, pad, and

smart phone type of device. The information and applications will be driven from a Cloud type capability (whether developed internally or from a major supplier).

This not only will seriously cannibalize Microsoft's existing base of business, but will be constantly attacked from every competitor to be replaced.
As Window's long history has shown, Microsoft's corporate DNA is built around having the OS, the desktop, the applications, and building synergistic advantages in all of the above to make its offering more compelling, more efficient, etc.
While Microsoft still has a huge footprint in corporate America, its growth in the future will heavily depend on its ability to get these things "Right", and to be on the forefront of the next wave of making these devices even more essential to our daily lives and existence.
Disclosure: I have no positions in any stocks mentioned, and no plans to initiate any positions within the next 72 hours.