In compiling the Dividend Champions list (found here) I get to see which companies are nearing the anniversaries of their previous dividend increases. Most of these firms raise their payout about the same time every year, but some companies go longer before boosting their dividends, and this can raise concerns about their streaks of increases.
Dividends in Doubt Series
This monthly series lists companies whose latest dividend increases might be considered "overdue" because it has been more than a year since the previous increase, a possible sign that their streaks of increases are in danger. Some firms regularly go more than a year between increases, so this is only an "early warning" sign that some of them may warrant concern.
The 2011 "death watch" (companies that were deleted because they failed to announce an increase in 2011) has ended. The companies below, which I'm showing in alphabetical order this month, will have most of 2012 to extend their streaks by declaring dividend increases and removing themselves from this "probationary" listing.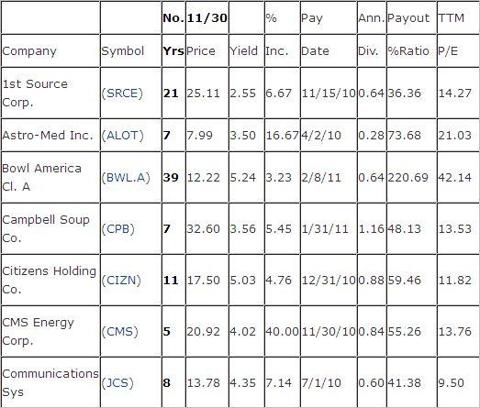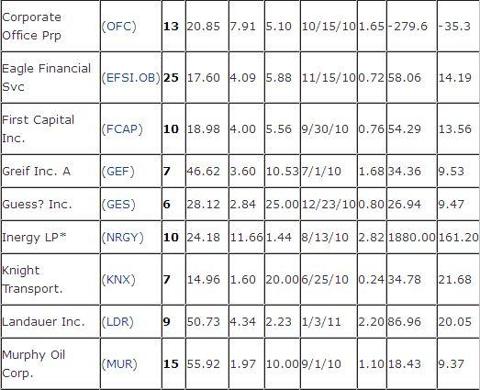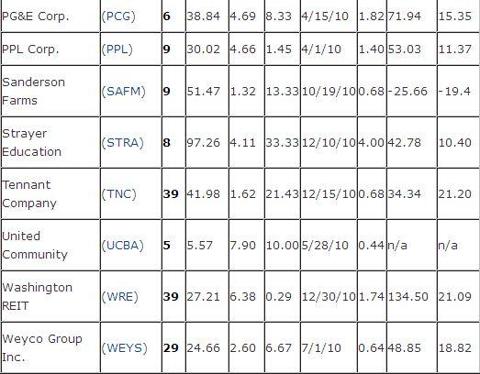 *Plans to split into two companies
Note that companies with pay dates that are less than a year old have already declared an unchanged next dividend, so they will become "overdue" by paying the same rate for a fifth straight quarter. Other companies will join this list as they pass the anniversary of their previous increase without hiking the dividend. Since the determinant for inclusion revolves around the dividend payment, that date is listed above, along with the payout ratio and the price/earnings ratio, two key indicators of a company's ability to increase the payout.
Assessing Risk
Some companies, such as REITs (Real Estate Investment Trusts) and MLPs (Master Limited Partnerships), are structured to pay out more than earnings per share, so we can't easily tell much from seemingly high payout ratios or P/Es. Some alarming P/Es, like those at Sanderson Farms, might suggest great risk, but a look ahead at the estimated earnings per share for this year and next might provide a bit of comfort. Companies with shorter streaks may be more likely to allow them to lapse, since they haven't yet established long histories (or "cultures") of rewarding shareholders with growing dividends. As always, comments and suggestions are welcome below.
Disclosure: I have no positions in any stocks mentioned, and no plans to initiate any positions within the next 72 hours.