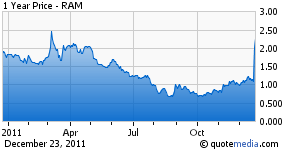 Ever since I began investing, I've kept approximately 100 stocks on my "watch list" and each stock I consider to be a potential buy and hold within my portfolio. I use this watch list to notice any substantial activity or any key developments that may arise and be crucial to the future performance of a specific stock. One stock on this list is RAM Energy Resources (RAM), which has been a part of my list since late February when it traded from $1.56 to over $2.50 in less than three weeks. On Thursday morning I'd wished that the stock was a part of my portfolio and not on my watch list as it posted gains of more than 80%. However, with a new CEO; a new investor; and new capital some may wonder if it's now time to take profits or buy the stock and invest long-term for large gains.
The stock was driven higher by news that the company had reached an agreement with former chairman and CEO of Petrohawk Energy Corporation (NYSE:HK), Floyd C. Wilson, to become the company's new CEO with a hefty investment that totals $550 million. The investment consists of $275 million of common stock; $275 million of a five-year convertible note; and $110 million in warrants. Upon completion of this transaction, during the first quarter of 2012, Wilson will become the new CEO of RAM Energy, and will then rename the company Halcon Resources Corp. Larry E. Lee, the co-founder, Chairman and CEO of RAM was obviously ecstatic and was quoted as saying:
"We view this as a tremendous opportunity for RAM and its shareholders. Floyd Wilson has an outstanding track record of successfully growing small cap E&P companies, such as RAM, into value-rich large cap enterprises, as demonstrated by his recent sale of Petrohawk to BHP Billiton (NYSE:BHP) for $15 billion. This investment will provide the Company with the capital necessary to expand operations into new and emerging resource plays, as well as accelerate development of our Mississippian oil concession in Osage County, Oklahoma. It will also allow for the continued development of our major oil fields in Oklahoma and Texas. Floyd and his team will lead the company as it expands in size and scope following the closing of this transaction."
The excitement within this quote is obvious, and Lee is correct when speaking of both Wilson's success and the opportunities that this investment will create for the company. RAM is a very small company with just over $100 million in revenue during the last 12 months including $6.51 million in net income. The company's margins have steadily increased, however the company's had to buckle down on costs with only $44,000 in cash on its balance sheet. This investment will give RAM the freedom and flexibility to both grow through expansion and acquisitions if the company desires. It should also reassure investors that RAM is moving in the right direction and that Wilson has a strategic plan in place to grow this company into a multi-billion dollar corporation.
What I find to be reassuring about this deal is that Wilson could've bought any small energy company in the world but chose RAM. There are several small companies with similar valuations that some may argue have more upside than RAM. There are companies such as Royale Energy (NASDAQ:ROYL) which has been golden in finding new gas fields and is drilling at an impressive rate with particularly high upside, yet could be controlled at a much cheaper price than what Wilson paid for RAM. Yet Wilson chose RAM, and Wilson's been one of the more successful entrepreneurs in this field, therefore it seems logical to trust his expertise and his decision that RAM presents the best opportunity for growth within this field.
Since the announcement I've heard several discouraging opinions regarding the investment, some which may believe that Wilson's bit off more than he can chew with RAM and that the company will not grow. I view this investment by Wilson similar to that of Bradley Jacobs and his investment in XPO Logistics (NYSEMKT:XPO). Earlier this year, Bradley Jacobs invested $150 million in a small company, XPO Logistics, and is now the acting CEO. Jacobs who has a history of building multi-billion dollar corporations, four total, in a time period of less than five years now controls the board and plans to grow the company through acquisitions, cold-starts, and an experienced executive team. Already, in only one quarter, Jacobs has already completely changed the executive team and with one cold start in Arizona. I expect that Wilson's new company will grow in a similar fashion, with more experienced executives; new acreage; and acquisitions of additional natural gas and oil companies.
When a company has enough cash and capital to be flexible it can grow at a much quicker rate. Growth can be limited to capital, in an industry where it costs money to grow companies can risk losing investor confidence or even bankruptcy if too big of chances are taken to add debt or grow larger. Sometimes it's a risk that executives aren't willing to take, therefore companies will settle or will simply rely on their research and hope a large supply will be found to grow the company larger. However, when successful individuals such as Jacobs, of XPO Logistics, and Wilson, the future CEO of Ram Energy, decide to invest in a company then growth becomes much easier with new found capital. Wilson has more than 40 years of experience in this field and has been successful in nearly all of his previous ventures, therefore it seems illogical to doubt that he will be successful or that RAM's future potential isn't looking better.
I've always believed that as investors we over think our investments and that we will find one bad for every five goods and ultimately talk ourselves out of an investment. Much like XPO, Ram Energy will no longer be the company that we've known, with new capital and more cash the company's larger and is better positioned for growth despite any issues we can find within the company's current balance sheet. With a $158 million market cap this stock is a no brainer, and I believe that investors should take advantage of the opportunity that RAM has been granted and purchase shares in this company. It has the potential to become something quite special and presents the likelihood to return large gains over the next several years. The stock's past performance is irrelevant, because it's now a new company under new leadership, and as investors it's our job to find the best value in stocks that have the greatest potential for large growth. Therefore, I urge you to not over think this stock and find the situations that could potentially go wrong. Because more than likely, with an experienced professional becoming the new CEO who has much more knowledge and experience than what you, me, or just about anyone else posses within this industry its future appears bright. And with a large investment, RAM could become the next multi-billion company during a short period of time and a powerhouse within the industry for many years to come.