Cal Dive International (NYSE:DVR), with a price to book ratio of 0.58 is at a deep discount to its true value.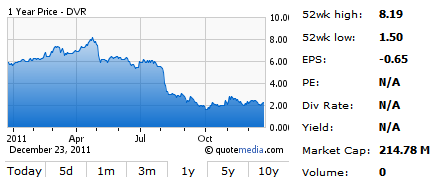 Cal Dive is sitting around $2.15 at time of writing with a 52 week low of $1.50 and 52 week high of $8.19. The stock has been punished for writing down assets and having low utilization. Cal Dive makes money in offshore installations which require offshore drilling. As we all know drilling has been hampered since the BP (NYSE:BP) disaster. Cal Dive also works on the more complex (read expensive) work in offshore so the price of oil must be high to justify their services.
Those two objections to Cal Dive seem to be going away.
The price of oil seems to be stabilizing around $100 a barrel.
Drilling is getting back up to speed in the Gulf.
The utilization which has been historically low 49% versus a normal of 70% as discussed in my last article. Utilization is key to the profits of Cal Dive. Since my last article was written Cal Dive released the below.
Cal Dive International, Inc. (DVR) announced today that the multiservice vessel Uncle John is currently undergoing an upgrade to the vessel's dynamic positioning and derrick systems, which will enable the vessel to perform light well intervention work in water depths up to 3,500 feet. The upgrade is part of the Company's original capital expenditure budget for 2011. Completion of this upgrade is anticipated during the middle of the first quarter of 2012. Following this upgrade and upon completion of 45 days of work for a major oil and gas operator, the Uncle John will commence a P&A Support Contract for two deepwater wells for Apache Corporation (NYSE:APA). This awarded work is expected to keep the Uncle John utilized late into the second quarter of 2012.

Quinn Hébert, President and Chief Executive Officer of Cal Dive, stated, "This will allow Cal Dive to further diversify our market reach beyond our traditional diving and integrated construction services."
This gives me a great outlook for the stock.
At that time the stock was $2.50 and has dropped off to $2.25. I bought at $2.50 and have kept adding to my position as the stock drifted to $2.25. With the news above and overall economic growth this stock should be ready to ascend.
I think @VexTrades on twitter sums it up nicely with.
This stock has huge potential upside for very minimal risks due to the low price to book ratio.
Disclosure: I am long DVR.
Disclaimer: This advice does not constitute accounting or investment advice.