It is rare to find a corporate merger that makes EVERYONE happy. Someone always thinks the value of the deal is either too much, or too little. Most recently, there has been controversy over the merger between Lam Research (NASDAQ:LRCX) and Novellus (NASDAQ:NVLS-OLD), and we think it presents a unique buying opportunity in Lam Research.

Lam Research is one of the world's largest semiconductor equipment companies, and on December 14, the company announced that it is merging with Novellus Systems in a deal where Novellus shareholders will receive 1.125 shares of Lam Research for each share they own. While Novellus shares soared on news of the deal, they have since pulled back, dragged down by the slide in Lam Research, which we think is unwarranted.
(Click charts to expand)





The only sense in buying Novellus right now is for a merger arbitrage play, as its stock price is now tied to that of Lam Research. Below, we examine the impact the merger will have on Lam Research, as well as the company's underlying fundamentals to show that it is a buy at these levels.

The merger with Novellus makes Lam an even larger player in the semiconductor equipment market. Using the most available figures, Novellus will boost Lam Research's revenues by over 48% when the merger is completed. Furthermore, merging with Novellus allows Lam Research to gain Intel (NASDAQ:INTC) as a customer, and Lam now has the oppurtunity to sell more of its own equipment to Intel using Novellus' sales force. We think the price paid for Novellus is fair. Given that some Lam shareholders think the company overpaid, and that some Novellus shareholders think Lam underpaid, we think that in fact the company paid a fair price for Novellus. Furthermore, we think concerns about dilution will fade over the long term. Lam Research announced a $1.6 billion stock buyback alongside the merger announcement, and after it is completed, it would be equivalent to having 48% of the merger in cash. Many Lam Research shareholders are worried about dilution, something we understand as Lam Research investors ourselves. But we think that it is better than the alternative. Mixing cash into the merger would have required Lam Research to raise more onshore debt, potentially putting its investment grade credit rating in jeopardy. We think that dilution is preferential to a credit rating cut. And a good deal of the dilution will be negated by 2013, when the deal becomes accretive to Lam Research. Below is the Street's consensus estimates for how much accretion Lam Research will be able to derive from Novellus.





By 2013, Lam Research can boost EPS by almost 20% off of current levels, which we think is doable, for several reasons. First, cost synergies will take effect, which Lam Research predicts will lower annual costs by $100 million by the end of 2013. Furthermore, we think Lam Research can expand its presence at Intel using Novellus. And we think that concerns about operational expenses will be overblown. Novellus, as a percentage of sales, spent 13.25% on research and development in the last 3 quarters. By comparison, Lam Research spent 12.28% on research and development. However, Novellus' gross margin of 48% easily beats Lam Research's gross margin of 41.7%, thus allowing Lam Research the potential to raise its own margins.

Concerns about dilution and overpayment have pressured Lam Research stock since the acquisition was announced, and we think they are overblown. But the stock should not be bought unless the underlying fundamentals of the company are strong. We think they are, for Lam Research is well positioned to succeed in the long run, and this merger is just one attribute of what the company is doing to succeed.

The semiconductor space is becoming increasingly consolidated, with more and more of semiconductor equipment spending coming from an increasingly smaller number of players. As such, the equipment companies themselves must consolidate. We have seen this with Applied Materials (NASDAQ:AMAT) and Varian Semiconductor Equipment Associates, and now with Lam Research and Novellus. A recent survey by Credit Suisse shows that the top 5 semiconductor companies now account for over 60% of all capital spending in the industry.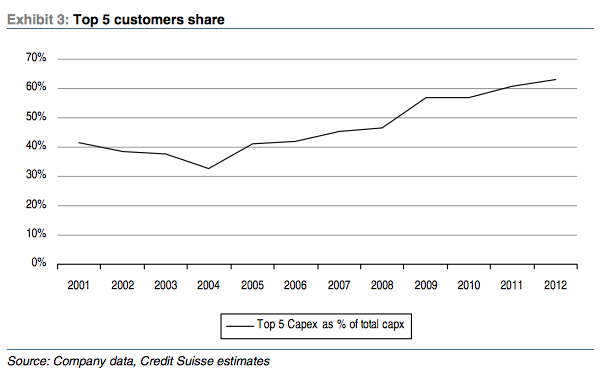 The consolidation occurring in the semiconductor industry has led the top 5 players to control over 60% of spending, with Intel leading the way. At a recent UBS tech conference, analysts brought up Lam Research's weakness at Intel, something that is no longer an issue with the Novellus merger. Lam Research has the ability to expand its sales to Intel even more via Novellus' sales force.

The important thing to remember with Lam Research, and indeed all semiconductor companies, is that this sector is very cyclical, at least in the short run. Lam Research's results are proof of this. In the most recent quarter, shipments dropped 27%, yet the company is forecasting them to bounce back in 2012, on the back of strong demand for smartphones and tablets. While the short-term results of Lam Research can be somewhat volatile, the company will grow steadily in the long run on the back of continued growth in electronics, specifically smartphones, tablets, and computers in emerging markets.

Furthermore, we do not think that Novellus' decision to sell the company heralds more weakness in the sector. Some have speculated that Varian's decision to sell itself to Applied Materials was due to its worries over slowing semiconductor equipment spending, which proved to be true. Given that, some speculate that Novellus wanted to maximize the most value for stockholders now before orders fall off a cliff again. What is different this time, however, is that there is much less room for the market to weaken.

Rumors have been circulating that Tokyo Electron will make a counter-offer for Novellus, and those rumors have gained steam as Lam Research's stock has fallen. But we think that a merger between Tokyo ELectron and Novellus makes less sense than a Novellus/Lam Research merger. For one, there are geographic issues and there would be no synergies with Intel. In addition, we do not see a meaningful chance of a Tokyo Electron bid for Novellus above $44, since the company decided to sell itself to Lam Research for that price. And anti-trust should not be much of an issue, as Novellus and Lam Research have largely complementary offerings.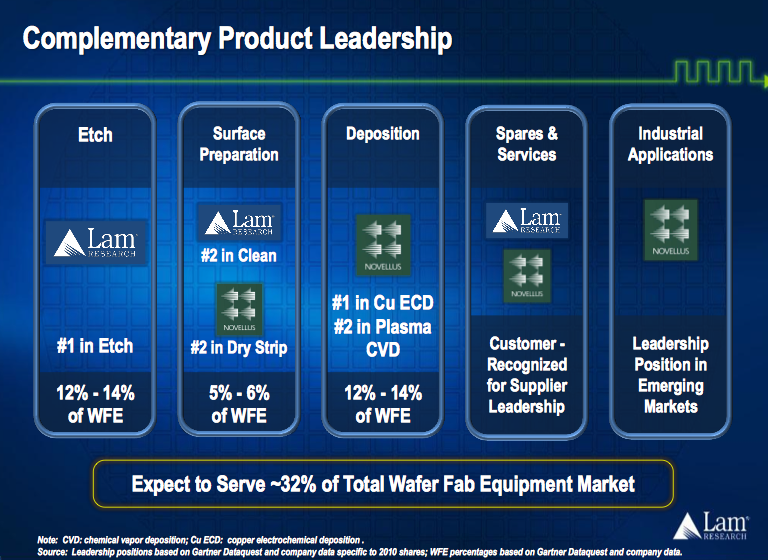 Together, Lam Research and Novellus form a much stronger company with a far wider presence across the semiconductor market. Rarely have we seen such positive reactions from Wall Street for a merger, something that is not reflected in the share price. Upon the breaking of the merger announcement, S&P declared that it is putting Lam Research's BB+ credit rating on watch for a possible upgrade, citing that, "Lam Research's business risk profile will improve as a result of materially better product diversity. -- Pro forma leverage will rise only moderately despite the acquisition and significant planned share repurchases." Furthermore, analysts are also positive about the deal. Below is a summary of analyst rating changes for Lam Research, as well as their views on the deal. Analysts love this deal, and the current Reuters average price target for Lam Research is $47.75, implying upside of 29.93% from current levels.
| | | | |
| --- | --- | --- | --- |
| Firm | Old Rating/Price Target | New Rating/Price Target | Implied Upside |
| JP Morgan | Buy, $56 | Buy, $60 | $23.25 (63.27%) |
| Needham | Hold | Buy | N/A |
Barclays: "We like this transaction as we believe it sets the path for meaningful share gains as increasingly more complex semiconductor manufacturing benefits from the combination of the best of breed tools from LRCX/NVLS." Adjusted EPS of the two companies after the combination closes could total $4.40 per share." The firm maintained an outperform rating and $46 price target on Lam Research.
Citigroup: "We love this deal." The takeout premium of 30%, equating to 1.9 times as a multiple of enterprise value to sales, and a 12 times P/E, is "far lower than the Applied Materials/Varean [Varian] Semiconductor deal," earlier this year, which came at a 55% premium and 4.1 times EV-to-sales."
Stifel Nicolaus: "Favorably biased toward the long-term prospects of the combined company." There is minimal overlap in the two companies' product portfolios, a complementary base of customers between them, and the increased scale when they combine will accelerate growth prospects."
Needham: "The deal will 1)improve LCRX's financial leverage; 2) add Intel as one of its largest customers; 3) offer many opportunities for cost savings; 4) create new opportunities in product offerings; and 5) build common platforms on 450mm."
We think that the current share price of Lam Research sets the company up for a nice run in 2012 and beyond. The current share price does not reflect the long-term potential of a combined Lam Research and Novellus, and we recommend that investors use the weakness created by the merger announcement to add to or initiate positions in Lam Research. The company was a leader in the semiconductor equipment industry before the merger with Novellus was announced, and will become even stronger once it is complete.



Disclosure: I am long LRCX.