Global financial markets went through the penultimate week of the year on a positive note, as the ECB stepped in where the Fed would not, bringing holiday cheer with a three year loan operation intended to shore up bank finances. While skeptics remain unimpressed, the market response was a welcome relief from a December trading pattern that had failed to produce the more typical seasonal rally. Let's break down the numbers
Perspective
Stocks: The major U.S. indexes all recorded gains for the week, the Dow Industrials, S&P 500 and Russell 2000 all rallying more than 3.5%, and the NASDAQ advancing nearly 2.5%. As might be expected going into the holiday, volume was on the light side, particularly on Friday. Every S&P recorded a weekly gain, with energy leading the way on the strength of a push back toward $100 oil prices. Interestingly, the tech sector posted the smallest gain in a week that otherwise looked like a pure risk on rotation, continuing a recent pattern of underperformance as sector heavyweights like Amazon (NASDAQ:AMZN) and Oracle (NYSE:ORCL) extended their losses.
Nine of the twelve major foreign indexes we monitor finished with gains, generally in line with the U.S. Among the losers, the Shanghai composite reached yet another new low, and has put together seven consecutive weeks of losses, though it appears it may have put in a short term bottom at 2,200. Japan's Nikkei and Australia's All Ordinaries also posted fractional losses.
Bonds: With the rotation back to risk assets, long term Treasury bond yields nearly erased the previous week's drop. The ten and thirty year once again are back above 2% and 3% respectively, and the fives finished a little short of 1%. TIPs and investment grade corporate bond yields also rose, albeit more modestly. Corporate junk and municipal bonds, on the other hand, continued to rally. The popular junk ETF from Barclay's (NYSEARCA:HYG) recorded a new post crisis high on a closing basis, while muni ETFs and CEFs peppered the new 52 week high list
Commodities: Commodities mostly participated in the risk rally, led by a 6.4% rise in crude oil and a 5% increase in the grain index. Not participating were gold, which managed only a fractional gain, and silver, which posted a weekly loss. Copper recorded a 3% gain, and the industrial metals more broadly added 2%.
Currencies: The U.S. Dollar index slid back after a big week, closing below 80, but it erased larger intraday losses on both Wednesday and Thursday. The euro meanwhile continued to find support at $1.30, bolstered at least in the short term by the ECB facility. The Aussie and Canadian dollars, highly correlated to commodity prices, rallied against the greenback, as did Sterling, while the Swissie and Yen were off fractionally.
Outlook
Another week, another mixed bag on the economic data front: housing starts and building permits beat consensus expectations, while existing home sales fell short. Unemployment claims extended a trend of modest improvement, and durable goods handily bested forecasts, but Q3 GDP was revised downward and personal income and spending were nearly flat. We still see a slow growth outlook in the data – enough to keep us out of recession, but not enough to make many of us feel very good about it.
Stocks: The final trading weeks of 2011 look very much like a story of "painting the tape" at the end of a difficult year. As of Friday's close, the Dow Industrials and Transports had both closed above October's closing high, though volume was very light. The S&P 500 joined the Dow in climbing back above the 50 and 200 day moving averages, while the Russell 2000 and NASDAQ finished above the 50 but below the 200 day. Volatility contracted further, with the VIX falling to its lowest level since early August.
Market breadth improved notably on the NYSE, much less on the NASDAQ; we should point out that a number of closed end funds are listed on the NYSE, and many of them have been red hot recently, so this skews the data somewhat. The current phase is favoring large caps over small, and value over growth. Along with the light volume and year end window dressing, the laggard tech and small cap performance makes us suspicious of this rally. However price performance is the most important thing, and we can't overlook it. The transports confirming the move in the industrials is also a positive.
(click on all charts to enlarge)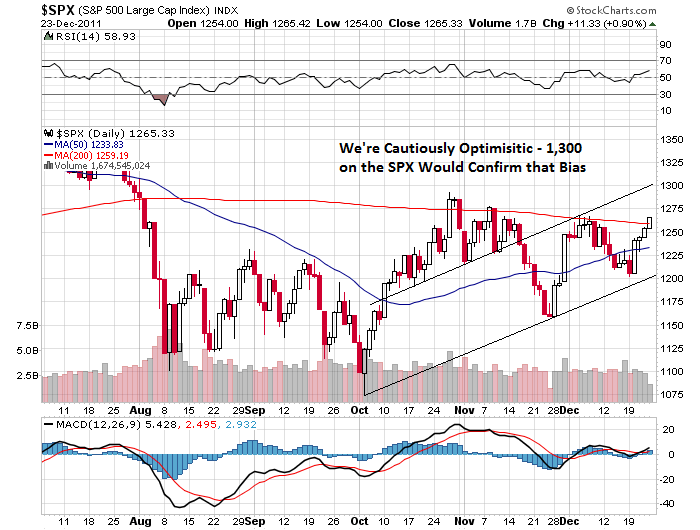 The market has been whipsawed around by every twist and turn in the European debt crisis, and I suspect we might have seen a more lasting rally apart from these effects. Thus while we maintain a generally constructive outlook on U.S. equities, the global picture is making us more cautious than we might otherwise be. In terms of positioning, this has meant a continuing overweight cash/underweight equities stance, but we have done some buying in large cap value names. My normal preference is to hold more blue chip growth stocks, but growth hasn't working and it's not my habit to force it.
Bonds: The whipsaw effect has extended to U.S. Treasury bonds as well as equities. Although, as I pointed out last week, the recent move in the ten year yield undercut the November low (the thirty year did not), neither took out the early October bottom. I still thing the highest probability is that October was the bottom in the ten year, and that high grade bonds are a risky place for new money. For those who can tolerate risk, foreign bonds may present a more attractive risk/reward profile than domestic.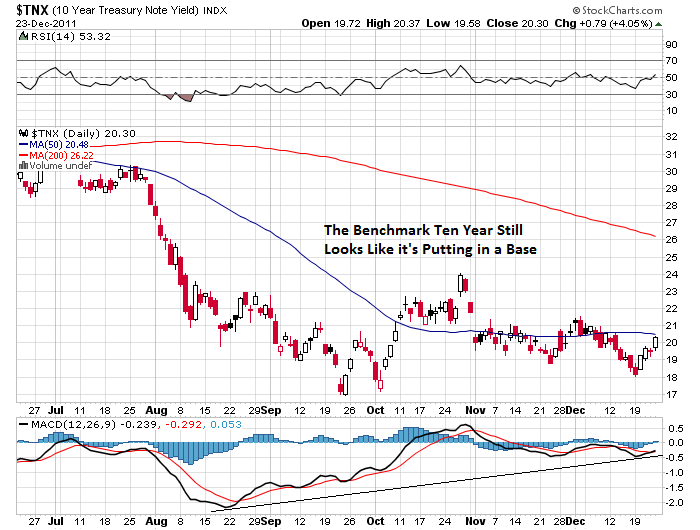 For example, the iShares international treasury fund (NASDAQ:IGOV) yields better than 5% and technically looks like it may be putting in a bottom, whereas the corresponding domestic fund (NYSEARCA:IEF) yields half as much and looks like it may be putting in a top. However investors should be aware that IGOV has an average credit quality of BB where IEF is AA. Therefore any holding of IGOV or an equivalent should be maintained with a strict sell discipline as appropriate to the portfolio in which it is held. My own policy is to hire managers for all foreign allocations; we hold a PIMCO fund (MUTF:PFBDX) in our income portfolio.
Commodities: Over the last couple of weeks, and earlier in the year, I had been suggesting that 300 on the CRB index might be a good entry point for a commodity position as it represents a support level. It could be a buy coming off a double bottom around 295. With the top of the down trend channel in the vicinity of the 50 day moving average, around 313 on the index, a push above that level would add some confirmation and represent a slightly more conservative entry point. A move above 325 – the October high – would be better still. Another positive is that copper appears to be building a base in the $3 - $3.60 area.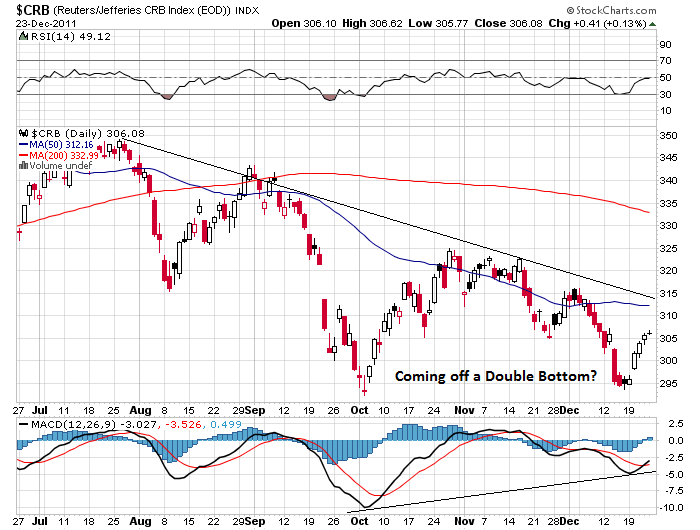 Gold on the other hand has broken the 200 day MA, which roughly forms the bottom of its trend line going all the way back to the start of 2009. Gold longs should be looking for the 1575 – 1600 level to hold. A break below would be troubling.
Currencies: The move above 80 on the U.S. Dollar index did not last long. The emerging up trend still appears intact, but we could see a consolidation in the current area before any move higher. The euro has found support at $1.30 but with ECB directors now openly stating that a form of quantitative easing might be helpful, and imminent recessions appearing baked into the cake, the longer term outlook for the euro points lower. As I so often note, the dollar is inversely correlated with equities and commodities in the current market cycle, so it should be monitored by investors who are long those asset classes. A consolidation here could give them some room to run.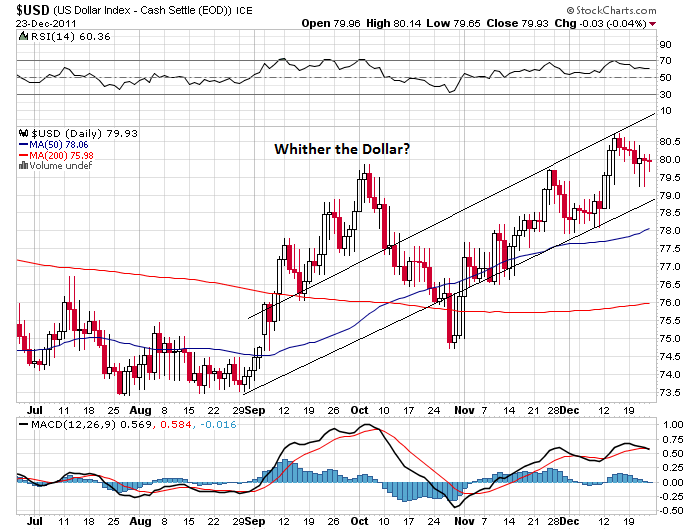 Disclosure: I have no positions in any stocks mentioned, and no plans to initiate any positions within the next 72 hours.