I have read many articles over the years on the reasons for investing in gold. A good example can be found here, on SA. I find these types of articles very useful in shaping my opinions and challenging opinions that I have, especially when they are wrong. Over time it has helped me avoid losses on several longer term trades.
However when it comes to gold it seems that there is a lot of very poor analysis. My opinion is that in general this is because it is so difficult to value gold.At present there are numerous posts suggesting that gold is great value for several reasons detailed below. Sowhen it comes to analyzing a gold investment, what are the factors that you should consider?
1. Deflation vs. inflation
Gold will protect you against the rising tide of inflation.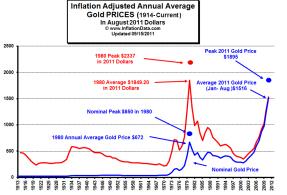 For those who argue that Gold is an inflation hedge all one has to do is look at the chart above and see that it is not a perfect (or even imperfect) inflation hedge.Simply put, if Gold were truly a perfect inflation hedge the red line in the chart would be perfectly flat. But instead, there are significant spikes.If gold were an inflation barometer why did the inflation-adjusted price of gold fall from almost $1850 in 1980 to $352 in 2001? Over that time period 21 years, it lost over 80% of its value.
So what about deflation? This is more difficult to assess. We have only one recent period of deflation to look at, 1929-1939. However in April 1933 the government issued an executive order that all but a small amount of gold must be handed over to the Federal Reserve by May of that year. What would the price of gold done without this intervention? For the record the average price of gold was $20.63 per ounce in 1929; by 1933 it had increased to $26.33 per ounce (a rise of 28%). Deflation from 1929-33 was 32%. These data points should not have been affected by the order. For this one period the relationship seems correlated. Personally I would not rely on one set of data points. One last point, why would you need protecting from deflation, it is increasing the value of your savings. Perhaps the argument is that in periods of deflation banks are not safe.
Now however, there is FDIC insurance.
2. Is gold a store of value in turbulent times?
This seems to me to be just another version of gold protecting the holder from inflation or against bank failure.
3. Is gold correlated to the S&P500?
Here is a chart of the correlation over the last 31/2 years.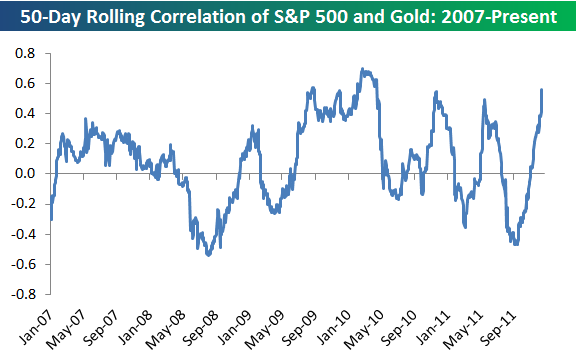 If you can see a long term correlation to the S&P500 from this chart you are a better man than me. Correlation is higher now but it is just as likely to reverse tomorrow as it has done 3 times since Jan 10.
4. As the value of the US dollar falls gold will rise
Below is a chart of USD/CHF plotted with the gold price:
The correlation looks pretty good, I would rely on this one. However there are 3 notable periods where the gold to USD reverse correlation broke down. These are:
May-Nov 2005
May-Dec 1993
Jan 1977-Jan 1981.
The last is the most pronounced and was during a period of economic stress. The chart below shows the period: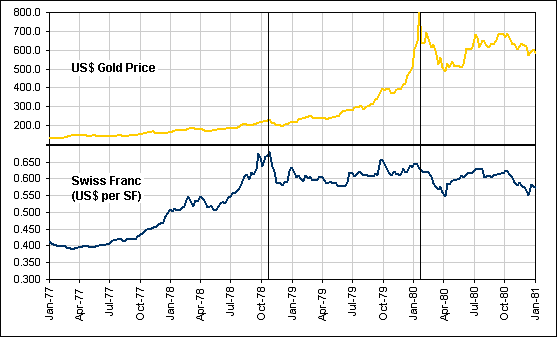 That doesn't look correlated to me. Big rise in the gold price, flat to rising dollar. We are presently in another period of economic stress. Will the relationship break down again?
5. Quantitative easing will lead to large gains for the gold price
This one is correct with 2 data points. I wrote a full analysis here. The 2 rounds of Q.E. are summarized below
| | | | |
| --- | --- | --- | --- |
| Start/end QE1 | QE1 gold price | Start/end QE2 | QE2 gold price |
| S 25.11.2008 | $767 | S 28.08.2010 | $1250 |
| E 31.03.2010 | $1125 | E 30.06.2011 | $1501 |
| gain | $358 | | $251 |
| % gain | 46.6% | | 20.1% |
It is clear so far QE has produced large gains in the price of gold. Note: I have used the unofficial announcement date of QE2 (at Jackson Hole) rather than the official announcement date for the analysis of gains.
Conclusion
I have traded gold and invested in gold. However I do not use any of the above reasons for the trade or the investment other than QE . My present view is that there are so few places where money is safe that gold will continue to rise. As you can see, this is not at all based on analysis, just perception. That worries me and I presently own no gold. If I could come up with a valuation of gold that holds up to scrutiny I would be much happier investing in the yellow metal. If anyone has one, I would like to know what it is and if it holds up to scrutiny.
I would urge all gold investors to not get fooled by any of the above incorrect arguments but do their own research and reach their own conclusions as to the likely course of the gold price. You will then be a strong holder if the investment goes against you in the short term. One last point, gold looks to me technically to be in the midst of an Elliott 3 wave correction to the move from $705 in November 2008 to$1920 in September 2011. If this is correct it will likely bottom around one of the Fibonacci retracements. These are:
38.2 $1455
50 $1313
61.8 $1169
It is for this reason, and no other, that I do not have any present gold positions. However if QE3 is announced and is sizeable I would turn bullish on gold and would likely be a buyer. If you have bought gold on any of the shaky reasons above you might want to revisit your reasoning.
This article is not intended as investment advice. Before taking any action, please do your own research. Do not rely on any opinions or facts included in this article for decision making.
Disclosure: I have no positions in any stocks mentioned, and no plans to initiate any positions within the next 72 hours. Long RWM