LDK Solar (NYSE:LDK) is one of the world's largest producer of solar wafers in terms of capacity and a leading high-purity polysilicon and solar module manufacturer. With a debt-to-equity ratio of 3.02 (highest among all Chinese solar manufacturers, with plenty of that debt composed of short-term loans), negative operating cash flow and the grim outlook for the solar industry, LDK should, in any "normal" market environment, already be bankrupt.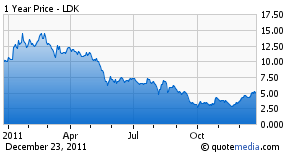 However, the company continues to operate under these dire conditions and there is only one culprit to this scenario - the Chinese government. You only have to dig a bit deeper to uncover the intricacies of LDK's debt in order to understand why such a highly-leveraged company operating under extreme negative working capital has not yet been pushed to the tentacles of insolvency.
As a crucial starting point, most of LDK's debt is owed to Chinese banks. According to CEO Xiaofeng Peng, during the Q&A session of the Q3 2011 conference call, he mentioned that "most of our debt is based in China and our overseas debt is only from one bank due until 2014". As a result, LDK has successfully been able to roll over the majority of its debt over the last few years and there is no reason to doubt they will continue to do so, since most of the Chinese banks they owe money still support it.
As of Q3 2011, LDK's total debt ascends to $3.6 billion USD (mostly attributable to the construction of their polysilicon plant), but if you contrast that with the not-yet-tapped 60RMB (~$9.3b USD) credit framework agreement with China Development Bank made in 2010, they still have plenty of room to continue operating with negative working capital and financing any future projects until the solar outlook improves sufficiently, provided they continue to show progress in their multiple fronts for a complete low-cost vertical integration (polysilicon plant, improved efficiency in their wafer & cell production, as well as the introduction into solar modules & systems development).
In addition, LDK employs approximately 27,801 employees, the highest among all the Chinese solar manufacturers. There are reports that LDK Solar's plant, located in Xinyu City, Jiangxi province in the People's Republic of China, resembles that of a small city as a result of the high number of people it employs plus the very large investments for capacity expansion that LDK Solar has incurred.
Just recently, EnergyTrend has published an article that states that China has proposed an appropriate policy to support the development of the polysilicon industry. Furthermore, EnergyTrend believes that the Chinese government is ready to intervene with the market and companies lacking economies of scale and competitive advantages will likely be forced into mergers and acquisitions or driven out of business.
Putting all of these elements together, one can only deduct that it's in the best interest of the Chinese government to sustain a company such as LDK. This is now a "too big to fail" company and unless China changes its mind, LDK will very likely survive this severe downturn.
The stock has risen nearly 106% (as of this writing) in less than a month from the low of $2.57 set in November 22, 2011, the day LDK announced Q3 numbers after market close. This meteoric rise is being fueled by a massive short-squeeze (21% of the stock is short) helped by the successful issuance of the first tranche of 3,000,000,000 RMB Notes (500,000,000 RMB) with a fixed-interest rate of 6.8% per annum, which provides the initial hope that LDK is in the process of healing its balance sheet (or at least to replace its short-term debts - one of the pressing elements in LDK's future).